Our Support Center is the number-one spot to learn about your Guardian system, find how-to tips and tricks, resolve issues, and find the answers you need – fast! You'll find hundreds of FAQs, detailed posts, instructional videos, and more.
The Support Center includes:
Robust search bar – located on Support Center home page and across the entire website in the top right corner next to "Support" and "Login"

Deep-dive support articles

Hundreds of FAQs and videos
Ready to learn more? Let's dive in!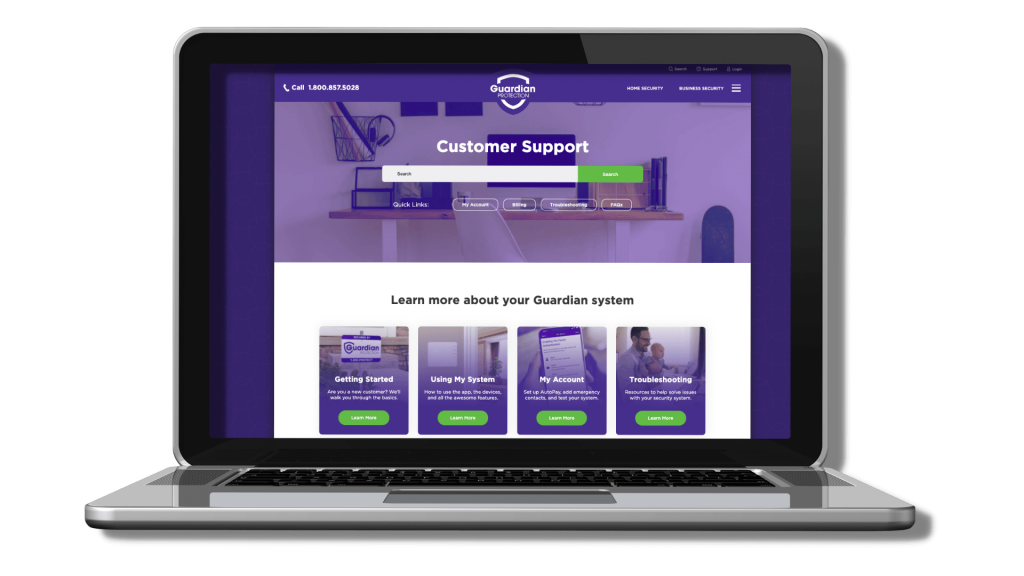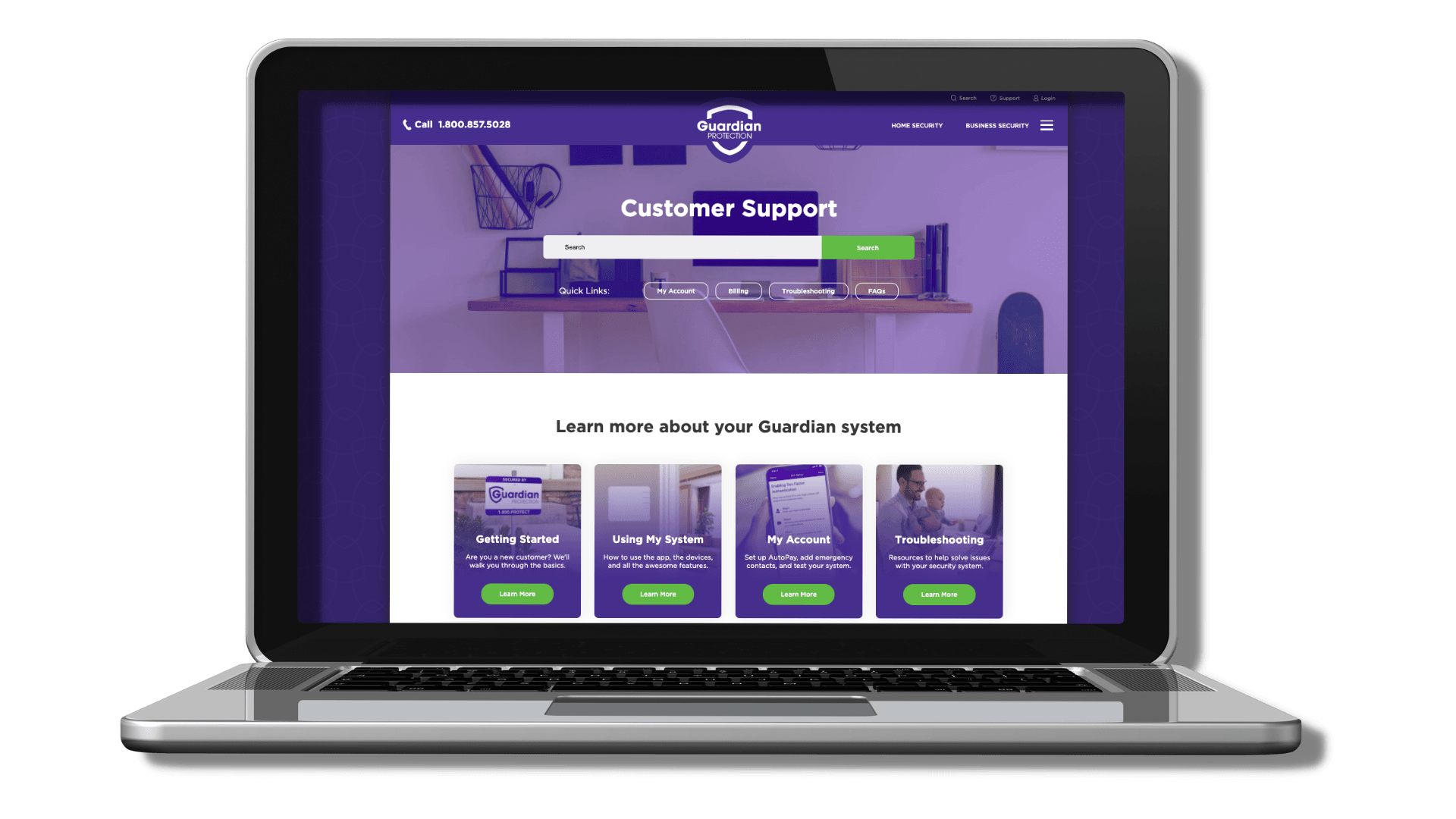 Here, you will find:
Links to questions grouped by topic
Link to view all FAQS, videos, and articles
5 of the most frequently asked questions
Moving resources
Battery replacement videos
Robust search bar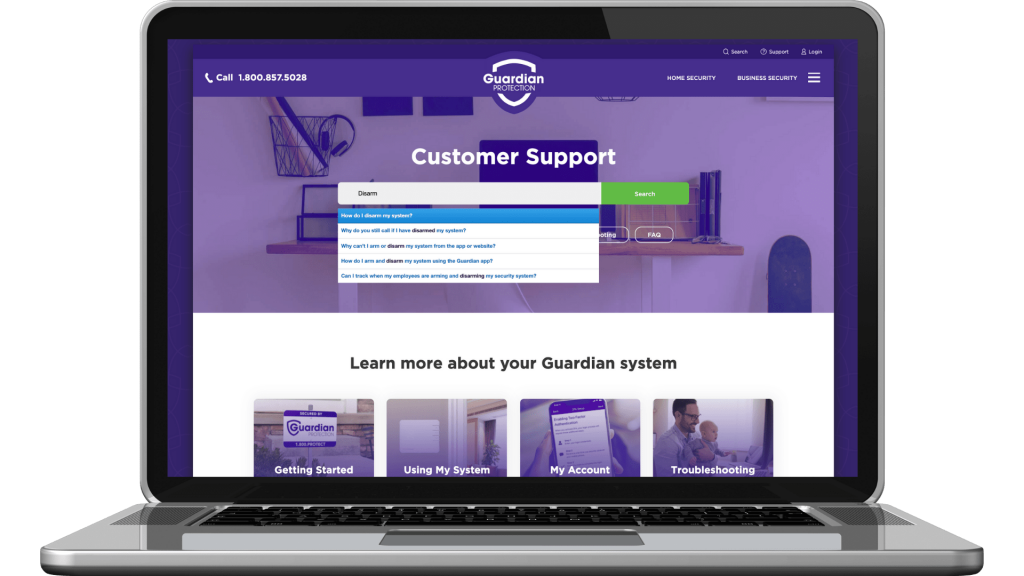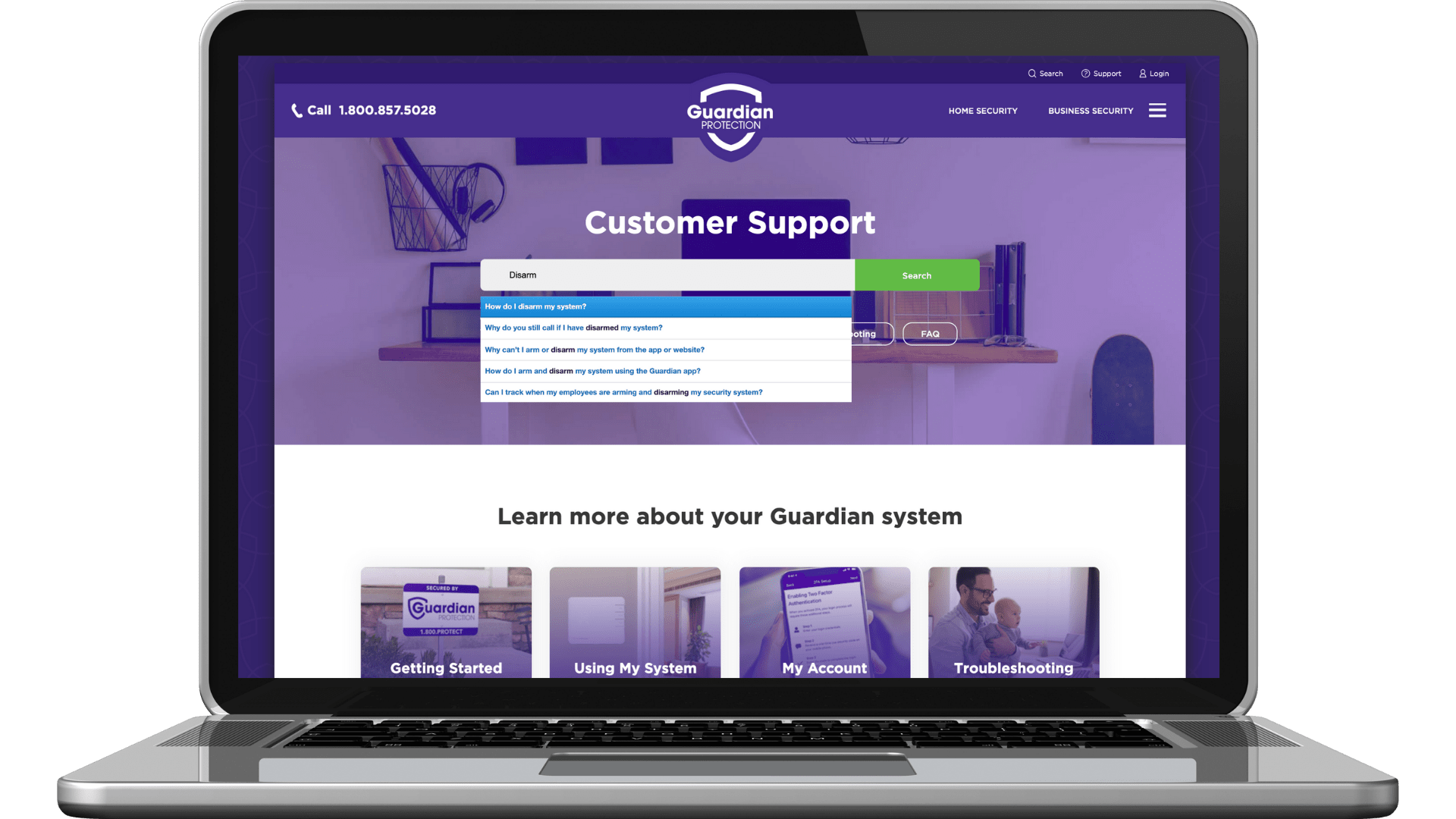 ­­
Have a question or need info? Navigate to our robust search bar, type a word or phrase, and get results! The search bar will even auto-suggest information related to your search!

Quick links (located directly under the search bar)

We've added handy links to some of our most visited pages for your convenience:
My account – Guardian login page
Billing – Billing FAQs page
Troubleshooting – Troubleshooting FAQs page
FAQs – links to all FAQs broken down by topic
Learn more about your Guardian system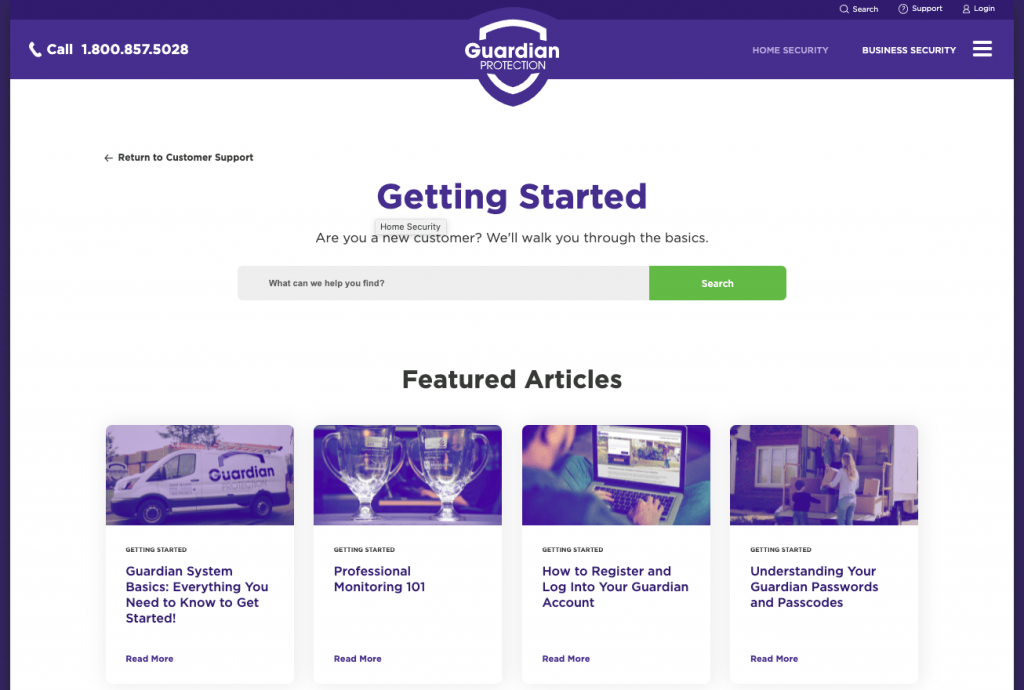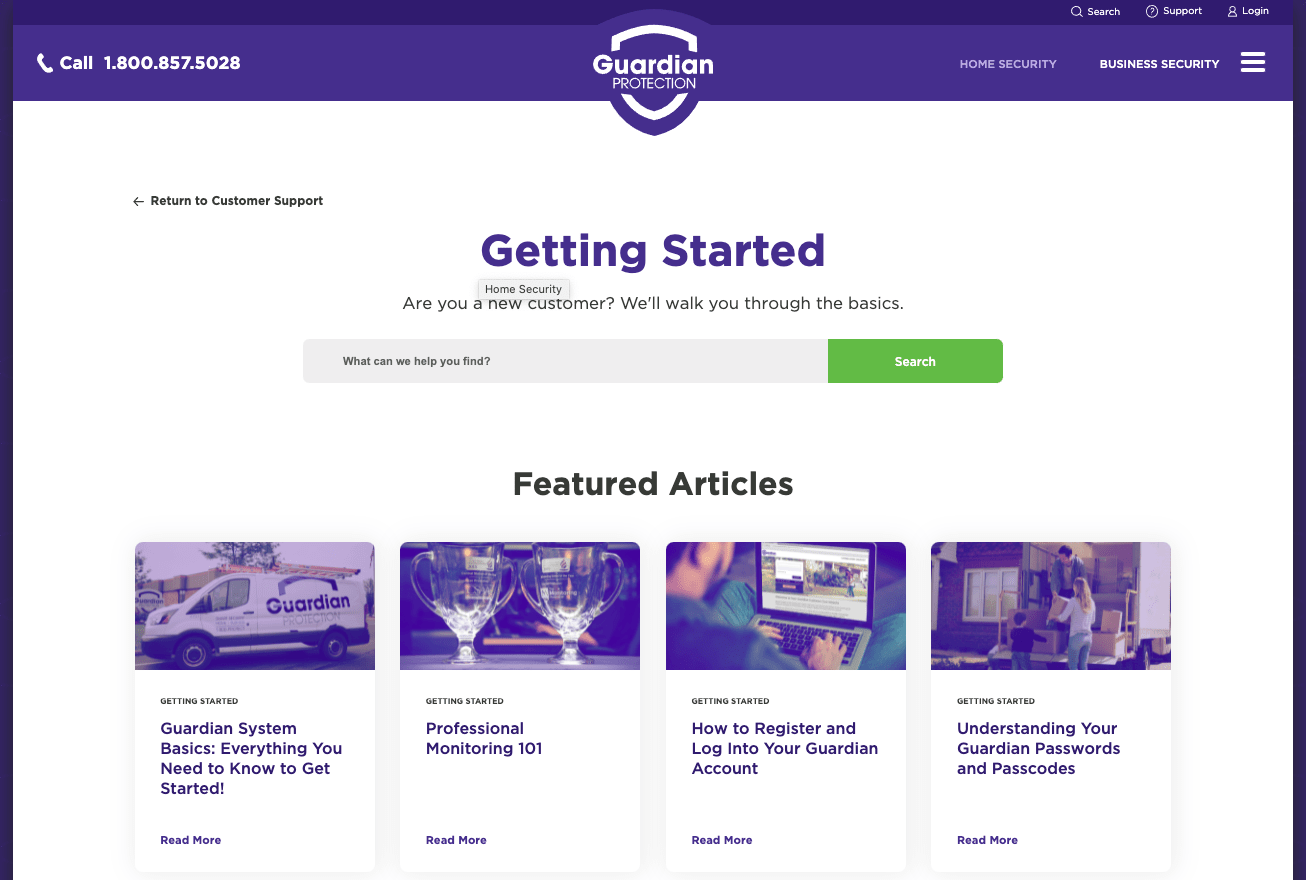 If you scroll past the search bar and quick links, you will find featured pages from the Customer Support Center: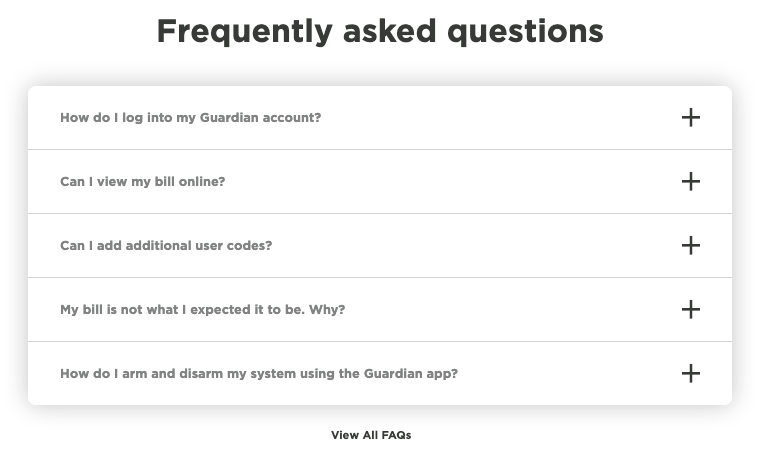 Below the featured pages, we've highlighted some of the most frequently asked questions. Once you click on a question, the answer will appear in the collapsible menu.
To find all FAQs categorized by topic, simply click on "View All FAQs" below the collapsible menu.
Here are a few examples in each category:
General FAQs
How do I stop my system from beeping?
How much does a service visit cost?
My Account FAQs
How do I get a copy of my Certificate of Monitoring?
I forgot my Guardian account login. What should I do?
Equipment FAQs
Do home security cameras require WiFi?
How do I reconnect my Video Doorbell Pro?
Billing FAQs
How do I set up automatic payments (AutoPay)?
My bill is not what I expected it to be, why?
Apps & Mobile FAQs
How do I arm and disarm my system using the Guardian app?
How do I set up two-factor authentication on the Guardian app?
Business Security FAQs
Can I track when my employees are arming and disarming my security system?
Can I order Guardian Protection window decals for my business?
Home Automation FAQs
How do I set up a smart thermostat schedule?
How do I set up a light schedule?
My System FAQ
Can I stop the police, fire, or EMS from responding to my location?
How do I set up arming reminders?
Troubleshooting FAQs
Can you mail me a new battery?
Help! I can't turn off my alarm.
Video Resources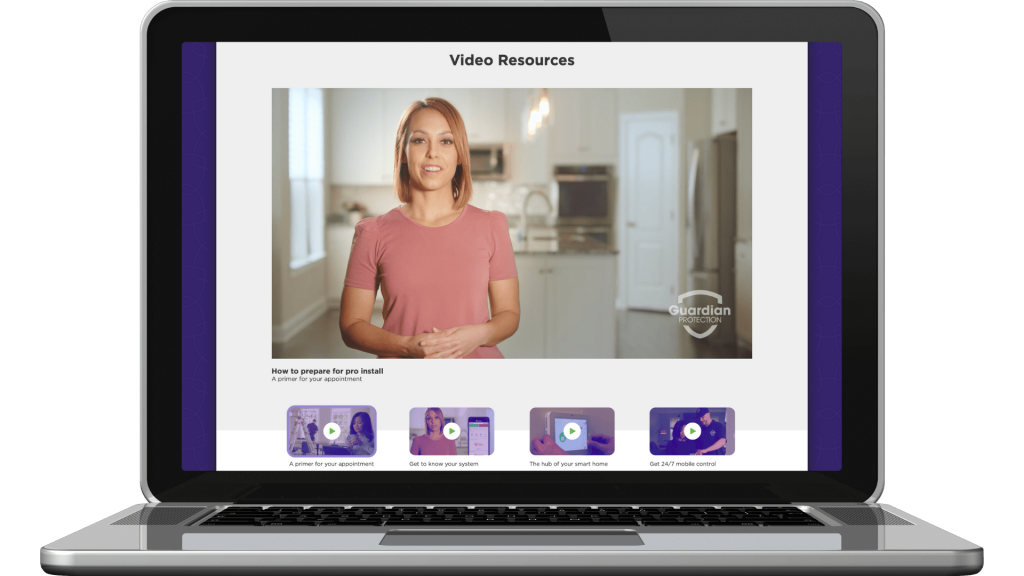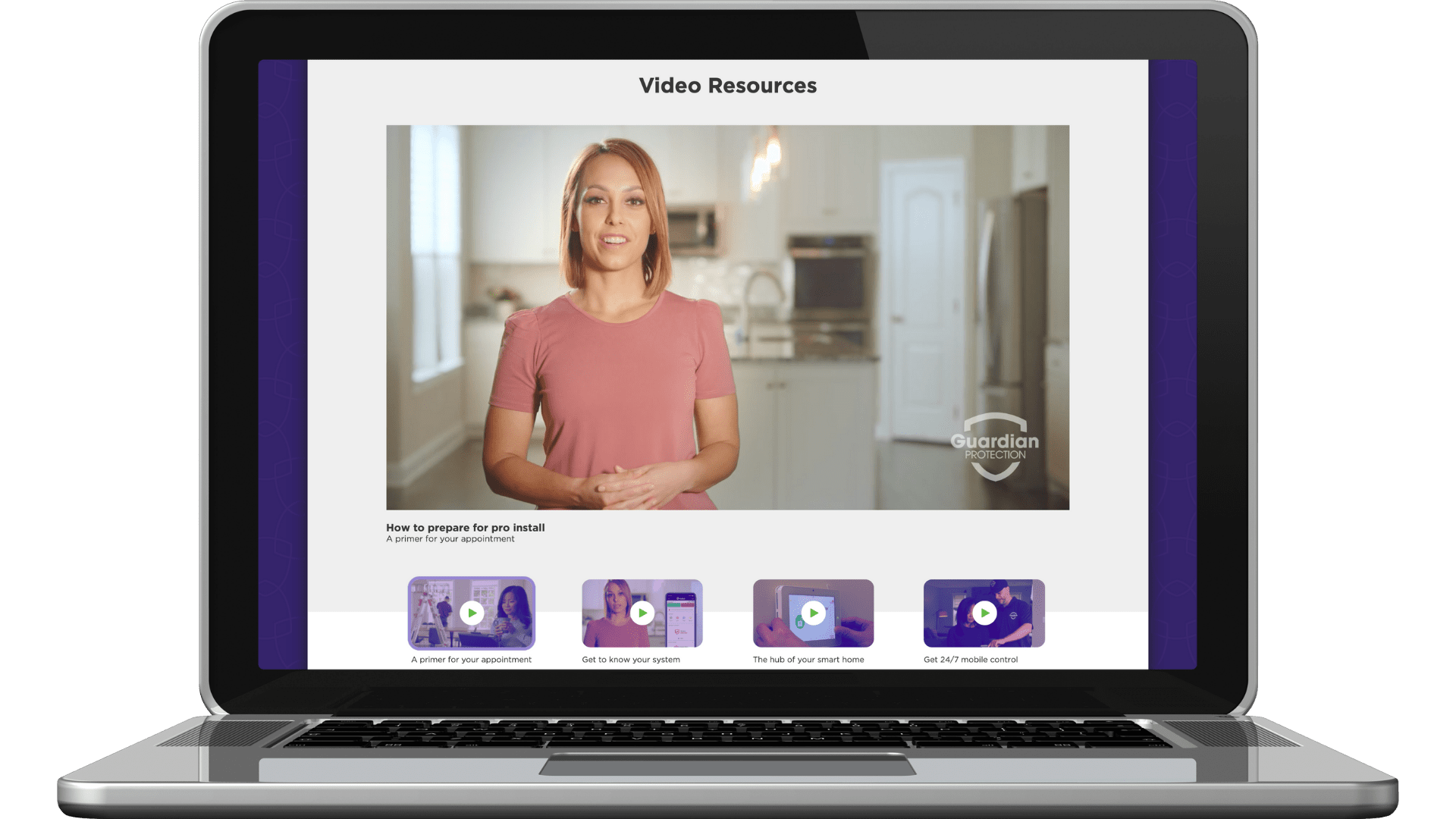 Another great feature of the Support Center is the video resources that you'll find throughout the pages.
You can watch videos like:
How to sign up for AutoPay
How to change your devices' batteries
How to navigate through the Guardian app
…along with many more!
And there you have it! We're so excited to share these great resources with you – now go check them out at guardianprotection.com/support.