Security automation — control for your smart home at anytime, from anywhere.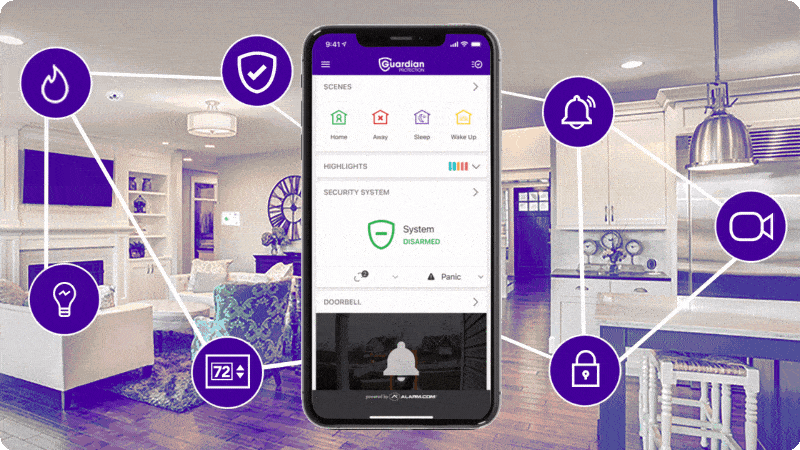 Turn on the porch light or adjust the temperature in your home… even when you're not there. With interactive technology, you can manage your home's lights, locks, thermostats, and garage door using one smart mobile app.
Guardian's smart home automation and energy management solutions help simplify your life, stay in control, and stay connected.
Manage your life from one app compatible with your smartphone
Create energy-efficient schedules
Customize event-triggered light automation
Manage door lock status
Compatible with many smart home devices and speakers
Universal smart home app
More devices, more apps, right? Not anymore.
Our all-in-one mobile app allows you to stay connected wherever you go, without crowding your smartphone screen with countless apps.
The Guardian app lets you manage all your smart home devices, control your security system, and check in on video security cameras anytime, from anywhere.
Smart security system with home automation
Smart homes are better when they're safe. Who could disagree?
Your home security doesn't have to be an entirely separate system from your smart home automation kit. We offer a variety of smart home options that are fully integrated with our professionally monitored home security systems.
Set a series of actions in motion with one touch, using the Scenes feature. At push of a button, you can prepare your home for bedtime.
Arm your system, lock the doors, turn off the lights, and say good night!
Smart home control panel
Your panel is the hub of your smart home — a single point of connection between your security system and all of your devices. The Guardian IQ is a state-of-the-art home security touchscreen panel and smart home automation controller. Aside from being very (very) good-looking, the IQ offers:
Hands-free Bluetooth disarming
Built-in 5MP camera and glass break detector
Advanced encryption technology
And more!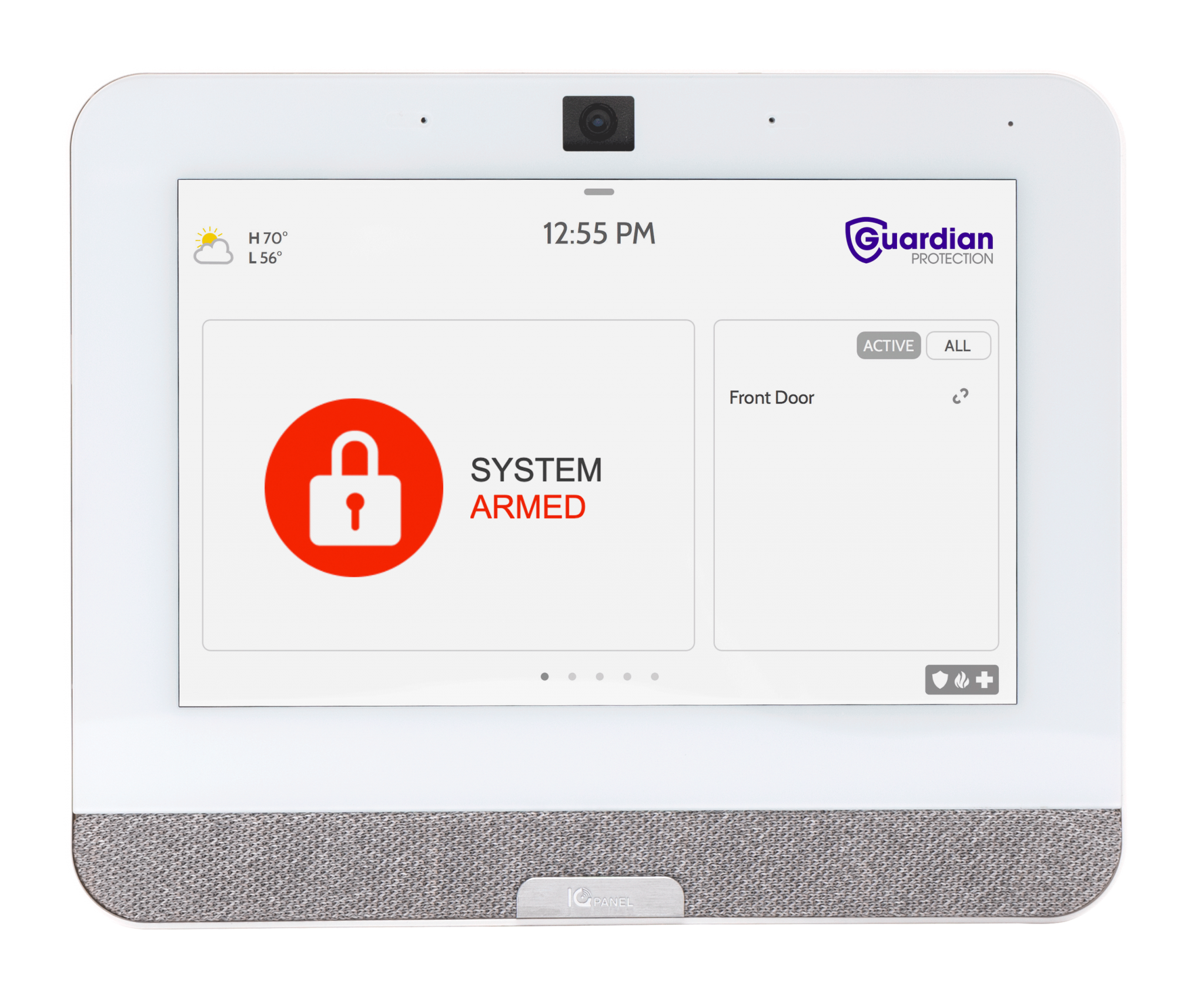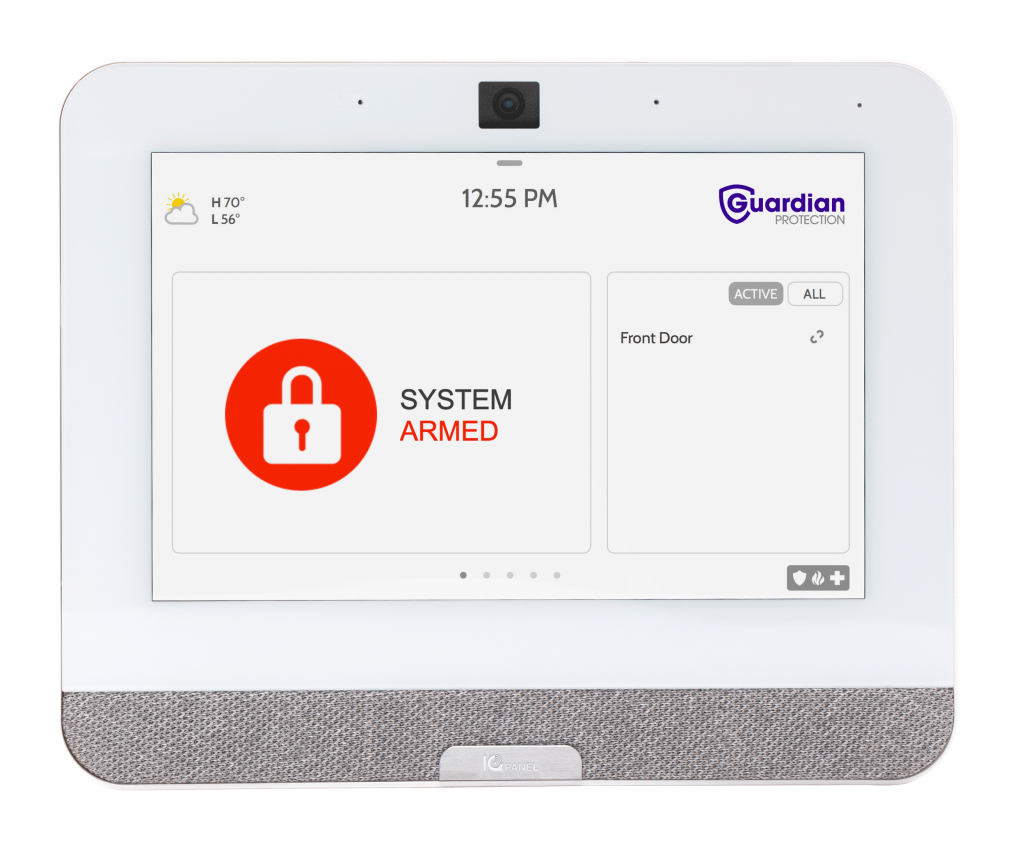 You can also customize your home automation settings to sync with your security system. For example, by locking the front door you automatically arm your security system, turn off your lights, and adjust your thermostat to an energy-saving level.
Keyless smart lock
No more keys under your doormat! It's simple to unlock your door from your smartphone.
Remotely lock and unlock the door
Check door lock status
Receive text or email alerts when the lock is used by anyone
Add unique codes for users who need access to your home or simply unlock the door from your smartphone, tablet or computer. Perfect for  guests or subcontractors arriving to your home when you can't be there. Unique codes let you know who used the lock and when.
Garage door control
Never wonder if you left your garage door open! Now you can operate your garage door from your devices, anytime and anywhere.
Works with any internet-connected computer or mobile device via our app
Operates seamlessly with your Guardian smart home security system
Program to close door when your security system is armed
"Awesome company. They come out when needed and check everything and make sure I'm happy. It notifies me when any door opens. I leave the house not worried."
"I LOVE GUARDIAN! I feel extremely safe, my surround sound is awesome, my video doorbell is so convenient when I'm not home! My guests are always impressed! 10 stars!"
I can call day or night and the representative is always patient and kind.
Smart thermostat
Keep your home warm and cozy or comfy and cool automatically. Manage your home's temperature to maximize energy cost savings!
Save up to 10% a year on your heating and cooling bill. That's the Energy.gov estimate based on turning your thermostat back 7 to 10 degrees for eight hours.
Use MyGuardianHome.com to set customized heat/cool settings based on time of day, day of week, weather outside, or your travel schedule
Syncs with smart home assistants. Control the temperature with your voice!