As a facility or safety leader, it's up to you to keep the engine running smoothly.
Like the parts of an engine, every square foot of your manufacturing facility depends on the others to function effectively and achieve your goals.
Production lines and moving belts, staging and receiving docks, inventory storage areas, packaging halls and passageways, can be hotspots for theft and employee accidents.
Guardian Protection will help you reduce risk and increase the potential of success.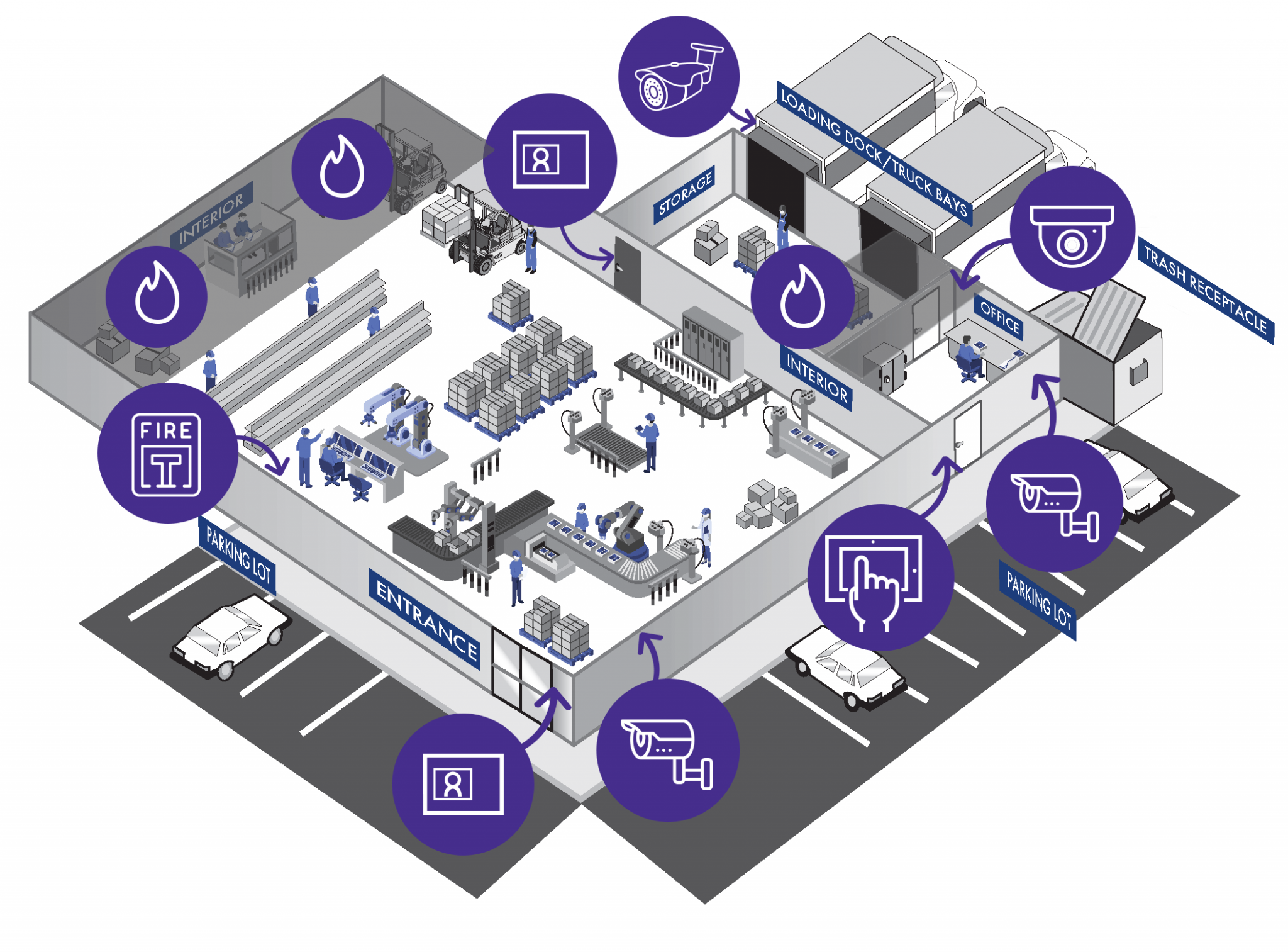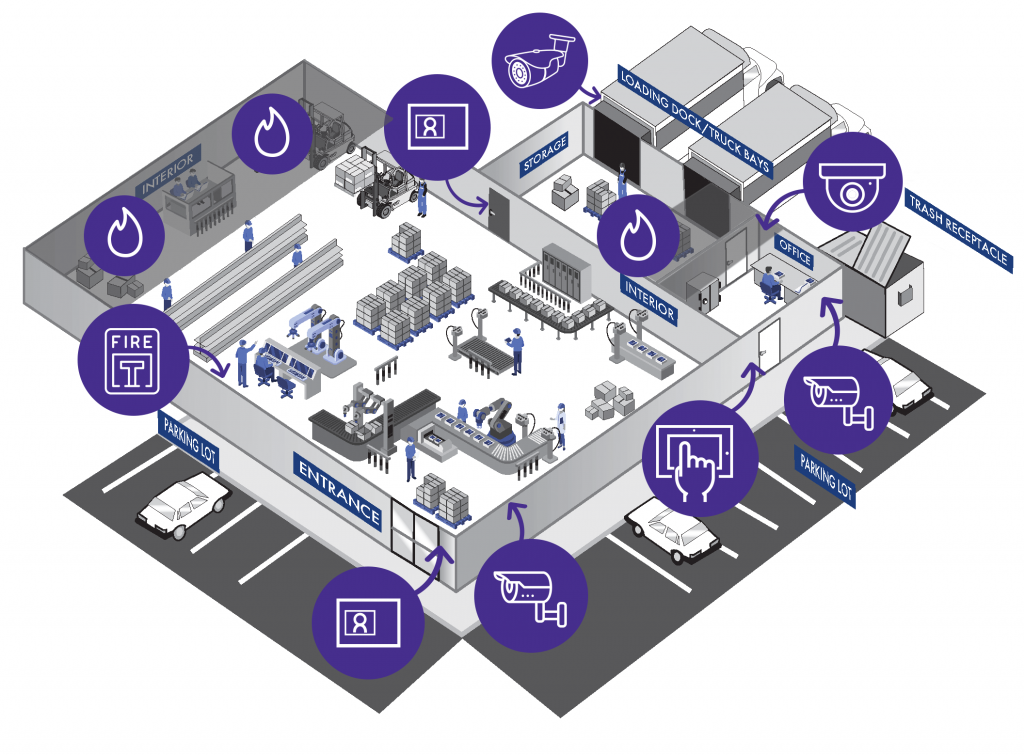 Why Guardian
We offer a no-obligation meeting where security experts offer their time and years of experience, upfront and at no cost to you. It's a hassle-free opportunity to have Guardian personally evaluate your plant, discuss your budget and goals, and recommend smart solutions to you.
Our in-house team of design, engineering, and I.T. professionals is at your service. Guardian Protection has served business and industry since 1950. We design and install interior and exterior surveillance cameras (CCTV), access control and intercom, and fire and intrusion detection systems. Some of the most highly recognized facilities and plants in the nation have entrusted the safety of their people and their facility to Guardian.
Ready to put Guardian to work?
Call us at 1.800.857.5028 or complete the form below and we'll contact you.
Request Free Consultation
Reduce workplace accidents and increase employee accountability
What security measures are in place at your facility to monitor areas prone to machine-related accidents, falls, environmental exposures, and perhaps worst of all, employee behavior that doesn't meet best safety standards?
In 2020, OSHA appropriated more than a half-billion dollars for inspecting the safety of workplaces. With the "great resignation" still underway, how much will it cost your company — in time, money, and effort — to replace a team member who is temporarily or permanently sidelined due to a workplace accident? Or to litigate a false injury claim?
We'll recommend simple solutions such as interior and exterior camera systems with varying range, recording capability, storage, and resolution. Guardian can also provide monitored panic buttons, NFPA code-adherent fire alarm systems and pull stations.
Protect and control access to hazardous, sensitive, and high asset areas
Does your facility use machine shop equipment or forklifts? Does it produce goods featuring chemicals, coatings, food products, or packing materials? Is the value of the inventory great? A simple "yes" to any of these questions is an indicator that your plant has the potential for fire, employee injury, and theft.
Two of OSHA's top ten violated standards are the failure to meet Machinery and Machine Guarding requirements and the failure to control Hazardous Energy related to lockout/tagout requirements.
And according to the NFPA, any area having a degree of fire hazard greater than that normally associated with general occupancy, is considered hazardous; for example, a storage room filled with ordinary combustibles.
How Guardian can help protect your facility
Mitigating risks can be far less costly than remediating the damage caused by them. Guardian provides monitored fire alarms and pull stations, intrusion detection devices, and access control systems with remote access. We also install CCTV surveillance with analytics that provide you on-demand intelligence related to security incidents.
Request Free Consultation
Get the benefits of Guardian's UL monitoring and VIP Care
Our wholly-owned, U.S.-based monitoring centers are staffed around the clock and are Five Diamond-certified by The Monitoring Association (TMA) – its highest approval rating.
We're among the elite 25% of central stations in North America that adhere to the high standards of Underwriters Laboratories (UL). Respond to your emergency signals within an average of 30 seconds, our protection specialists are on duty 24/7 to notify authorities and follow all of your pre-established protocols.
Our VIP Care team is comprised of specialists dedicated to the needs of our commercial customers. With years of expertise, they deftly handle every need, from billing to reports to troubleshooting. Your facility is in good hands with Guardian Protection!
We're not name-dropping. We're just honored.
You'll find Guardian Protection at work in facilities focused on transportation, chemicals, healthcare, technology, food, and more. Among the many we count as valued customers, here are just a few we're proud to help secure:
A leading global provider of freight rail, transit, mining, industrial, and marine equipment and systems
A respected 130-year-old manufacturer of hospital and home healthcare products
A leading producer of fiber-based packaging and pulp
The world market leader in high performance optical, radar, isotope, and X-ray measuring solutions
A global healthcare company specializing in lifesaving medicines and technologies for infusion, transfusion and clinical nutrition
The North American subsidiary of the world's largest producer of powdered metals
A LEED certified food manufacturing facility producing exemplary private label products