It's hard to believe the first day of spring was nearly two months ago, because winter is still flirting with us shamelessly. Depending on where you call home, you may find yourself in flip-flops one day and furry boots the next.
As stay-at-home orders and state guidelines continue to shift in the coming weeks, people everywhere will be pumped to step out into the sunshine. Summer may unfold a little differently this year. But overall, we expect the trend of people spending more time away from home during the warmer months will hold true.
As the temperature rises outdoors, we take more time off, are more active, go on more vacations, or just stay out later. It's probably no coincidence that home burglary rates increase during summer months, according to a study by the U.S. Department of Justice.
During COVID-19, many of us have already become legit cleaning and disinfecting ninjas — so a little spring cleaning? No sweat! Take advantage of this mindset, and any extra time you have at home, to make your home a more pleasant place to be.
But don't stop at dusting and power-washing; clean up your home security, too! Smart home security systems like Guardian's can do a lot of the thinking for you, so it's easy to adapt a set-it-and-forget-it attitude after installation. But to get the most that your system has to offer, a little bit of maintenance and regular check-ins go a long way.
Set yourself up for a safer, more secure spring and summer by making home security part of your spring cleaning ritual.
Sanitize your security and home automation equipment
Some of the equipment you use to control and secure your home may be hands-free — like a motion sensor — and some you might touch every day, like your panel.
From your thermostat to your panel to your cameras, make sure your security and home automation devices are on your spring cleaning list. Too much dust and debris can interfere with how devices like smoke detectors function. Play it safe and keep 'em clean!
Set up your security notifications
All the bells and whistles that come with a smart home system are amazing, but ultimately, your safety and peace of mind is what it's all about. If you haven't programmed any alerts or notifications for your system yet, get started now! There are countless ways you can customize your system to simplify your life, but we recommend setting up alarm alerts and arming reminders first.
Alarm Alerts – Get a notification anytime an alarm is going off. You'll also get a phone call, but notifications provide instant awareness anywhere via your smartphone.
Arming Reminders – Get a notification if you leave your home and forget to arm your system.
Setting up alerts is easy. Log into the site you use to control your Guardian alarm system, navigate to "Notifications," and choose "New Notification."
Get the Guardian App
For many of us, our smartphone is like an extension of our body. Similarly, Guardian's free mobile app is an extension of your security system — not to mention a direct line to what's going on at home. You can customize your smart security system endlessly and stay connected on the go. In short, if you're not using the Guardian smartphone app, you're missing out!
The Guardian app turns your smartphone into a remote control for your home and smart devices — arm/disarm your system; adjust your thermostat; control your lights and garage; and more. This is also a quick and easy place to check surveillance cameras and watch recorded video clips.
Quick tip: An app appearing on your smartphone's home screen is more likely to be used, so give your smart home security app prime real estate.
If you already use the app, make it your springtime objective to get the most out of it or just learn a new feature. Have you created any custom Scenes? Drawn a Geo-Fence? If not, go for it!
Do an exterior security spot-check
It's always important to think about how your home looks to potential burglars. Scan your home during spring cleaning for any possible security vulnerabilities. Think about the age and quality of your front door, your locks, your windows, or any sliding glass doors. Are they strong enough to resist a forced entry, or do they need back-up? If it's that time of year when you put an air conditioning unit in the window, is it safe and secure, or an invitation to intruders?
We also recommend considering the exterior, like your yard, your porch, or even walk-ways behind your home. Are the shrubs overgrown, providing an easy hiding spot for interlopers? Can you see the front door clearly from the street? Are there dark, difficult to see areas that would be safer with security cameras or motion-triggered lighting?
Check out our post on how burglars break in to learn about common tactics burglars use, and how to outsmart them.
Update Your Emergency Contacts
If you're a Guardian Protection customer, take a few minutes to log in to your account on our Customer Care site. Make sure all of your information is entered and up to date and double-check your emergency contacts. These are the people you asked Guardian to call in case anything goes wrong, and we can't get in touch with you.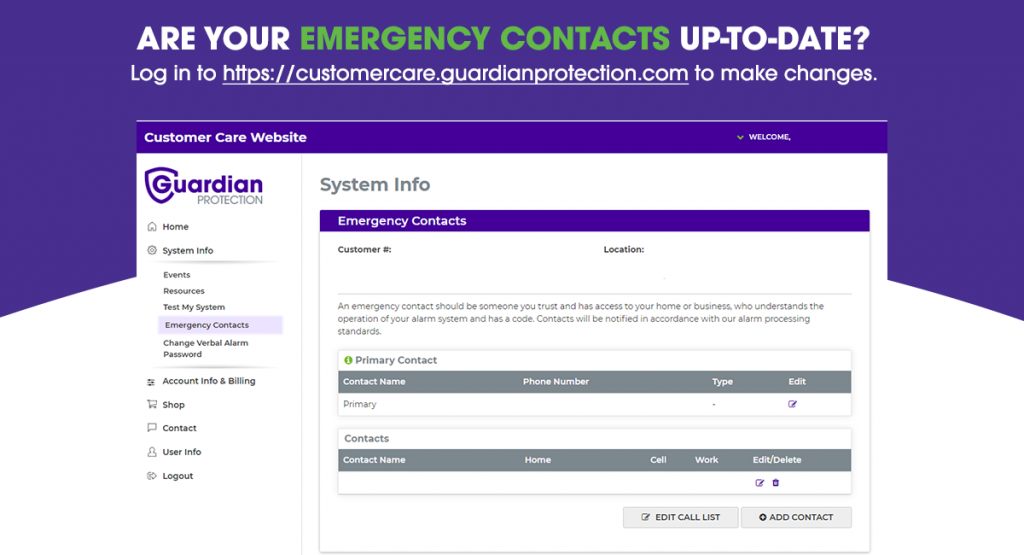 Save the Guardian monitoring team's phone number in your contacts
Spam calls are the worst, and you may already be screening your calls. But to give you the best service possible, it's critical that when someone from our monitoring center calls you, they can make contact.
Make sure you can recognize when a call is coming from us. Calls from our monitoring center will show the number 800.364.3616. If you have Caller ID, you will see the word "GUARDIAN" displayed. This number is only used by our monitoring center, so program it into your contacts right away. You can also use this number to return calls from a monitoring specialist or notify the monitoring center of a false alarm.
Because this number is reserved for the monitoring center, it's not the right channel for your customer service requests. You can always call 1.800.PROTECT (1-800-776-8328) or visit the Customer Care site for your other Guardian needs.
Set up a schedule to test your system
It's important to test your system to make sure it's communicating properly with our monitoring center. It's simple to do and will give you peace of mind.
We recommend testing once a month, and after making any adjustments in your home that that may impact your system, such as landline, internet, and broadband service changes. If you're planning to do any remodeling or home renovations, make a note to test your system afterwards. It's also a good idea to do a test a week before taking a vacation as an extra precaution.
If you don't set up a schedule immediately after installation, it's easy to forget. Get back on track now and add a recurring reminder to your calendar so you never miss another month.
When you're ready, here's a step-by-step guide on how to test your security system.
Focus on fire safety
Early detection is a major factor in preventing damage from home fires, so put all fire detection devices high on your priority list! Every spring cleaning session should include testing your smoke and heat detectors and replacing batteries if needed.
If you have a professionally monitored fire alarm system — which we strongly recommend — make sure your system is disarmed before changing the batteries in your devices. Then go to Guardian's Customer Care Website to place your system on Test Mode. This ensures our monitoring team doesn't accidentally initiate a response from authorities.
Save this video on how to change your smoke detector battery so it's handy when you need it.
You may have other wireless security devices like door contacts and control panels that run on batteries. Make sure you know which devices have batteries and how often they need to be changed. You can find how-to videos for a variety of Guardian products on our YouTube page.
A few more tips:
Do you have a fire escape plan for your household? If not, add it to the list. If you already have a plan, run a drill this spring! You should practice it at least twice a year.
Don't have a security system?
A professionally installed and monitored smart home security solution will give you peace of mind and confidence, especially during your warm weather excursions.
Even if you're still on the fence or aren't sure what you need in a system, feel free to give us a call at 1.800.PROTECT or visit our website to check out our home security options. We'll send a trained expert to your home to evaluate your property, really listen to you, and make a recommendation based on your unique needs — no obligation, no fee.