If you've been searching for the best home security system, you may have heard about professional monitoring more than once. But why should you consider professional monitoring when searching for a new home security system? Here's what pro monitoring is, how it works, why we're obsessed with it, and why you should be, too.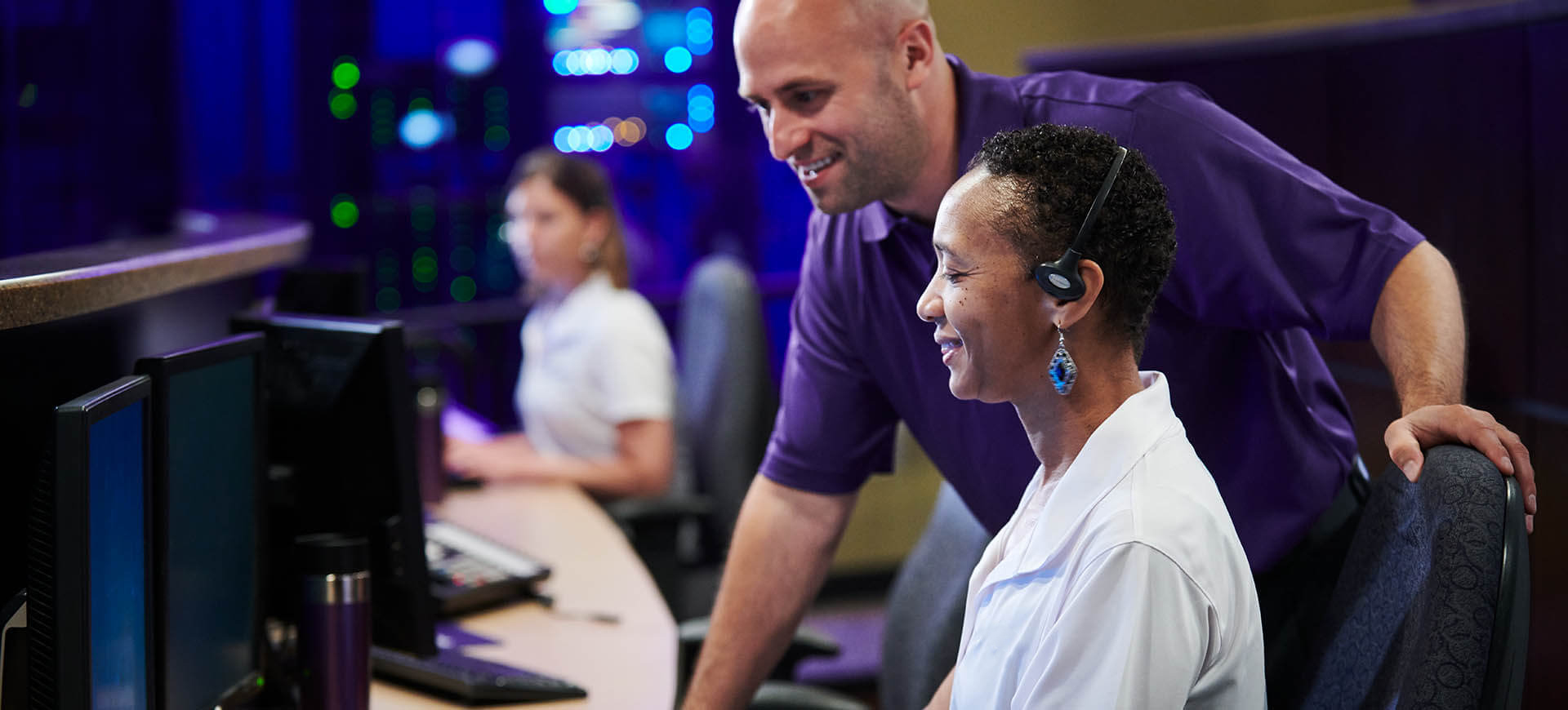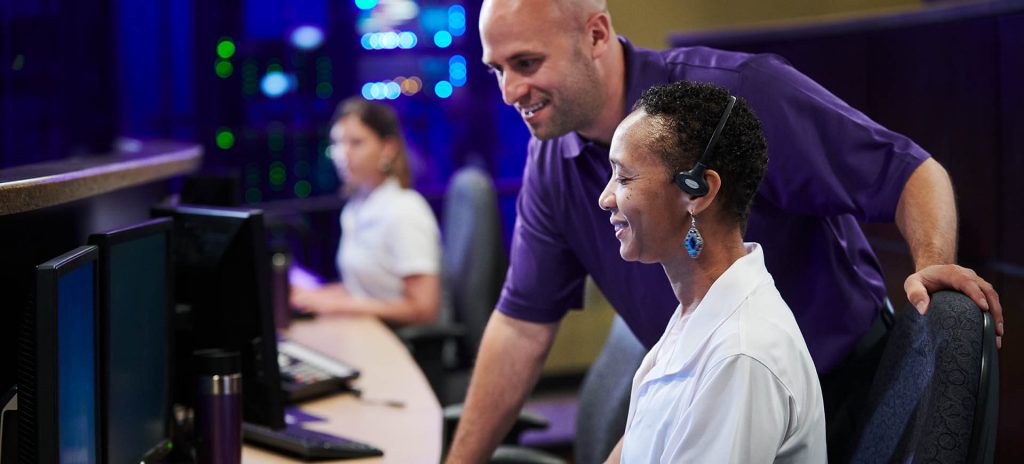 What is professional monitoring?
Professional monitoring refers to a 24/7 service in which a team of trained experts looks out for signals from your security system indicating an alarm event or an emergency. This could be a break-in, a fire, a medical emergency, or the presence of carbon monoxide. When you have professionally monitored home security, you don't have to worry about alerting authorities in an emergency.
How does professional monitoring work?
Different monitoring service providers may have different processes in place. But generally, the experts keep an eye on your alarm signals from a secure location. This location is referred to as a monitoring center or central station. If the team receives a signal indicating an alarm, they will respond quickly by calling you or your emergency contacts to make sure everything is OK.
When needed, these professionals can contact your local fire and police departments to get you the assistance you need. Whether you're home or in another country, if your alarm goes off, that monitoring center will know about it and quickly take action on your behalf.
As an example, watch this video for a simple break-down of how Guardian burglary monitoring works:
Pro monitoring or no monitoring
When shopping for a home security provider, the decision you make about who responds when your system is triggered might be the most important. Your choice comes down to two basic options: Professional monitoring or no monitoring.
Many big-box security devices you see online or in stores are not monitored. After you set up your equipment, the only person looking at your alarm status is you. You may have the option to download a mobile app that will send alerts to your smartphone if something goes wrong. But after that alert is sent, it's on you to get help.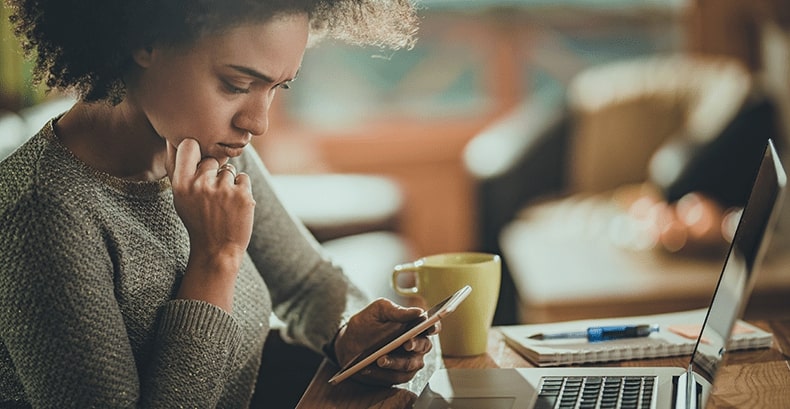 The problem? True home security is a full-time job — or more accurately, a 24/7/365 commitment. You can't always be around to respond when there is an issue. What if you're in the shower, at work, or asleep? What if you're on vacation when a fire starts, and your pet is home alone? Even if you are available when an alarm goes off, would you know what to do? The more you dissect all the variables and possible outcomes, the dicier it becomes.
While it's helpful to get an alert on your smartphone that your house is on fire, it's even better to get a phone call that a trained team has already notified the fire department that help is needed.
Bonus: If you have a monitored home security system, you may qualify for an insurance discount! Talk to your insurance agent to find out for sure.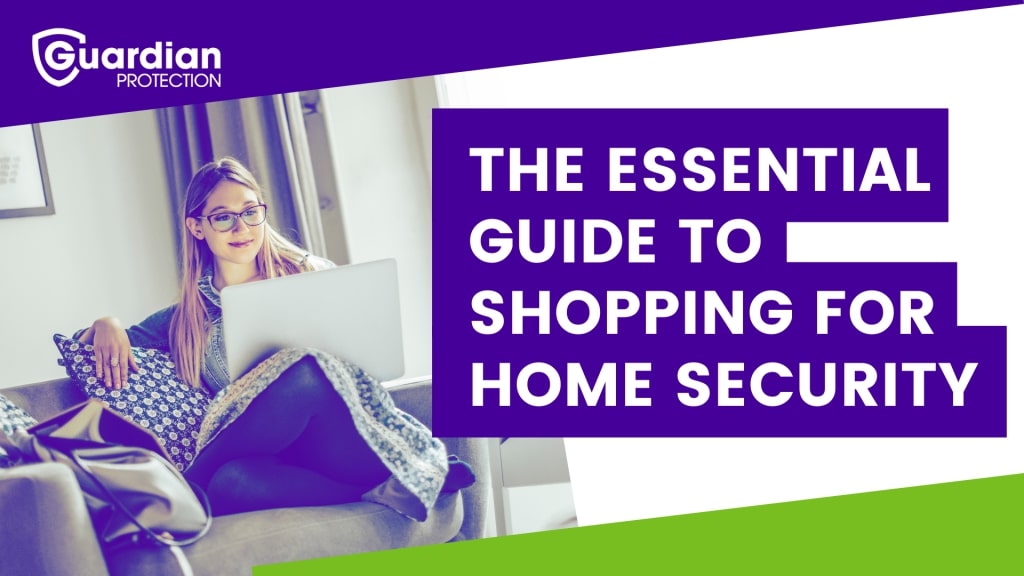 Shopping for home security? Our essential guide can help!
Download PDF
Benefits of professionally monitored security
Always on, 24/7/365.
Your priority in an emergency is to look out for yourself and the people you love. Why not leave the monitoring to the pros and stay focused on what matters most? You can't be everywhere at once, and your safety shouldn't depend on whether or not you felt your phone vibrate during a work meeting. With a professionally monitored home security system, your security company will be alerted when something is up and take the proper steps to get help on your behalf.
Guardian's monitoring center doesn't take days off and someone is always ready to help, even if you're away from home. No more worrying about missed smartphone notifications or leaving your house unattended while on vacation.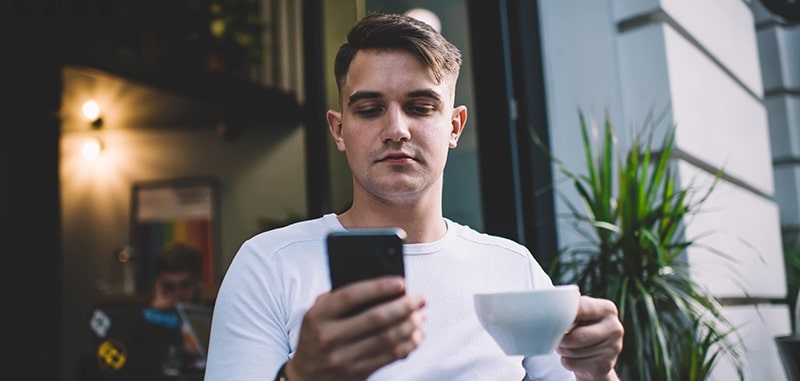 Connected to your emergency contacts.
We know you want the people you trust to be notified if something goes wrong. This is one reason why when you choose Guardian Protection as your smart home security provider, you are encouraged to provide a list of emergency contacts. These are the people Guardian will contact for you in an emergency. They should be individuals you trust with access to your home, who understand how to use your alarm system, and who have a code.
Highly trained monitoring team.
The quality of a monitoring center can impact the outcome of an emergency. The team you trust to help protect your world needs to be highly trained, educated, and running like a well-oiled machine. These are the standards you should expect from your security company's monitoring operations.
Guardian's Monitoring Center Protection Specialists are rigorously trained and take great pride in their work. And while many alarm companies outsource this service to a third party, Guardian does it all in-house, and our operations are 100% percent U.S.-based.
The security business is uniquely human. Yes, technology is important, but at the end of the day, what we do is all about the people we help protect. No one wants to be alone when they're afraid or feeling unsafe. This is why our protection specialists stay on the phone with you until help arrives.
Monitored life safety devices.
An unmonitored or even self-monitored home is especially vulnerable to fires. For example, an entire house can be engulfed in flames in just five minutes!
While it's helpful to get an alert on your smartphone that your house is on fire, it's even better to get a phone call that a trained team has already notified the fire department that help is needed. Smoke detectors, heat sensors, and carbon monoxide (CO) detectors installed by Guardian Protection are monitored 24/7. Even if you're away from home at the time, we're jumping into action if a fire or CO is detected in your monitored home.
Our medical pendants are also monitored around the clock to ensure that there is an easy way to get help when needed. Take Natalie J.'s experience for example. After she couldn't breathe due to a heart blockage, she used her medical pendant to call for help.
I reached for the necklace and pressed the button as I struggled to call 911. The 911 dispatcher said, 'Your Guardian has called me. An ambulance is on the way.' In four or five minutes, the paramedics were there. In seven minutes my husband was home. Guardian had called him, too.

Natalie J.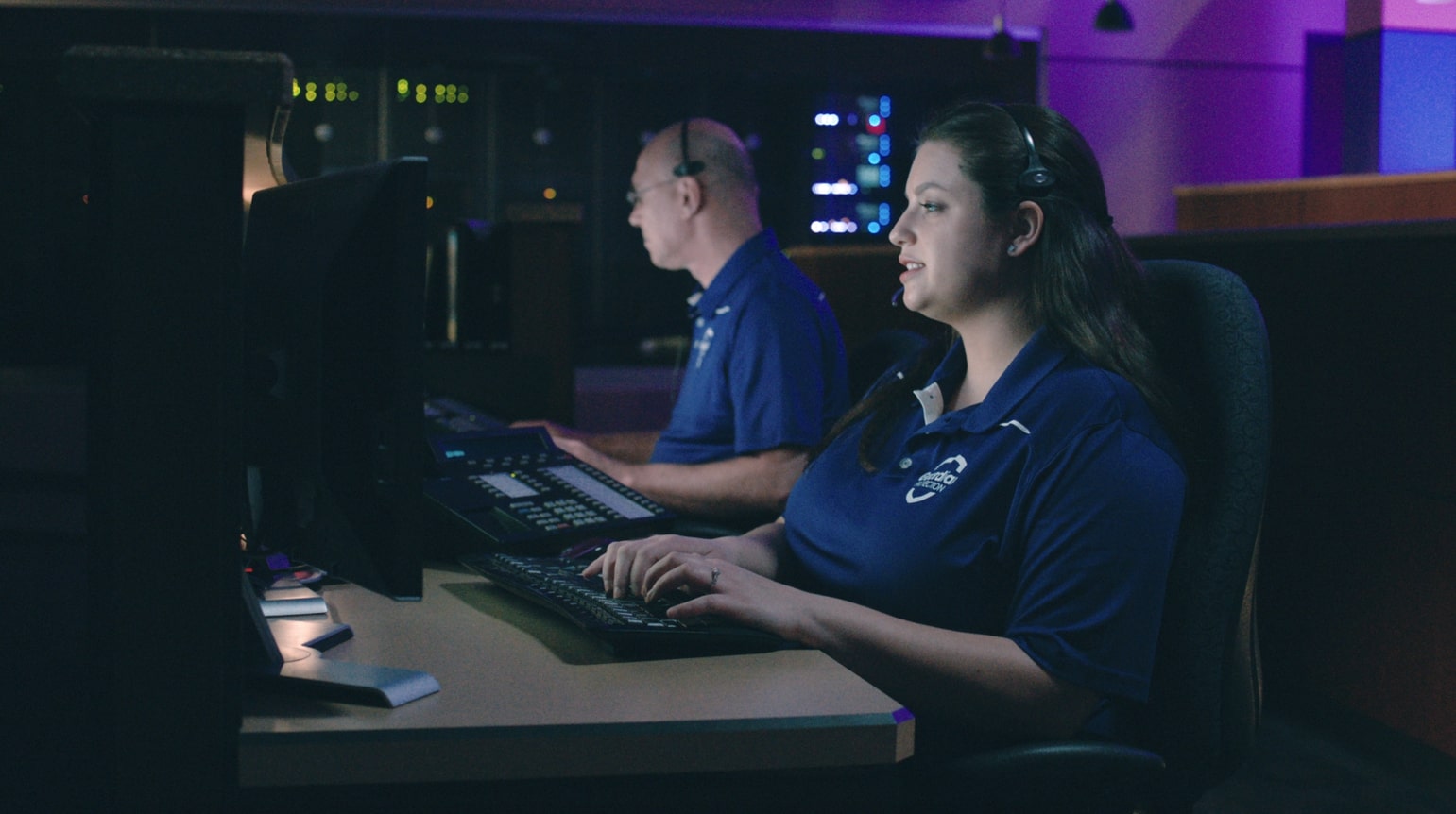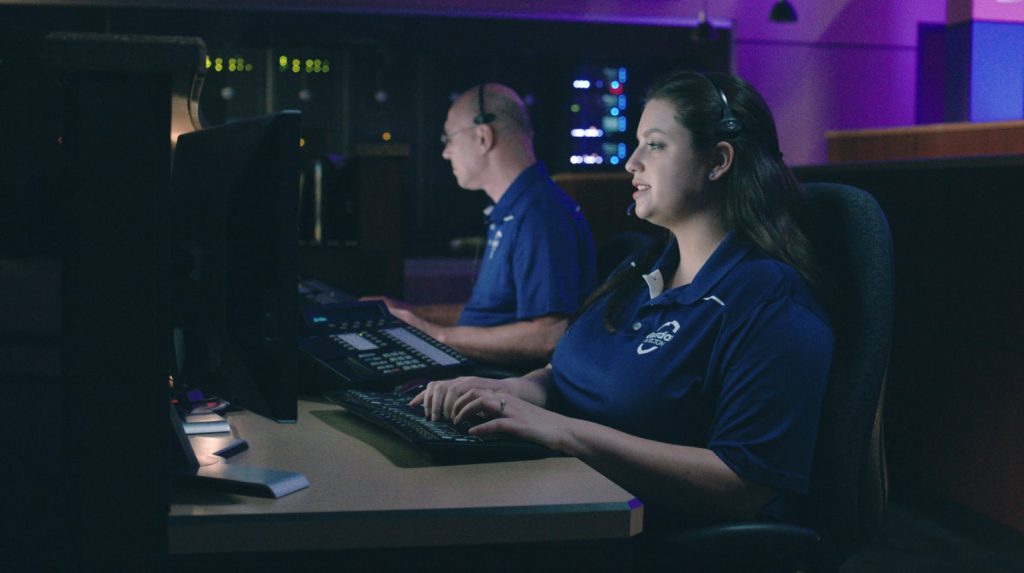 Professional monitoring is a direct and intelligent line to law enforcement.
A professionally monitored home security company will communicate with law enforcement and first responders on your behalf when needed. This makes having successful working relationships with local authorities essential.
Our Guardian team members are familiar with the different policies and procedures within the communities they serve, and work tirelessly to improve our response time and put programs in place to reduce accidental alarms.
In fact, we recently received the Police Dispatch Quality (PDQ) Award from the Security Industry Alarm Coalition! Only one U.S. alarm company receives this award each year, and the honor demonstrates our efforts to reduce false alarm dispatches by working closely with law enforcement, training our team members, educating customers, and implementing high-quality alarm reduction programs.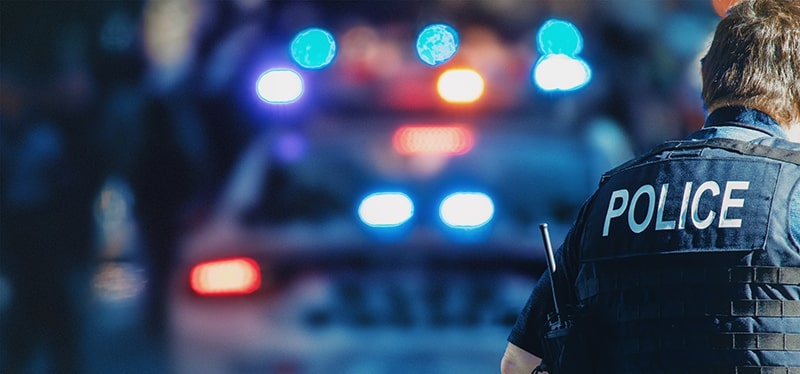 Checklist: Questions to ask a security provider about pro monitoring
Remember, not all security providers have the same standard of monitoring. The quality of a monitoring center can impact the outcome of an emergency, so the team you trust to help protect your world needs to be highly trained and running efficiently.
To find the companies who are doing it right, make sure you're asking the right questions:
Do they offer professional monitoring for the products they sell, or is it all on you?
Do they own and operate their monitoring operations, or are they outsourced to a third party?
Are the operations U.S.-based?
What kind of training do they require for employees?
What are their credentials and certifications? Make sure their monitoring centers are UL-certified and Five Diamond-accredited, meeting the highest industry standards.
Do they have just one station, or do they have backup?