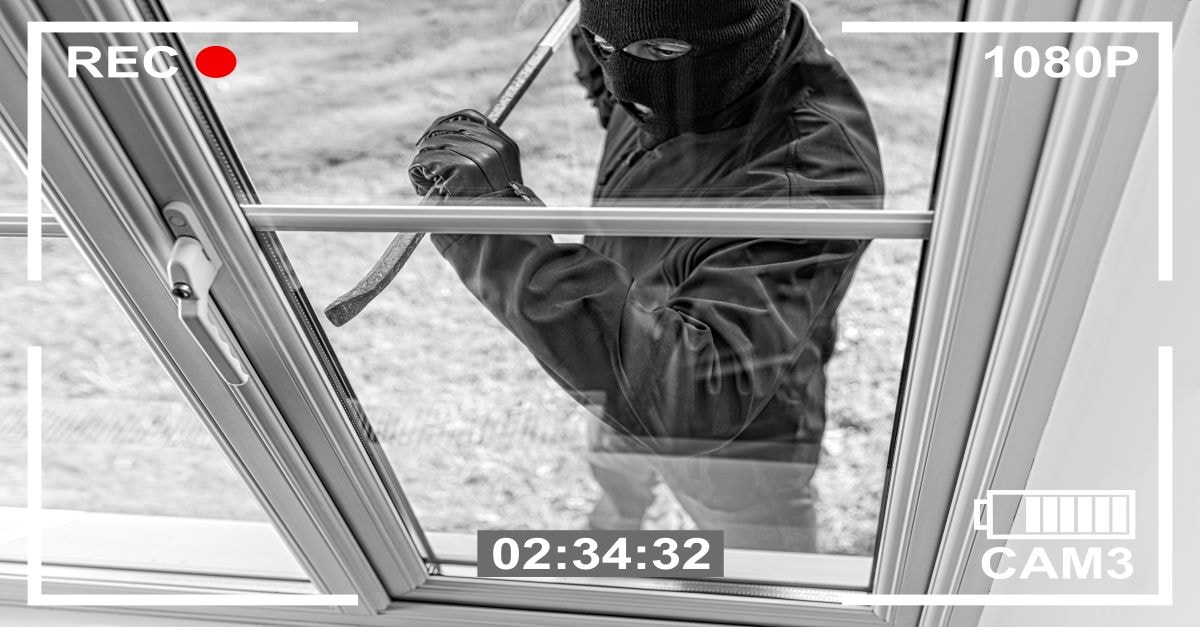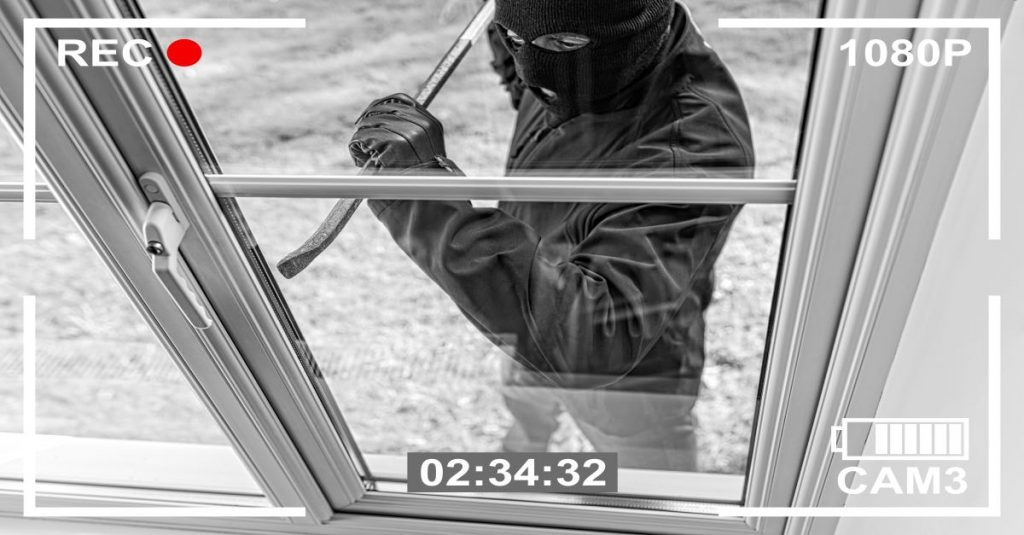 When an investigative news team asked 86 inmates serving time for home burglary what an ideal target looked like, some answers were disturbingly specific. For example, responses included:
"NRA sticker on car bumper = Lots of guns to steal."
"Nice home with nice car = A person with money."
But across the board, one general theme rose to the top: When burglars plan a break-in, they don't just pick a fancy neighborhood and stop there. It's sneakier (and scarier) than that.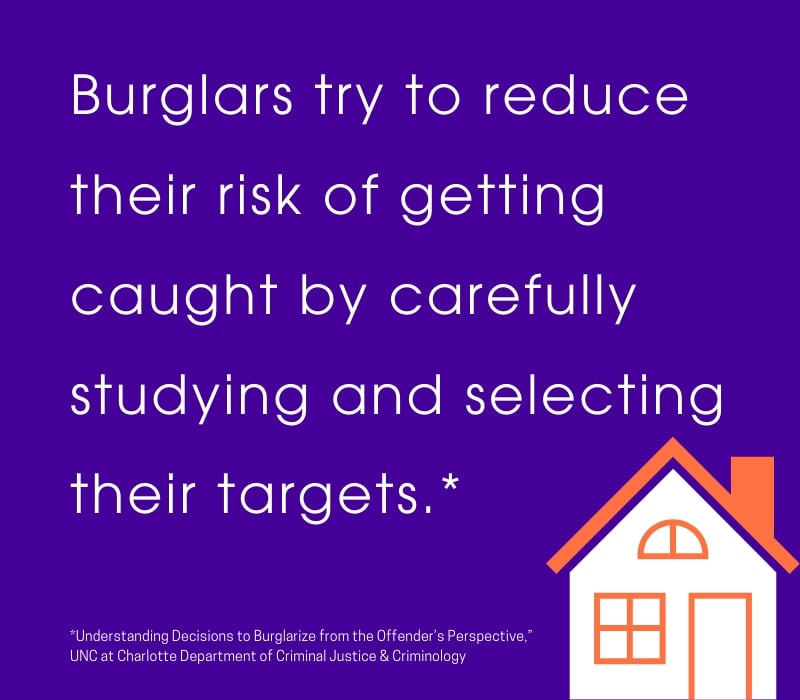 How burglars pick their targets
Burglary target selection involves taking in the characteristics of individual properties within the same area, sometimes over an extended period of time. Intruders may look for signs that a home they're considering is an easy target. Easy entrance, easy escape, and level of surveillance all get factored in.
Burglars want to get in and out of your home as quickly as possible, without being seen.
So does your home have weak spots, or characteristics making it susceptible to break-ins? What steps are you taking to address them?
Read on to learn about sneaky tactics burglars use, spots around your house that can pose a risk, and what to do about them.
1. Burglars enter through the front door.
This is in the number-one spot for good reason. We consider it the sneakiest tactic at all, because it sounds unbelievable: The most common way burglars break in is right through the front door.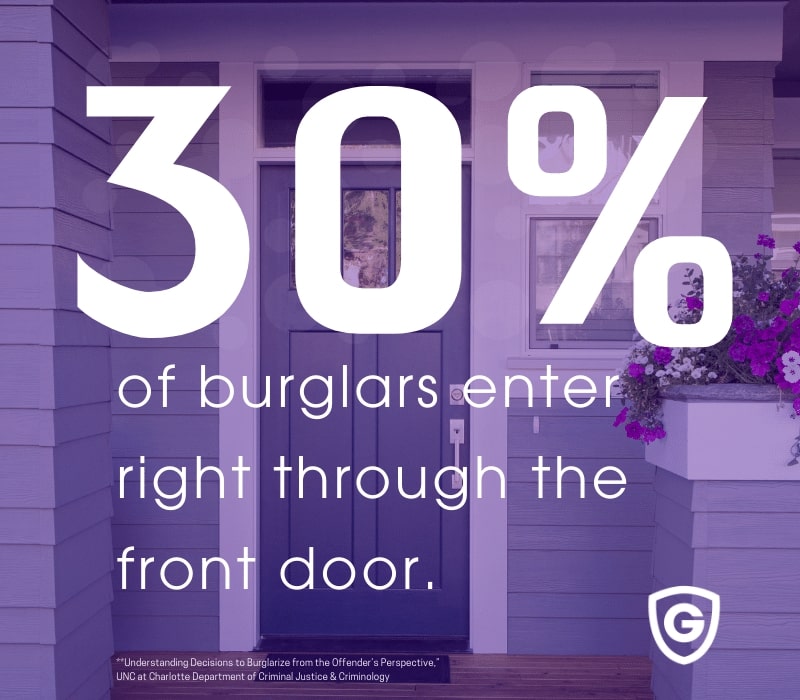 Protecting your front entrance is worth the investment. Here's a few tips:
Use door and window contacts. First, if you have Guardian Protection as your home security provider, you probably already have a door contact on your front door.
If you don't, we strongly recommend including a professionally installed sensor on your front door, and on all other critical entry/exit points around your house. When a Guardian Protection system is armed and the monitored door is opened, the sensor will be activated, and an intrusion signal will be sent to Guardian's 24-hour monitoring center.
Watch this quick video to learn how a professionally monitored burglar alarm system can help.
Know what your door is made of. The anatomy of a door isn't exciting, but it is important. Characteristics that could be making your front door vulnerable include:
Hollow insides. Your main exterior doors should be built to withstand an attempted forced entry. Many doors have hollow cores, making them easier to bust in. Go with solid wood or metal doors when possible.

Old, weak, or faulty locks. The area where the deadbolt lock inserts into the doorjamb is one of the door's most vulnerable points.

According to Consumer Reports:
"All locks come with a strike plate that attaches to the door jamb… [F]ar too many of those included short screws that catch only the jamb and not the framing of the house. The kick-in resistance of most locks improves dramatically when we replace a stock strike plate with 3-inch screws and a box strike, which you can buy online for as little as $5."
Important: Unless you're well-versed in this type of work, we recommend hiring a professional. Also, it's usually a two-person job, so phone a friend and stay safe!
Video doorbell + Smart lock = Total front door awareness. If you really want control over who's coming and going, this is the combo you need. While the video doorbell camera lets you answer the door from anywhere and record motion-triggered video clips, the keyless smart lock enables you to lock and unlock your door remotely, receive mobile notifications, and even give guests temporary access codes.
Guardian Protection's video doorbell and keyless smart lock are fully integrated with our home security systems, providing even more security and convenience.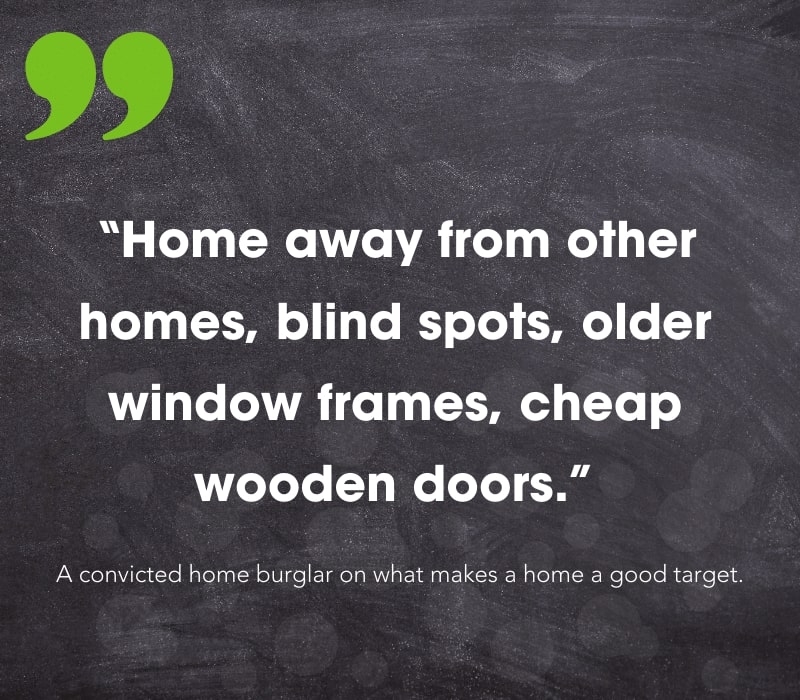 Also, don't neglect rarely used entrances, such as an exterior basement door, a sliding glass patio door, or even the garage. Signs that an entrance is rarely used could be even more attractive to a burglar.
2. Burglars look for home security systems.
A professionally monitored burglar alarm system is always the smartest choice to help protect your home.
Think of it this way: If a break-in is not carefully planned — rather, it's a crime of opportunity — the offender may be deterred by something that turns an easy cash-grab into a complicated risk.
This is often the case when burglars realize a house they are targeting has monitored home security. In fact, a study revealed more than half would change their minds if they saw an alarm system in place.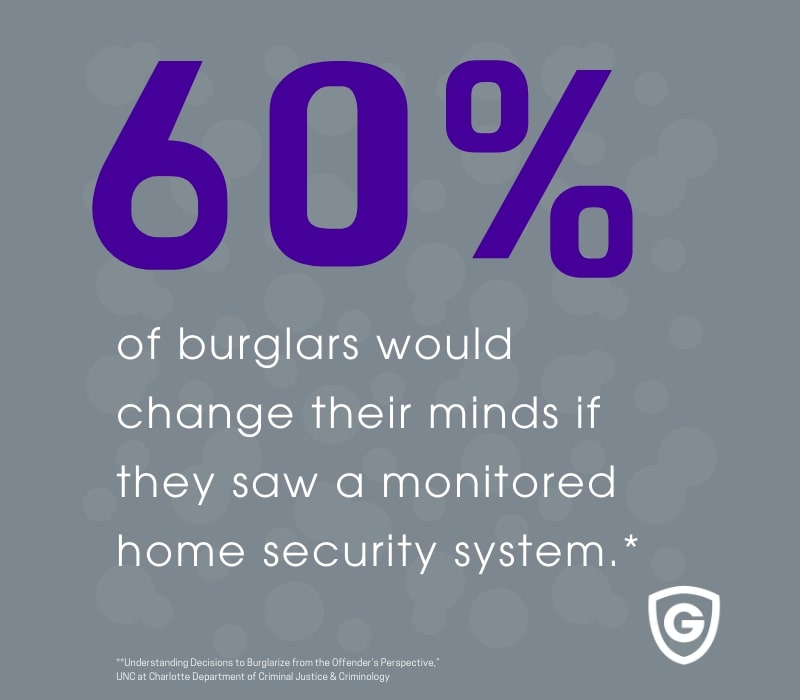 The presence of video surveillance is another red flag for intruders, so consider professionally monitored home security systems with outdoor video cameras.
3. Burglars break in through the windows.
Your windows are, well, the windows to your home.
In addition to door and windows sensors, we recommend glass break detectors. Guardian's glass break detectors can "hear" the sound frequency created by breaking glass within its range.
Some window-based air conditioners can make your home easier to enter. Many people simply install these units in an open window and let gravity do the rest. This common oversight can attract a burglar's attention and allow them to gain entry. Not cool.
If you have a window A/C unit in your home — especially one on the first floor — take extra measures to secure it. Here's a few tips from a police department who encountered this problem in their township:
Install an air conditioner bracket to the outside of the unit. The bracket not only supports the air conditioner but attaches to the bottom of the unit and the house, making it harder to move the air conditioner.
Add a sliding window lock to each side of the window frame. Depending on the type, the locks are bolted or screwed in. They prevent burglars from sliding the window up and down. Attach the lock into the frame just above the window. Tighten it securely.
Measure the length from the side of the unit to the wall and then attach steel corner braces to each side of the air conditioner. Connect the other end to a secure section of the wall. Use screws or bolts to secure the brackets in place. This prevents thieves from pushing the air conditioner in or pulling it out.
A good security solution for a window A/C unit is to create what we call a "vented window." Guardian can install a monitored device that allows your window to remained armed even while it's open.
If your windows are on the second floor, be aware of anything climbable nearby, such as thick tree branches, a shed, or a ladder left outside.
4. Burglars sneak through walkways.
Walkways beside your house, particularly ones shielded by shrubs and shadows, offer intruders easy hiding spots. They allow someone to get close to your home without being seen by passers-by.
Erase these blinds spots with motion-activated lighting and video surveillance cameras. Focus outdoor security cameras on areas hidden from your windows or the sidewalk. With Guardian's smart home system, you can even receive mobile alerts any time motion is detected in pre-determined areas. Better lighting can help deter burglars and give you more visibility at night.
5. Burglars watch your home and test the waters.
You know that newspaper you stopped ordering years ago, but is inexplicably still being dropped off at your house every day? Get it off your lawn.
A quiet, unoccupied home is way more attractive to burglars than one that is clearly active, so burglars may tag your door with flyers or other stickers to test how quickly you clear them away. Do your best to keep mail from piling up around your house.
Also, be on the lookout for "door-knocking scams." Don't open your door to anyone if you're uncomfortable, and don't feel obligated to answer a visitor's questions simply because they ask. Representatives from reputable companies will have identification, and won't just show up to provide service without an appointment.
Don't let your home be an easy target for burglars
Living in a "nice" neighborhood generally makes people feel at ease, and statistically, some neighborhoods are certainly safer than others. But the way many burglars choose targets is more complicated than that.
The characteristics of a home, its surroundings, and the presence of a professionally monitored home alarm system can impact an intruder's decision. Beat burglars at their own game, and address any structural weaknesses or bad habits that can make your home an easy target.
Need help protecting your home?
Give us a call to talk to a Guardian Protection home security expert.
Or, fill out the form below for a free quote.