You wouldn't get out of your car without locking up, right? And who leaves the house without shutting off the iron? (OK, maybe we've all done that once or twice — yikes!) So why would you head out for the day without arming your home security system?
Arming reminders can help protect you, your family, and your investment. If you often forget to arm your security system before leaving the house — or just stress about whether or not you did — this post on Arming Reminders is for you.
What are arming reminders?
Arming reminders can notify you if your security system has not been armed by a certain time of day, or if you leave the house without arming your system.
You can choose to receive arming reminders every day, or only on selected days. Based on your schedule or location, Arming reminders let you know if you forgot to arm your system and help you secure your home remotely with one tap on your mobile device.
You can set up notifications to work with the devices you already use, like your smartphone or your Apple Watch.
How to set up arming reminders
To learn how to set up Arming Reminder notifications, watch the video above or follow along with the steps below.
1. Start by logging in to MyGuardianHome.com.
2. Click Notifications in the left-hand column, followed by New Notification in the upper right-hand corner.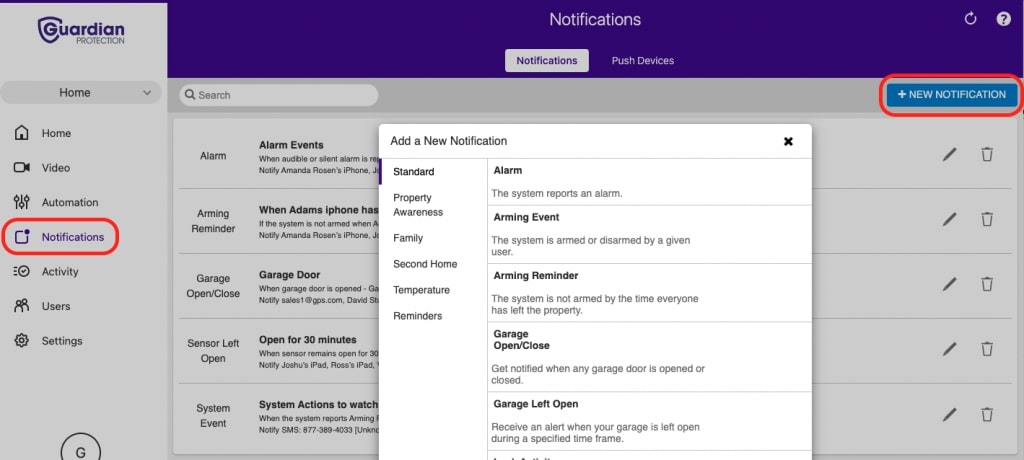 3. From the list of standard notifications, click "Arming Reminder."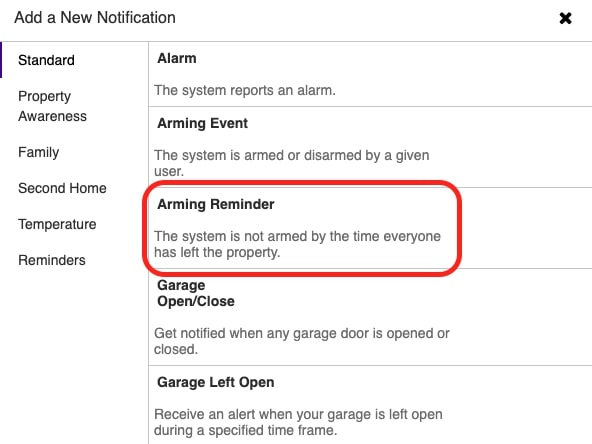 3. Decide between a time/schedule-based arming reminder or a Geo-Fence that uses your smartphone's location.
Learn more about Geo-Fences here.
4. Select when arming reminders should be sent (every day, or just certain days).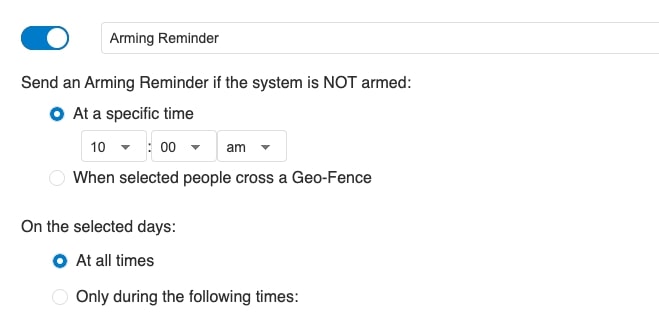 5. Add the person from your Address Book who will receive Arming Reminders, and how they will be delivered. We recommend choosing a device that allows push notifications (like a message popping up on your phone).
6. Click Save, and you're done!
More security notifications = safer + more convenient
There are many alerts or notifications to help you stay on top of things at home. Here are a few:
No-Show Alert: Notifies you if someone you expected to enter your home during a specific timeframe does not show up.
Unexpected Activity: Notifies you of activity that doesn't usually occur.
Alarm Alerts: Notify you when an alarm is going off.
Geo-Services Notifications: Notifies you based on your location. These can serve as important reminders if you forgot to do something like locking your door, close the garage door or not arm your security system.
Environmental Notifications: Notifies you if a monitored smoke, carbon monoxide detector, or water sensor is triggered.
Point-of-Interest Notifications: Notifies you of activity in any area of your house with a smart sensor, like medicine and liquor cabinets.
Are you a Guardian customer and looking to get even more value from your Guardian Protection security system? Read this post.
Don't have smart security? Call 1.800.PROTECT (1.800.776.8328) to speak with a Guardian security expert and get a free quote!