Looking to make your home safer with smart home security? We love it! But making this decision is just the first step.

Creating a security solution that's just right for you requires some research and planning. Luckily, we've created this guide to cover everything you need to consider when looking for a smart home system that keeps you and your family safe while making life easier.
Why Do I Need a Home Security System?
There are many reasons to consider adding a security system to your home. However, the primary benefit of owning a home security system is intrusion detection. This helps protect your home and family from property crimes like burglaries and home invasions.
Burglary is the unlawful entering of someone's property without permission with the intent to commit a crime, and it accounts for 16 percent of all U.S. property crimes. Fortunately, a study of known offenders revealed that more than half would change their minds about entering a home if they saw an alarm system in place. Protecting your loved ones and belongings is typically the main reason people consider purchasing a security system.
Of course, there are also countless other reasons why a smart security system might be an ideal addition to your home. For instance, smart home automation products are becoming increasingly compatible with classic home security devices, making using these devices even easier and more efficient. There are many combinations of smart devices that can optimize and secure your home. Finding the right package of devices to fit your lifestyle is one of the first steps to consider when searching for the best home security system for you. Fortunately, Guardian offers several packages, as well as custom solutions based on your home and family's needs.
Intrusion Detection
Intrusion detection is the core equipment most people associate with security, used to help prevent break-ins and protect your home. You may see it referred to as a burglary system or a burglar alarm.
The most important components of intrusion detection include:
Security panel – The brain of your security system that controls everything. This is where you enter your code to arm and disarm the system. Most modern panels are touchscreens, and some include features like cameras and glass break detection. You may hear panels referred to as a hub, keypad, or control panel.
Door and window sensors – Let you know when a door or window is opened. Place them on anything in your home you want to monitor, like gun safes and liquor cabinets. Sometimes referred to as door and window contacts.
Motion sensors – Used to detect movement across the spaces they cover in the interior of the home. When triggered, a signal is sent to your control panel and the monitoring center.
Glass break sensors – Recognizes the sound of breaking glass and alerts your system. This is critical if intruders try smashing a window instead of prying it open.
24/7 Professional Alarm Monitoring
You can't have true security without professional monitoring. It is the best way to ensure that your home is protected 24/7 and requires no additional work from you. Professional monitoring is what makes your home security system more than just an alarm; it makes your system the ultimate safety net.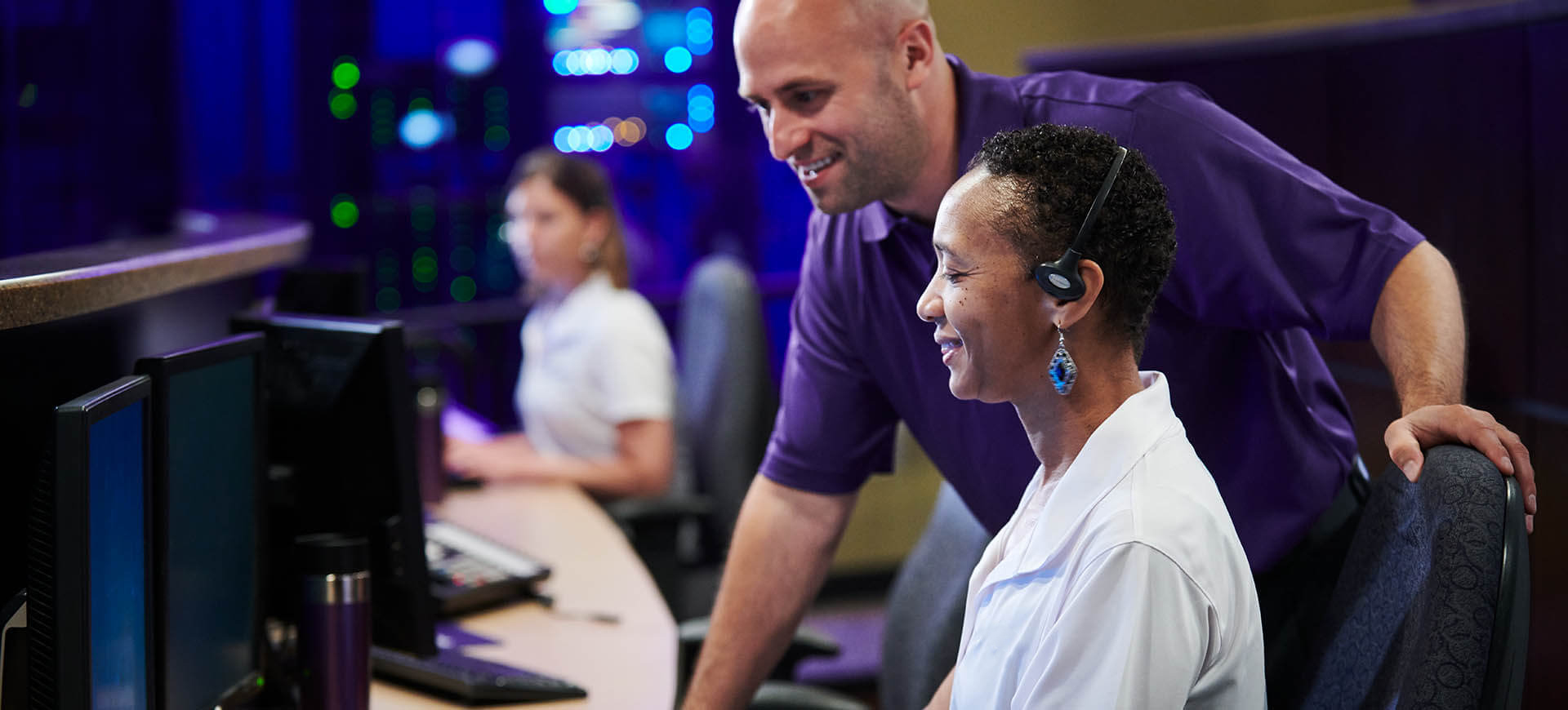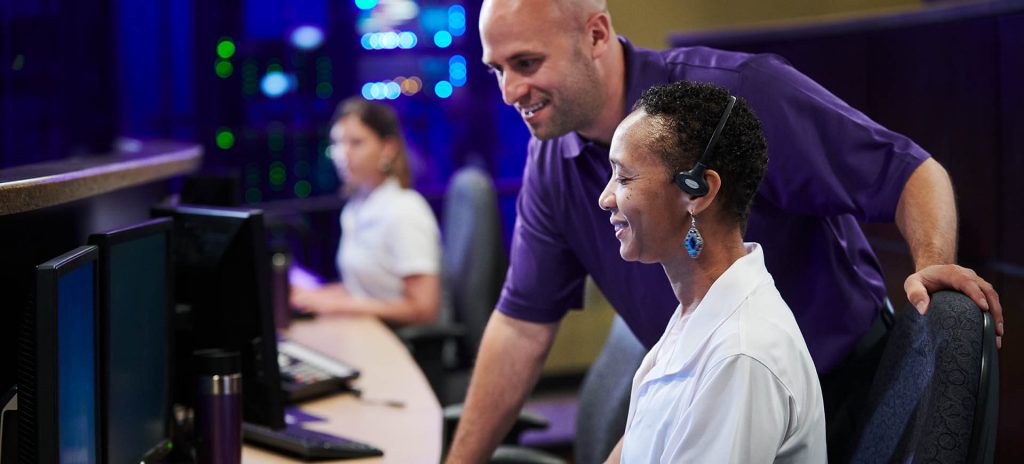 How Professional Security Monitoring Works
Monitored home security systems communicate with a central monitoring station. Lots of information travels back and forth between the homeowner and the monitoring center, such as emergency alarms, notifications, and event logs.
Central stations are staffed around the clock by a team of experts dedicated to monitoring your system. They keep an eye on your alarm signals, call you when there's a problem, and contact emergency responders if you need them.
What Are the Benefits of Professional Alarm Monitoring?
Video surveillance and motion detection are awesome, but without professional monitoring, you will be solely responsible for reacting to anything they detect.
True home security is a full-time job — or more accurately, a 24/7/365 commitment. You can't be everywhere at once, and it's unrealistic to expect yourself to monitor your home and/or business all the time.
When you have professionally monitored home security, you don't have to worry about alerting authorities in an emergency. Whether you're home or in another country, if your alarm goes off, that professional monitoring center will know about it and quickly take action for you.
Professional Security Equipment Installation
When it comes to purchasing a new home security system, you also must consider what the system's installation will look like. Here, the details matter. For example, did you know that improper placement of motion detectors can lead to costly false alarms? Professional installation is something that gets swept under the rug a lot in the security market.
At this point in your home security consideration, you may have asked yourself, "should I DIY my home security?" Doing your own installation is a tall order. A professional installer is able to talk through any questions that may arise before making decisions. From choosing the proper equipment and its placement to ensuring it's installed correctly, complete and effective security requires a lot of consideration.
With something as important as protecting your home and loved ones, why risk mistakes? Instead, consider the option of having a system professionally installed by an expert with extensive training. You'll feel better knowing it's done right.
Mobile App
Monitoring your smart devices should be the easiest part of your home security experience. In the age of smart home automation, you will want to look for the most efficiency possible from your system. Fortunately, most providers, like Guardian, give you complete peace of mind and ease of access all from one app! For example, our Guardian Protection app allows you to monitor and adjust all of your smart devices with just a few taps on your screen. Choose a smart home security company that offers a one-app solution for your home security and automation.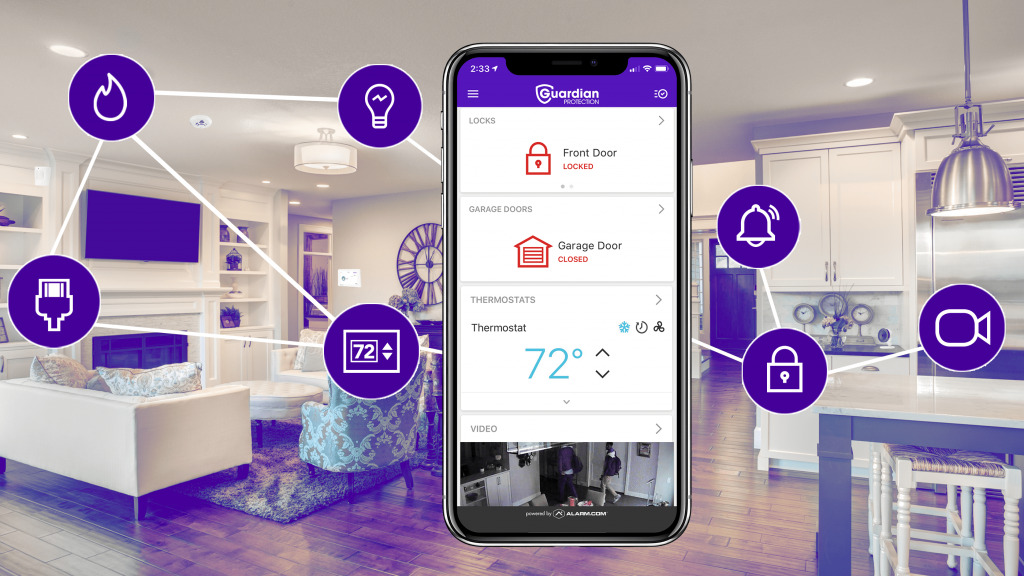 What Are the Benefits of Multi-Layered Home Security?
While intrusion detection is often the first thing that comes to mind when considering home security, there is so much more you can do to protect and stay connected to your home. That's where multi-layered security and home automation come in.
For instance, intrusion detection should include integrated, multi-layered deterrents that put up as many barriers as possible between your home and would-be intruders. The more security barriers you stack up between your home and intruders, the less likely it is your house will be viewed as an easy target. When shopping for a new system, you will want to choose the security system products that work best for you while layering on protection and automation.
Video Surveillance
Smart video monitoring is a modern security essential, and one of the most powerful tools in your arsenal. Simply put, video cameras watch when you can't. And when it comes to peace of mind, seeing is believing.
A big upside of smart cameras is the ability to view live video and access it anytime, anywhere. Mobile apps like the Guardian app allow you to view the footage your camera captures from your smartphone. You can also download it or share this footage with a friend.
You have a lot of video security camera options, but here are the big ones you don't want to skip.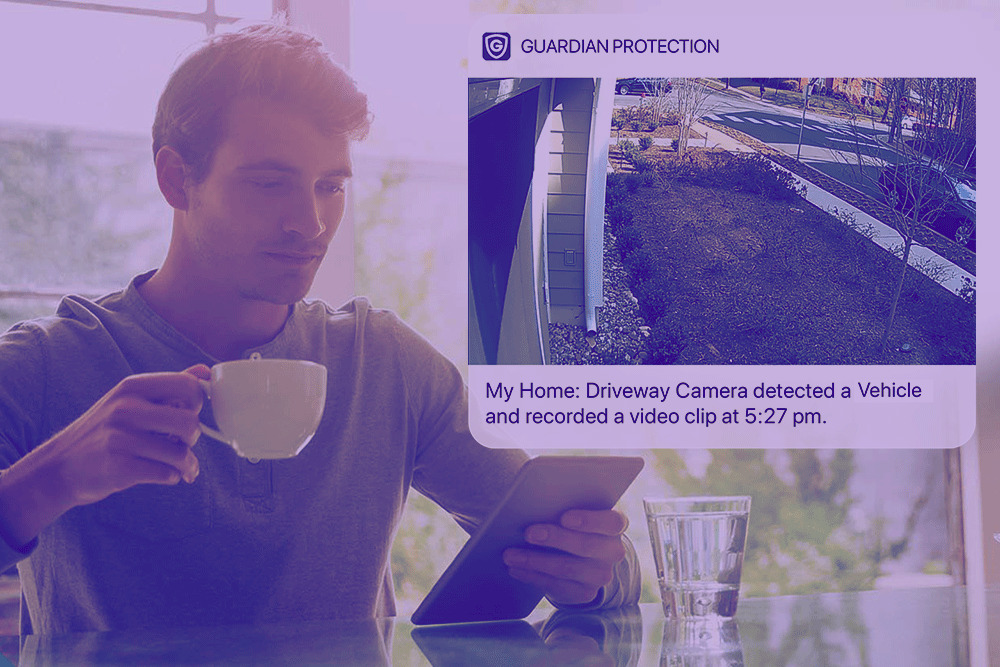 Indoor and Outdoor Security Cameras
The outdoor camera is intended to record the exterior of your house while the indoor camera monitors the interior. In addition to getting mobile alerts and checking up on the kids or pets, some video cameras make it easy to see what actually happened in the event of an alarm being triggered.
Video Doorbell Camera
Even if the name doesn't ring a bell, you've probably seen a video doorbell before.
These come in many shapes and sizes, and all of them are slightly different. But generally, a video doorbell is a doorbell with an integrated video camera, digital microphone, and speaker.
For instance, Guardian's video doorbell lets you answer the door, speak to visitors via two-way audio, and record doorbell-triggered clips right from the Guardian app. The benefits of this device are endless! For example:
Get a real-time alert when someone rings your doorbell
See who's at your door and "answer it" from wherever
Know if someone's lingering around your doorstep, and even catch them on video
Get notified that a package was dropped off safely
Pair with a smart lock and provide controlled access to visitors
Security Cameras With Smart Video Alerts
Not all security cameras are created equal. Choose a smart video camera that supports self-learning technology and smart alerts, like our video analytics feature. Video analytics uses artificial intelligence to help you get more of the alerts you want (your Uber's in the driveway) and less of the ones you don't (there's a bluejay in the birdfeeder).
Guardian's cameras also come with unique and helpful additional features. For example, by creating virtual zones and "tripwires" around your house you can enhance the security of your property and zero in on the areas that need the most attention. Our cameras can distinguish between people, vehicles, and animals, and they can notify you when a specific event is triggered.
Monitored Fire Detectors
Burglar alarm monitoring is huge, but if you stop there, you're missing out on a critical piece of home safety. It is crucial that you also consider monitored smoke and heat detectors.
You may already have a smoke detector, but is it monitored? Keep in mind that once your smoke detector is triggered, you may not have long to get out safely. In less than 30 seconds, a small flame can turn into a major fire — and completely engulf a home five minutes later. If you have monitored smoke detectors, the fire department will be notified of the alarm, even if you sleep through it.
Choose smoke detectors that include photoelectric smoke technology, which is especially useful for identifying abnormal levels of smoke. Even small, smoldering fires can generate a ton of smoke, and these smoke detectors help catch them before they get out of control.
Monitored Carbon Monoxide Detectors
So what about carbon monoxide? Invisible and odorless, most people don't think about it at all.
While it's incredibly deadly – at least 430 people die from accidental CO poisoning every year – initial symptoms of CO poisoning may seem pretty benign, like the flu. If it occurs while someone is sleeping, they may not notice any symptoms until it's too late.
If harmful amounts of CO are detected, a monitored carbon monoxide detector will alert you and the monitoring center, who can request emergency assistance on your behalf.
Integrated Smart Home Automation
Smart home automation elevates home security. Smart home devices use WiFi or Z-Wave technology to monitor and control various devices throughout your house, like lights, cameras, locks, and more. The devices can be connected to each other and to your alarm system, making them accessible through one main point, like a smartphone or a computer.
Here's a lightning round on the ones we think really move the needle when tied into your smart security system:
Smart Plugs
Connected indoor and outdoor smart plugs let you control lighting and other plugged-in devices throughout your home from wherever you are in the world. If you're a frequent traveler, they're great for giving your home a lived-in look even when you're not there.
Smart plug settings are highly customizable, and you can control them right from your smartphone or control panel. You can also set your lights to come on when motion is detected or set up schedules to tell them what to do at different times of the day. There is also the option to make them part of a Scene that includes multiple actions throughout your home.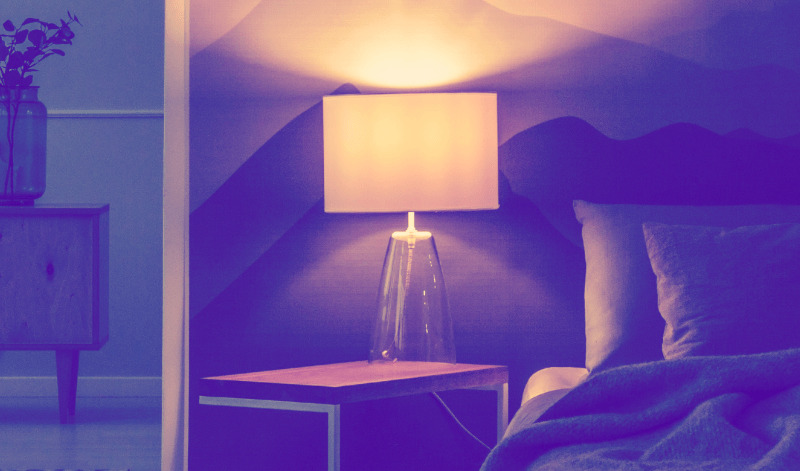 Smart Locks
Keyless smart locks let you lock or unlock your door remotely. You'll know if you left the house without locking the door and who is coming or going throughout the day. You can even provide visitors with unique and temporary codes for safe, keyless entry.
Smart Thermostat
Not only does this device allow you to regulate and monitor your home's temperature remotely, but it's especially useful during a fire. If a fire begins, our monitored smoke detectors can send a signal to your smart thermostat, telling it to shut the air off so it doesn't redistribute smoke throughout your home.
Setting the perfect temperature for every part of your day and saving on energy costs is pretty sweet, too. Guardian's smart thermostat has built-in technology that can turn the thermostat off when no motion is detected.
Smart Garage Door Control
Ever wonder, "Did I forget to close the garage door?" These smart garage door openers allow you to open or close your garage door remotely and can notify you if the door is left open.
For Home Security, Experience and Dedication Matter
Only trust your home security to a company that is fully dedicated to keeping people safe. Better yet, trust one that has been doing it for a very long time. This will be a company that knows the nuances of not only the products you need and their installation needs but also the alarm process.
They should know the ins and outs of alarm response, including all the local teams that do the responding — EMS, police, firefighters, etc. Processes and protocols differ from region to region, so it's vital the people working in a security company's monitoring stations know how things work in your neighborhood.
Speaking of people, never underestimate the value of human interaction. Just like experience and dedication, personal service matters. No one wants to be alone when they're afraid or feeling unsafe, and you deserve a security company powered by real people who care about you.
So There You Have It — The Ingredients of a Smarter, Safer Home
Keep in mind all homes and businesses are different, and your security solution may look different from your neighbor's. This is yet another point where Guardian Protection can help. Our security experts will assess your needs and design the smart system to meet your needs.