Let us set the scene for you.
It's Friday night after a very long week. The air outside has a real bite to it, and it's been snowing all day. There's a slight frost on the windows, and the streetlights are on. Dinner is done, and the dishes are washed and dried.
You decide then and there, it's gonna be a movie night.
You and your favorite snuggle buddy start to movie up. Maybe it's just you and your dog, we don't know your life. The movie is chosen after careful consideration. You start up the fireplace and pop some popcorn. You dim the lights and wrap yourself like a burrito in your coziest blanket. Time to melt into some cinema magic.
Just as the opening credits are rolling, you have a nagging thought: Did I forget to lock the front door?
Ugh. Blanket burrito ruined. If you had the Guardian "Scenes" feature, you'd already be knee-deep in La-la Land with Emma Stone and Ryan Gosling.
What is the Guardian "Scenes" feature?
The Guardian "Scenes" feature is another way Guardian can simplify your life with one click.
A scene is a customizable feature within the Guardian App that allows you to adjust multiple Guardian security and smart home automation devices with one command. The action your scene triggers can be anything from closing the garage, to arming your security system, to adjusting the thermostat. How you use the "Scenes" feature depends on what smart home and security devices you have. The more you add to your smart home, the more you can customize your scenes.
Your Guardian app comes loaded with four scene suggestions: "Home," "Away," "Sleep," and "Wake Up." Each is designed for a moment in your day where you would routinely adjust several things at once (i.e., arriving home, leaving the house, going to bed, and getting up in the morning).
Heading out for the day? Tap the "Away" button and your security system arms, your front door locks, your garage closes, and your thermostat sets back to save energy.
Taking it down for the night? Tap 'Sleep' to arm your system, turn off the lights, and dial down your smart thermostat (for those of us who run hot at night).
Scenes gets your home instantly ready for every part of your day, with the touch of one button in the Guardian app. Seamless.
How to customize and create scenes


You can adjust Scenes on MyGuardianHome.com account under the Automation tab or within the app by clicking on the Scenes heading. Clicking on an already existing Scene allows you to edit it.
You can add any security or smart home action you'd like to the four initially recommended Scenes and adjust them to your needs.
Want to create your own Scene? It's ridiculously easy.
Add a new Scene by clicking the "+" button on your app or by clicking "New Scene" on MyGuardianHome.com.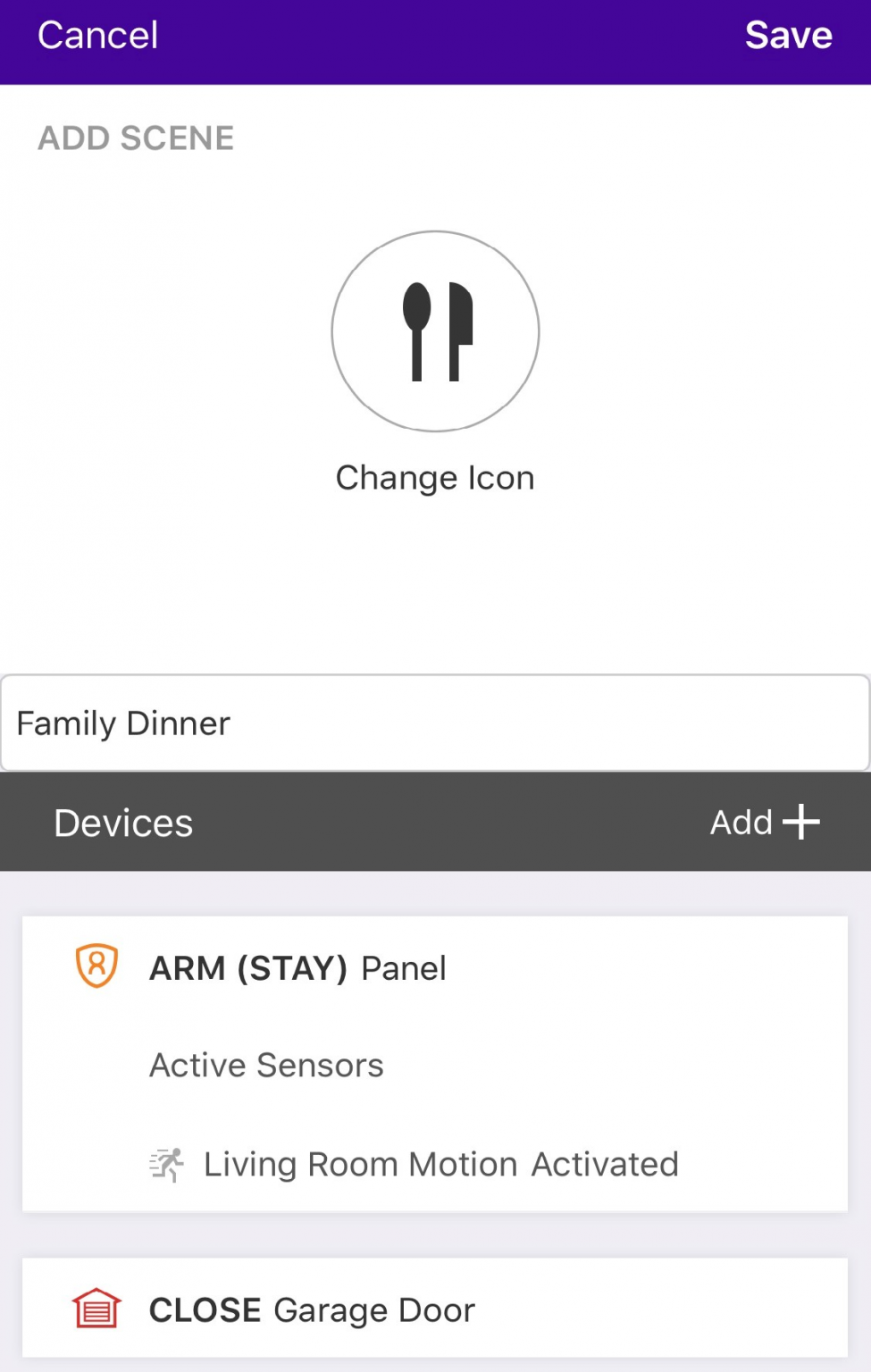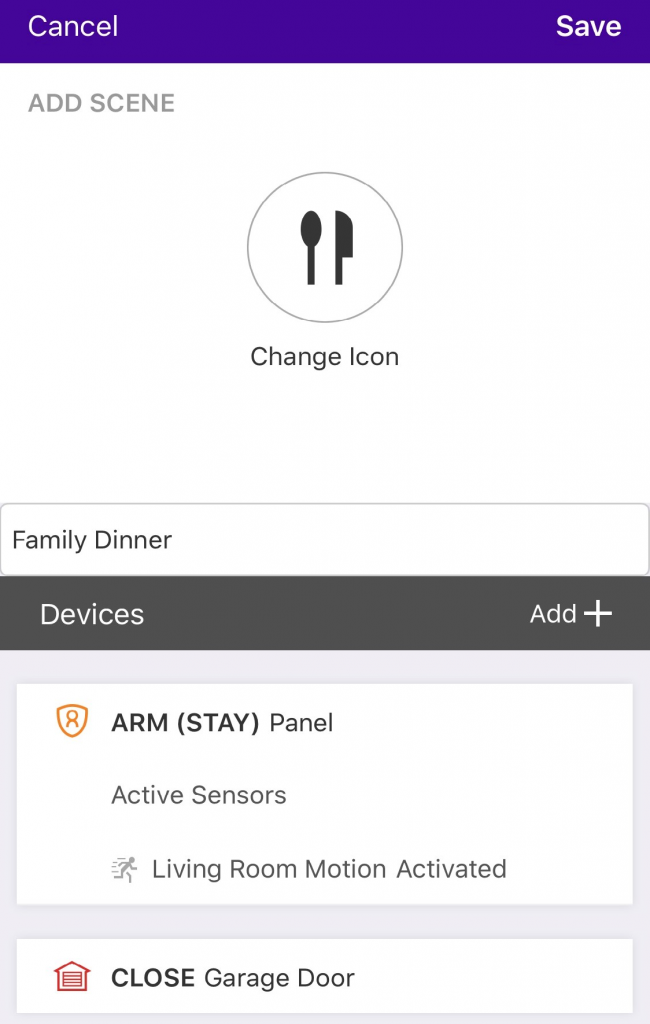 Pick a specific icon and color to represent your Scene and give it a name. Then choose the series of tasks you would like a particular action to trigger, or what you want to make happen for this Scene.
You can trigger your Scenes to unfold from anywhere you have your smart device and an internet connection.
Direct your own Scene
What Scenes would make your life easier? Channel your inner Steven Spielberg and envision the movie you'd like to see. Here are some ideas: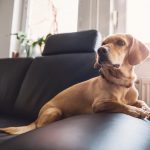 Kids' Bedtime Routine. Create a Scene that turns off certain lights, locks the door, and turns down the thermostat temp for the night when it's time for the children to go to bed. Touch a button on the Guardian App and watch all of these actions occur, leaving you free to wrestle the little ones into their onesies.
Movie Night. Dim lights, arm system in "Stay" mode, and turn down the thermostat temperature so you can cuddle with a loved one under a blanket.
Dog Day Afternoon. Keep the temperature comfy for your pet while they hold down the fort during the day. Turn off all lights but one, lock the door, and close your garage door.

Soak Up the Sun. If part of your weekend routine is spending the day under the sun getting some exercise, working on your garden, or mowing the yard, you can program a scene that can shut your garage door when you're done with your outdoor activities and cool down your house before you go back inside your home.
Grocery Day. When you return home from a trip to the grocery store, or running errands, you're usually juggling a lot at once. Before you get out of your car to carry your groceries and supplies inside, one click of your Guardian App can make things a little easier for you by disarming your security system, opening your smart locks and turning on your lights.
Home Alone. You can enjoy a relaxing day at home by yourself by setting scenes that automate the temperature and light controls in your house to make you feel cool, comfortable and cozy.
What scenes are we missing? Have the perfect scene in mind, but missing the devices needed to bring it to life? Call us at 1.800.PROTECT (1.800.776.8328), or learn more here about your smart home security options and request your free quote.