What's one major benefit of your Guardian home security system? It's our award-winning monitoring center available 24/7! Continue reading to learn how professional monitoring can help to protect your home during unexpected situations.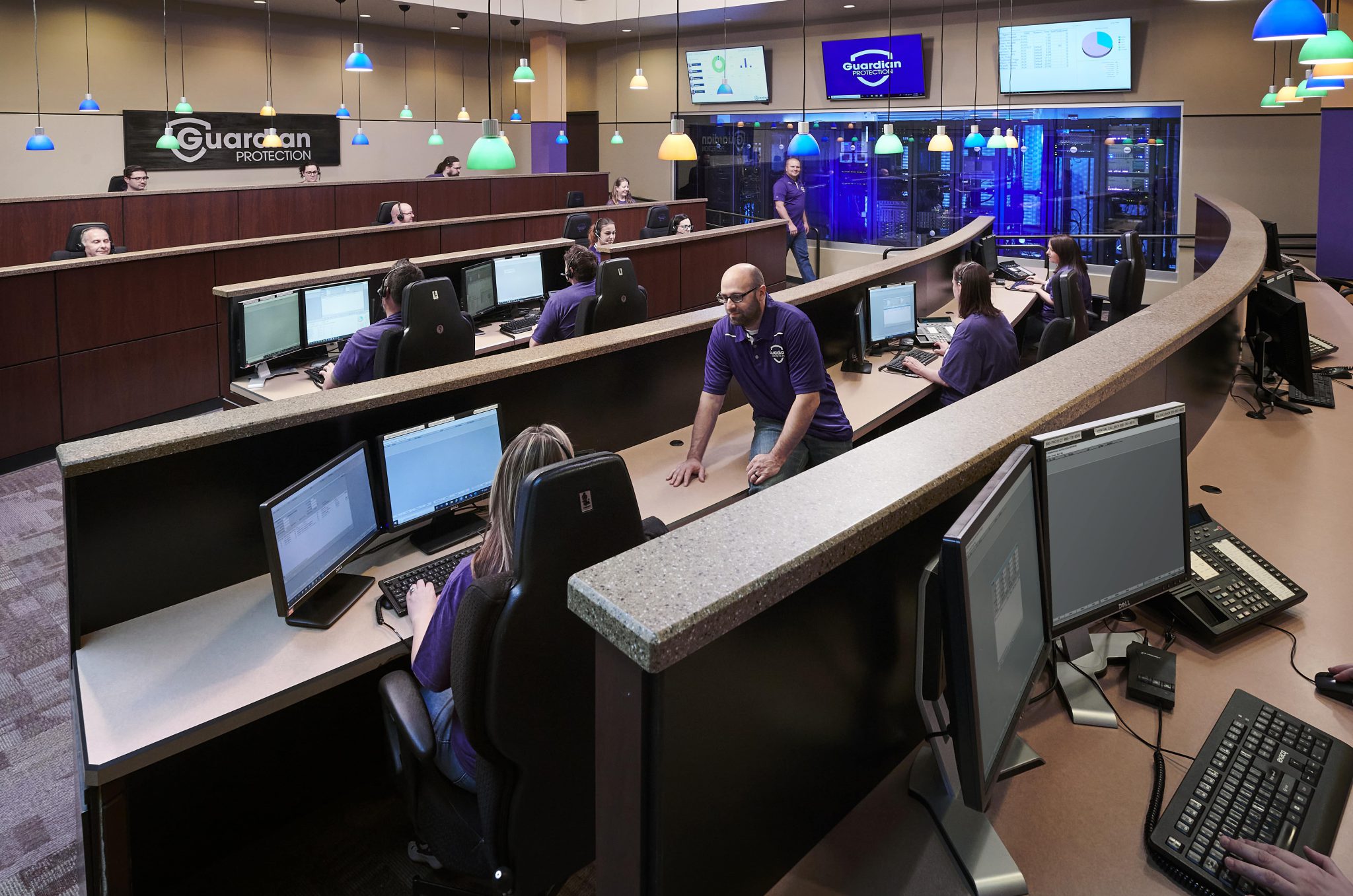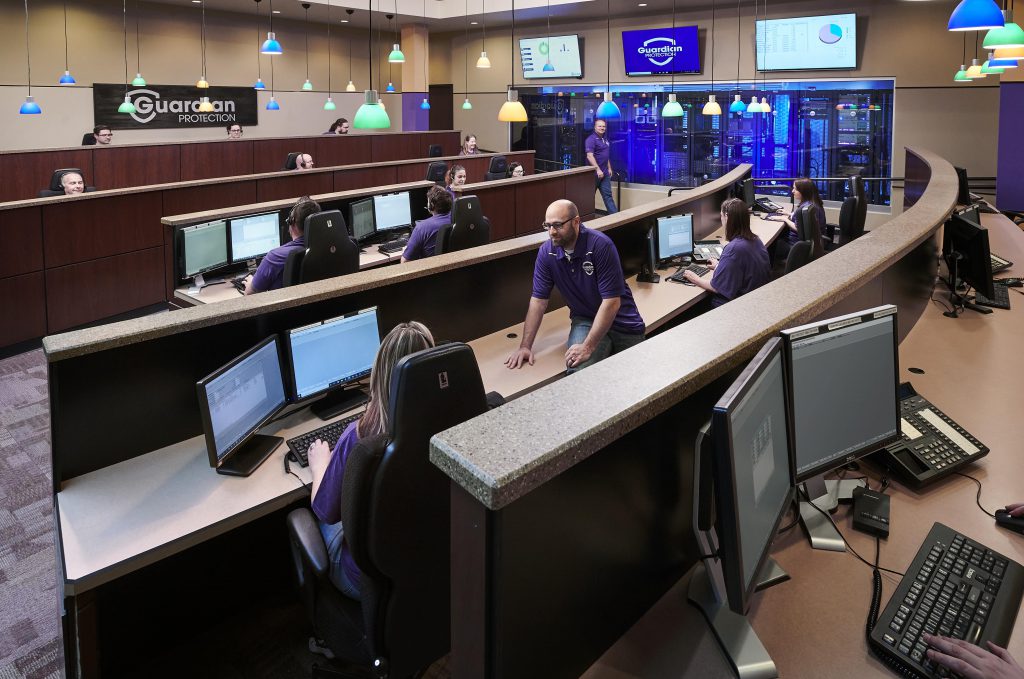 As a parent, homeowner, pet lover, or all of the above, it's your priority to protect what you value most. But, unfortunately, emergencies happen and it helps to have a team of experts ready to respond. Here's how our professional monitoring team keeps watch to help keep your home safe.
When Your Home Monitoring Takes Action
Burglary Detection
It's a common fear for frequent travelers: Unwanted intruders while you're away. But, Guardian's monitoring combined with motion sensors and glass break detectors allows you to leave home with peace of mind.
How it works: Detected motion, such as a glass break, triggers the alarm. This alerts Guardian's monitoring center and prompts one of our trained Security Experts to call you. If needed, our team will then notify local law enforcement who will be dispatched to your home.
Carbon Monoxide Detection
Carbon Monoxide is an invisible, odorless gas that makes it nearly impossible to identify without a carbon monoxide detector. Since exposure can be deadly, this extra layer of protection can be life-saving for you and your loved ones.
How it works: When the carbon monoxide detector detects abnormally high levels of CO within its range, the alarm will sound. This will signal Guardian's monitoring team and a Security Expert will quickly call you. If carbon is confirmed or we can't reach you, Guardian will then call local authorities.
Water or Flood Detection
Flooding or water damage can be devastating. Imagine family heirlooms or seasonal storage kept in the basement, destroyed in an instant. Luckily, Guardian offers water sensors with instant alerts and exceptional range. This device can detect water early to help prevent costly damage.
How it works: Guardian's water sensors can rest right on the floor or be mounted to a wall or baseboard. When the metal contacts at the base become wet, it signals your panel. Guardian's monitoring center reads this as an environmental alarm and will then notify you to ensure proper help is received.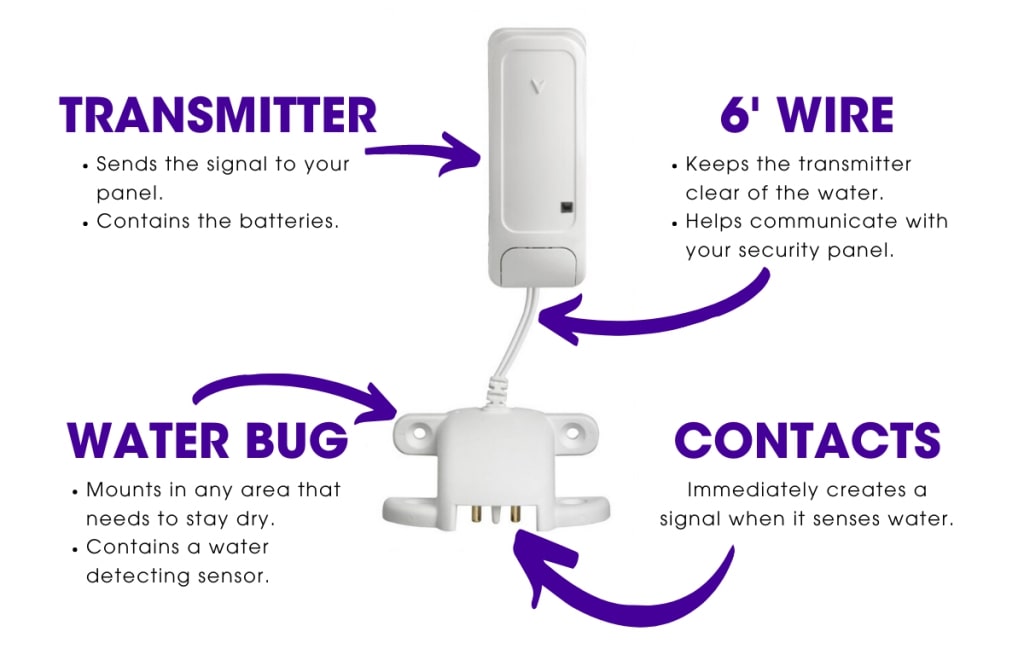 Fire Detection
Fires happen fast and without warning. In case of this potentially devastating emergency, it helps to have a monitored smoke and heat detector to help protect your home around the clock.
How it works: Your smoke detector works by identifying abnormal levels of smoke within its range. Upon activation, a signal will be sent to Guardian's monitoring center. Next, our team quickly calls you and then notifies emergency services if needed.
Home Medical Emergency
Requesting assistance as quickly as possible is crucial during a medical emergency. Medical alert devices, such as medical pendants, can connect you to emergency response at the push of a button.
How it works: Particularly helpful for elderly people, medical pendants are wearable, portable, and easy to use. The device's panic button triggers an emergency signal to Guardian's monitoring center so our team can send proper help.
Also, the panel controlling your monitored home security system allows you to call for help with the touch of a button. Simply click the emergency button on the panel and we'll initiate a response in 30 seconds or less.
"I woke up feeling nauseated and dizzy. I tried to get up but fell. My wife went to the Guardian keypad and just pressed the little button. She didn't have to call or anything. The paramedics were here in 5 minutes."

– Charles P., Ohio
Are you taking full advantage of your Guardian Protection professional monitoring?
Call 1.800.PROTECT (1.800.776.8382) to find out how we can make your home safer.