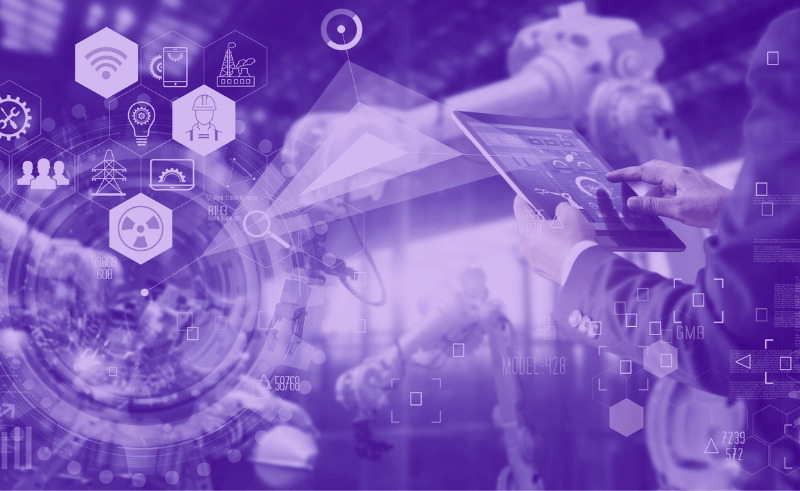 Increasingly, smart security has a role in just about every aspect of our life, and the potential to positively influence it. According to the latest statistics from the FBI, the number of burglaries related to property crime dropped by more than 50 percent in the years from 2010 to 2020. As a top 10 ranked U.S. security systems company we're admittedly partial, but we believe that better preventive practices in home security had something to do with that. About 16 percent of U.S. homes had a security system in 2010 and today it is estimated that nearly 30 percent have one.
So, buckle up! We're putting a rollercoaster of a year behind us and embracing 2022 as a whole new ride, filled with tradition-rich and futuristic vistas in home and commercial security. We've done our research and asked Guardian's best technology experts to share their thoughts. Come share this ride with us!
AI-Driven Health, Climate, and Home Security Management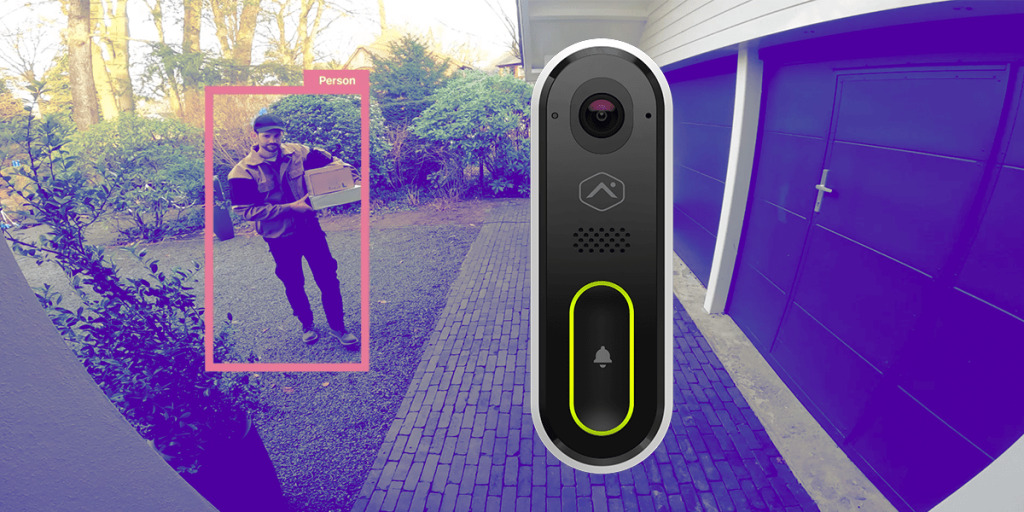 You've probably heard of the term "AI", or "artificial Intelligence". Journalists often refer to it when reporting on autonomous vehicles that are being tested on our streets and highways. AI is both beauty and beast, annoying or elating us when it puts on its thinking cap and auto-corrects words as we type into documents and text messages. However you feel about AI, it's definitely in our future based on a growing trend in the here and now.
The term "artificial intelligence" has been used since 1950 when computer scientist Alan Turing first referred to it as "thinking machines" that could reason at the level of a human being. We've made amazing progress since then in the development of smart computers, tablets, mobile devices, and software, but when it comes to home security, AI is just now hitting its stride.
Video doorbells are a good example of AI's current benefits. According to Guardian technology expert Brian Vance, the best versions detect people versus something else, like vehicles and dogs. In older models, motion zones were limited to the porch but triggered the doorbell camera with every car driving by — a real frustration for homeowners. But (deep, happy sigh) this is alleviated by AI and its use of superior analytics to learn one's preferences.
Our experts predict the effects of AI in home security will be seen somewhat indirectly, albeit positively, in the areas of health-related benefits and concerns about climate change. Knowing more about our own potentially unhealthy behaviors, allaying our anxieties regarding home intrusion, and improving our home's energy efficiency will get a big helping hand, thanks to AI. AI's trending importance we predict will increase along with the elderly population and the emergence of millennials onto the home buying scene.
One AI trend in home security is how it will be able to crunch data provided by motion sensors that use RF (Radio Frequency) interference and WiFi to detect how and when we walk around our homes. Guardian experts predict this technology could have positive impacts health-wise because the analytics derived from these motion detectors could tell us about our sleep patterns. Are we walking in our sleep and not knowing it? Is an elderly parent unable to sleep and roaming about the house?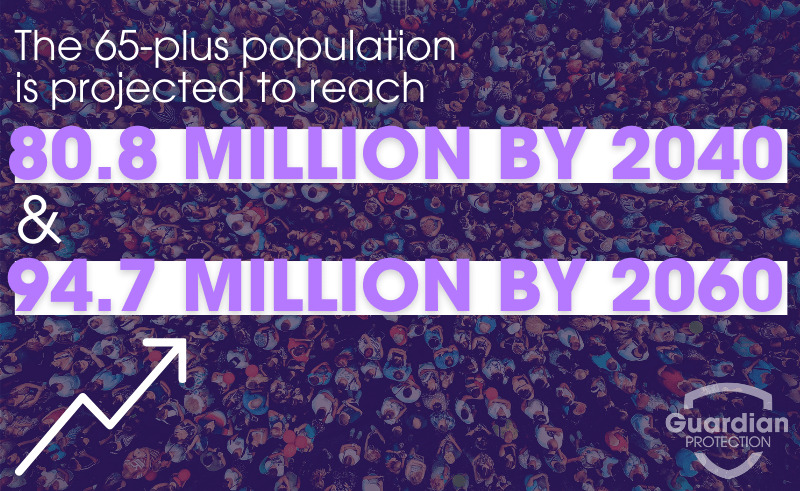 According to a May 2021 update from the U.S. Government Administration for Community Living, the 65-plus population is projected to reach 80.8 million by 2040 and 94.7 million by 2060. All but a tiny percentage of them live in non-institutional settings, as do more than 61 million people with disabilities. Both populations are growing, and older Americans are one of the fastest-growing demographics in the country. When we think of mom and dad aging in place, AI-driven data will help us make decisions regarding their safety. "I believe that as the Internet of Things (IoT) grows, these analytics will also be tied together with the AI that currently exists in our fitness wearables," says Guardian technology expert Brian Vance.
Another exciting expectation is that artificial intelligence will come to be designed into the security systems themselves, replacing rules-based functionality. Today, if you want your system to remind you to arm it, you would need to set a rule that triggers a reminder when you cross a certain boundary around your home.
As the newest trends evolve, AI-driven security components will collect motion-based occupancy and behavioral data and will "know" when to arm your system. They'll also know when to alert you about environmental factors even when your system is unarmed. How's that for "smart"?! One example might be having low or no movement within an area of your home and having AI make decisions based on that, such as raising and lowering the temperature in your home.
According to Guardian's Director of Builder Sales Kevin Santelli, the AI trend in home security is perfectly timed. "As the 45 million Millennials aged 26 to 35 enter prime first-time home buyer age, they are considering climate change as a major factor in their home-buying decisions, as natural disasters and extreme weather events continue to increase in frequency.
In turn, home sellers will also likely make significant investments in climate-change resilient home features in order to appeal to climate-conscious home buyers," he says. "Options like AI-driven smart thermostats, home automation options, and water sensors will become increasingly relevant in the new construction market."
The Security Industry Association, a leading trade association for global security solution providers, also chose AI as a 2022 trend in its latest annual Security Megatrends™ publication, noting that artificial intelligence promises to influence many sectors of security from guard services to cybersecurity, and that what we may call AI today is likely to be seen as a normal feature in the future. When it comes to home and business security, our experts couldn't agree more.
People Protection In Our Workplaces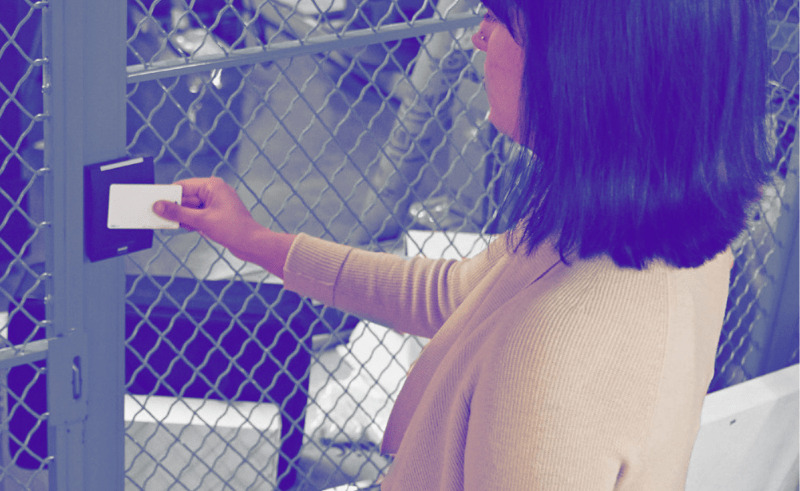 The global impact of COVID-19 resulted in new and improved security measures in the workplace. "I continue to see the shift towards employee protection and safety as opposed to being solely focused on asset protection," states Director of Commercial Sales Dave Errera. According to employment website Indeed.com in career advice to searchers, a culture of safety in the workplace not only fosters a better reputation for companies among job seekers, but also contributes to greater employee satisfaction. Errera goes one step further stating, "A secure workplace will contribute to attracting talent."
Employers are becoming painfully aware of increasing competition for workforce talent. In its projections for the period 2014 to 2024, the Bureau of Labor Statistics predicted a slower rate of growth in the U.S. labor force than in recent decades – an average annual 0.5 percent increase versus 0.6 percent in the previous decade – primarily due to demographic factors such as slower overall population growth and the aging of the U.S. population.
While Federal Reserve Chairman Jerome Powell noted in a February 2021 speech that the labor force participation rate after 2015 consistently outperformed expectations and had fully reversed its decline from 2008 to 2015, momentum was completely upended by the covid-19 pandemic. We watched helplessly as it reduced the availability of childcare, seeded highly transmissible virus variants Delta and Omicron into the population, and temporarily closed many businesses. According to Powell, the pandemic has led to the largest 12-month decline in labor force participation since at least 1948 when published monthly data on labor force participation began.
Guardian predicts more robust video surveillance and access control will be a 2022 trend and central focus by companies who prioritize protection for their people and that employers will potentially gain a competitive hiring advantage as a result of this.
"As companies continue to struggle with labor shortages, providing a safe work environment is as important as ever for talented candidates who are selecting an organization to work for," Errera states. He adds," Looking to the future, as civil unrest continues to be on the front page and pandemic-related factors continue to concern us, additional safety measures in workplaces are undoubtedly the trend invaluable benefits."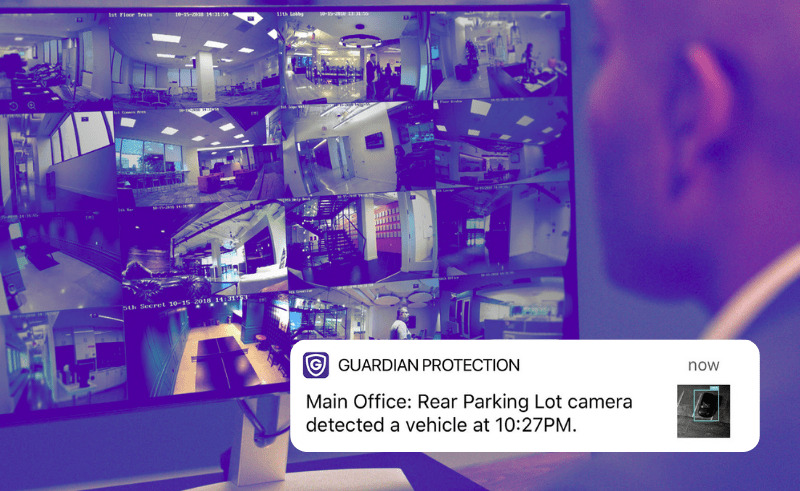 We predict that this trend will be partially represented in more video surveillance in the workplace because the presence of video cameras can increase the perception of deterrence and create the secure feeling that many employees want in their workplaces. It can also ensure that employees are following safety protocols. While it may be fine to post signage with protocols to follow, video helps assure employees that their employer is verifying who is adhering to the protocols, who is not, and is taking appropriate measures to protect them.
The growth of access control is another marker in the trend shift from asset protection to employee protection and peace of mind. Access control supports a work environment that prevents free roaming throughout a facility by those who should not be in a building or in a specific area. "I predict that access control will see an increase in dual- or even three-step verification to provide employers with stronger measures to help protect their employees," commented Guardian's Dave Errera.
As employees, we might experience this in not only having to provide credentials such as a card or key fob to gain access, but also a fingerprint or pin pad code. Errera also believes the popularity of cell phone-based credential authentication will raise employers' awareness of the need for multi-step verification and the layer of safety it provides for their people.
When it comes to safety and feeling good about the companies we work for, the trend toward protecting people as much as, or more than, assets, may be one worth keeping around!

Better Features in Security System Sensors
As wireless security systems increase in popularity over hardwired systems, we predict that sensor components will greatly improve. "Improvements have been far-reaching in wireless devices and the newest technology increases the range of sensors from what used to be 200 feet to one-quarter mile," said Guardian Protection Director of New Technology Development Steve Schwartz. He continued, "There have also been improvements that stabilize and correct a lot of the issues causing devices to drop offline and lose RF (Radio Frequency) supervision."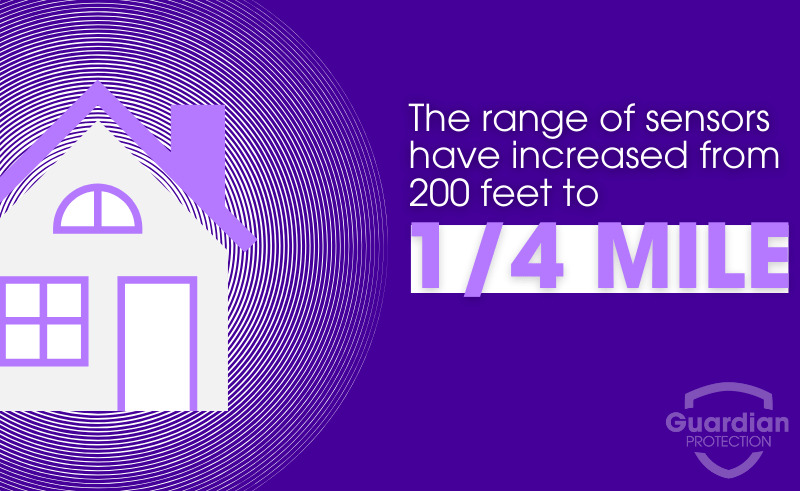 What does this mean for you as a security system owner? To better answer that question, let's take a look at the purposes sensors serve and specifically some of the wireless sensors we rely on for "distance" and "range".
A well-thought plan of protection for your home should include door and window sensors that alert you and your system's control panel when a sensor-equipped door or window is opened. Another component of a reliable security plan is a motion sensor. Motion sensors serve an important purpose in alerting you to movement in a particular area such as an entryway, or in paths that lead to areas of your home or business where valuables might be stored, for example, bedrooms and inventory storage areas. Family rooms and main living areas are usually places for burglar wish list items such as computers, big-screen TVs, and entertainment and gaming systems. Ultimately, door, window, and motion sensors should have a range powerful enough to communicate intrusion signals to the security control panel, and subsequently, the monitoring center who will follow preset response protocols to initiate an emergency response for you.
With new and trending improvements, our experts expect that motion sensors will have an increasingly wider range and expand their presence outdoors, where they're predicted to make bigger debuts on the exteriors of homes and businesses in 2022. "A more powerful outside motion detector will become available that will detect motion as far as a quarter mile from the security panel. It will also be intuitive in knowing that boundaries have been crossed and unlike those of the past, will also detect motion left-to-right. It will not be limited to detecting motion only when a person enters and exits a property," says Schwartz.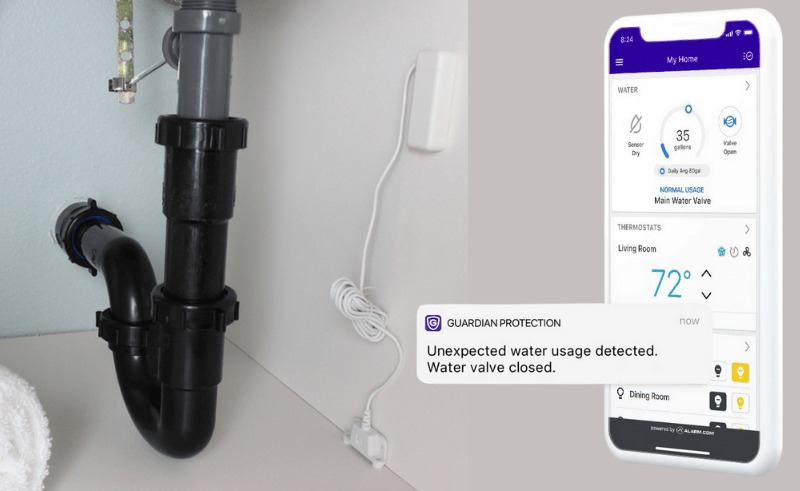 Guardian also expects continued enhancements in the benefits sensors will bring to your home and business, specifically those focused on water damage, speed, longevity, and overall security.
In 2022, water sensors will move beyond the detection and notification of moisture and do something about it. The newest of the bunch will take meaningful action by turning off your home's main water supply. This highly beneficial type of water valve sensor is attached to your main water line valve but can also feature connections to basic water sensors throughout your home so that no matter where the moisture is, the main valve still can be automatically shut down.
PowerG sensors use a patent-pending technology which Guardian also expects will advance in capabilities in 2022 and beyond. According to PowerG technology developer Visonic, Power G sensors have an extremely long battery life; can dynamically utilize available repeaters according to need, and can change signal routing to utilize the most reliable communication pathway to the control panel. The benefit is speed and greater assurance that intrusion signals will be able to navigate interferences (walls, competing electronics, and weak Wi-Fi transmitters) that might be encountered on that signal's pathway to your security system panel.
Guardian New Technology Manager Brian Vance predicts that PowerG sensors will have a positive impact on cybersecurity concerns among consumers. "People are scared. They're being hacked; debit card numbers are being stolen; passwords are being compromised. There is some level of reassurance with Power G. I call it 'today's standard of safety because it features 128-bit AES [Advanced Encryption Technology]."
PowerG sensors made for home security systems seem to offer an optimal combination of encryption and speed, which is critical when communicating alarm signals to a monitoring center that can notify authorities.
Stay smart about sensors and consider the addition of a few to your home or business in 2022.
8K Recognition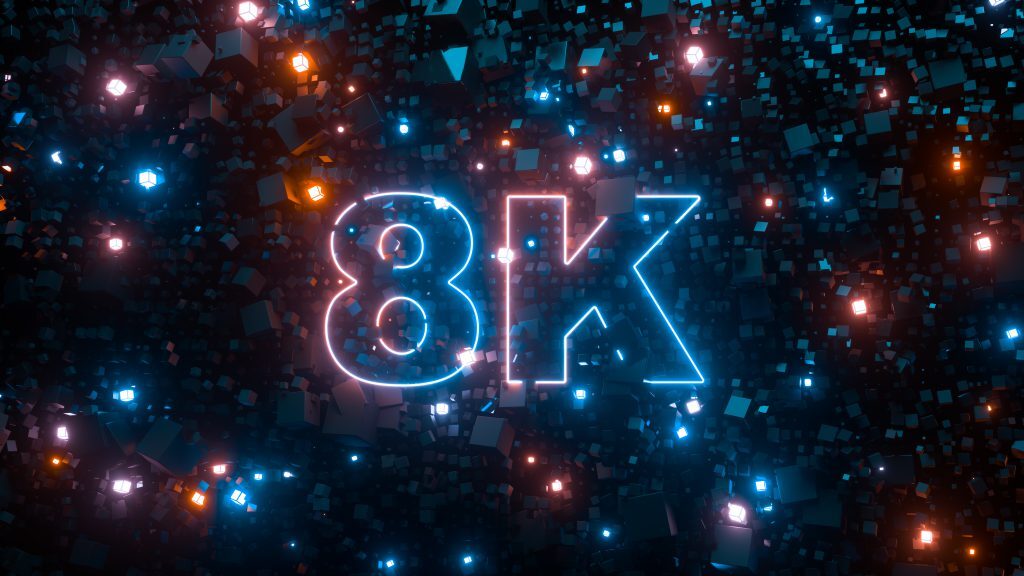 "8K" is the quiet kid in the technology neighborhood who's decided to make some noise. 8K technology was unveiled in 2012 along with 4K, a term that may be more familiar to you. Both 8K and 4K were developed with the goal of increasing the number of screen pixels and adding greater resolution and clarity to the TV, video, and gaming screens we view day and night.
If you jumped on the bandwagon back in 2012 and ditched your old high-definition 720p/1080p TV for an ultra-high-definition (UHD) 4K set, you would have enhanced your viewing pleasure with a display resolution of about 4,000p – and lightened your wallet in the process, by thousands of dollars. Prices on 4K TVs came down a few years later and according to Statista.com, by 2019 over 100 million of us had purchased a 4K set. Today, they continue to be sold by the millions.
8K puts even more pixels onscreen – four times as many as a 4K TV and 16 times as many as a 1080p TV. "Whoa", you say, "That must be pretty amazing!" Well, yes, in terms of resolution. But according to pcmag.com, other factors play a part in a great viewing experience, including high dynamic range performance, overall contrast ratio, and color itself.
We've selected 8K as a 2022 trend because some of the best people in the world — Guardian Protection smart home technology customers — are talking about it. They've invested in 8K-capable home entertainment and gaming systems in the process of outfitting their new homes. And in a way, we're a part of that. Our Home Technology Specialists serve as partners with new home builders and buyers to design smart home systems that prepare new homes for the future. 8K is a buzzword in some of our conversations.
Some mobile phones are able to record video in 8K; a smattering of video games are being developed in 8K, and a few models of popular gaming systems now feature 8K capability. But along with its selection as a trend, we're offering a word of advice from Guardian technology expert Brian Vance: "If you don't have an 8K TV or standalone player, 8K content will backward- or reverse-set to 4K." Vance adds that, "Customers are asking for an HDMI 2.1 cable because the Xbox Series X and PlayStation 5 are saying to get it. Be careful how you spend your money; not all HDMI 2.1 cables meet the rigorous demands that 8K requires."
That said, here are some things you should look for in an HDMI 2.1 cable that is designed to meet the bandwidth (48Gbps) needed for full 8K video. Your HDMI 2.1 cable should be able to support uncompressed ultra-high-speed video performance and ideally be backward-compatible with HDMI 2.0, HDCP 2.2, and all earlier versions. It should have high quality, (for example 24K gold plated), contact connectors that are corrosion-resistant and multi-layer shielding to prevent electromagnetic interference, support ARC, eARC, Ethernet, and dynamic HDR. One manufacturer to check out is Metra Velox.
We're not telling you to go shopping for an 8K television yet. According to Strategy Analytics, 8K TVs will be in 72 million homes by 2025, but only 350,000 were sold in 2020, plus an estimated one million in 2021. But we predict you'll be hearing more about this technology in 2022! It's worth being excited about. It's also worth doing your homework as to how you will fully enjoy it.
Take on new tech in the new year, the smart way
Once again, new and smart technology is dominating the security trends conversation for 2022. Exciting advancements like PowerG sensors, Video Analytics, and AI-driven everything aim to make homes and businesses not only smarter but safer.
But there's no need to rush into adopting gadgets and services you don't understand. Evaluate where smart security devices and integration can make your home and work life easier, and give you more peace of mind. And just as importantly, seek out the advice of industry experts on how to safely and effectively incorporate emerging technologies into your life. Guardian is always here to help — just call 1.800.PROTECT (1.800.776.8328).