With the latest updates of Apple iOS12 and the Guardian app, you can now use Siri to control your system with your voice. By setting up your own voice "shortcuts" you'll be able to easily and conveniently allow your home to respond to your needs.
This feature works if you use the myguardianhome.com platform and for apple devices with iOS12 installed including: iPhone, iPad, HomePod, Apple Watch, and your Car Play-enabled vehicle dashboard.
How To Set Up Siri Shortcuts
To enable this feature, navigate to App Settings in your Guardian App. You can choose "Siri Shortcuts" and you'll be prompted to set up the shortcuts you want to use.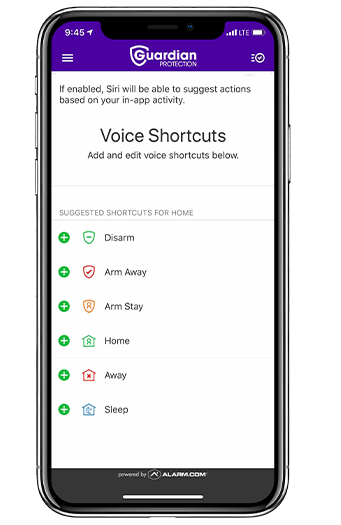 You can set up Siri shortcuts for Arming / Disarming and for activating Scenes like Home, Away, Sleep, Wake Up and more. Enable and control all of these separately by choosing the "plus" sign beside each feature. You can even add specific code words to be associated with each action or scene.
Shortcuts Make Your System Even Smarter
Once you set up shortcuts, you can control your system just by talking to Siri.

You can now say things like:
Hey Siri, Disarm.
Siri, Wake Up.
Hey Siri, Run Sleep Scene.
Siri, baby's nap time.
Safety Note: Your phone has to be unlocked to use Siri to disarm your system or run scenes. This is just a level of precaution to ensure you mean to control your home security system.
You can also use the Apple Shortcuts app to create shortcuts that utilize the Guardian app and other apps as well, all at once. To do this,you'll need to toggle the "Share Activity with Siri" button on. You'll get some warnings to help you understand what this means for your information.
The Apple Shortcuts app gives you even further control of multiple apps at once, allowing your whole home to become even smarter. You can have Siri activate a Scene, set alarms, change the setting on your phone to"Silent" or "Do Not Disturb," pull up directions and more.