Are you considering security for your home but not sure where to start? A home security package can be a convenient option when deciding which devices fit your home and lifestyle. Continue reading to learn about the options Guardian Protection has to offer (although we can customize your solution too!).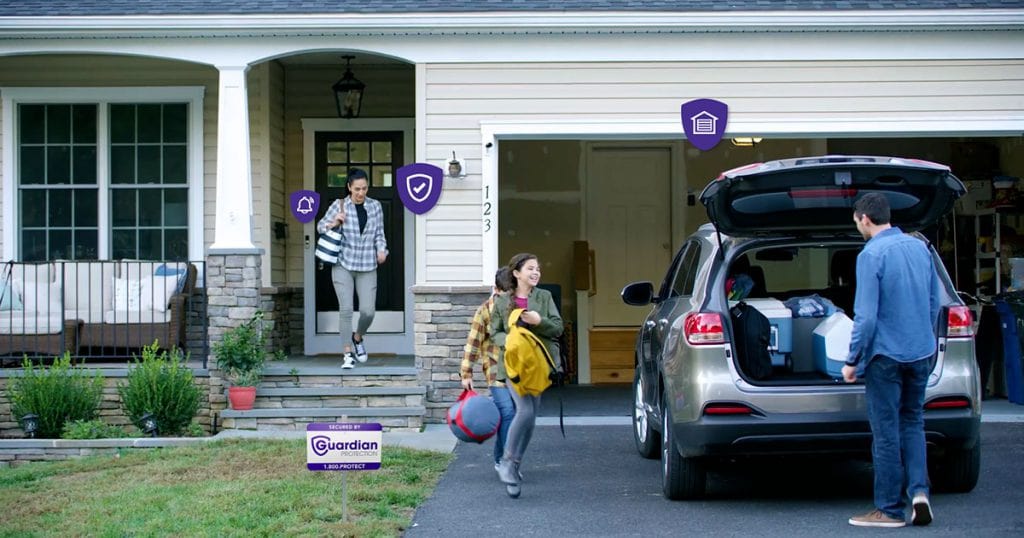 So how can you find the best home security system for you? This largely depends on several personal lifestyle factors. For example, do you have any pets? Then you may want a smart lock to let your pet sitter in from wherever you are in the world. And how often are you away traveling? If you're gone frequently, there are several smart devices you may want to consider so that you don't have to worry about leaving your house unattended for extended periods of time.
Determining the answers to questions like these can give you a better idea of what you are looking for from your security system products. Finding the perfect bundle of devices is easier when you know exactly what you want to automate and protect around your home. Once you determine that, finding the home security package that best suits your lifestyle needs is much easier.
Guardian Protection Home Security Package Options
Home security packages make it easy to purchase everything you need at once. After you've outlined the lifestyle factors you want your smart system to accommodate, selecting the package to complement it is simple. At Guardian, we have several packages to meet everyone's unique needs. Here is a quick recap of some of our most popular packages to help get you started.
Home Security Essentials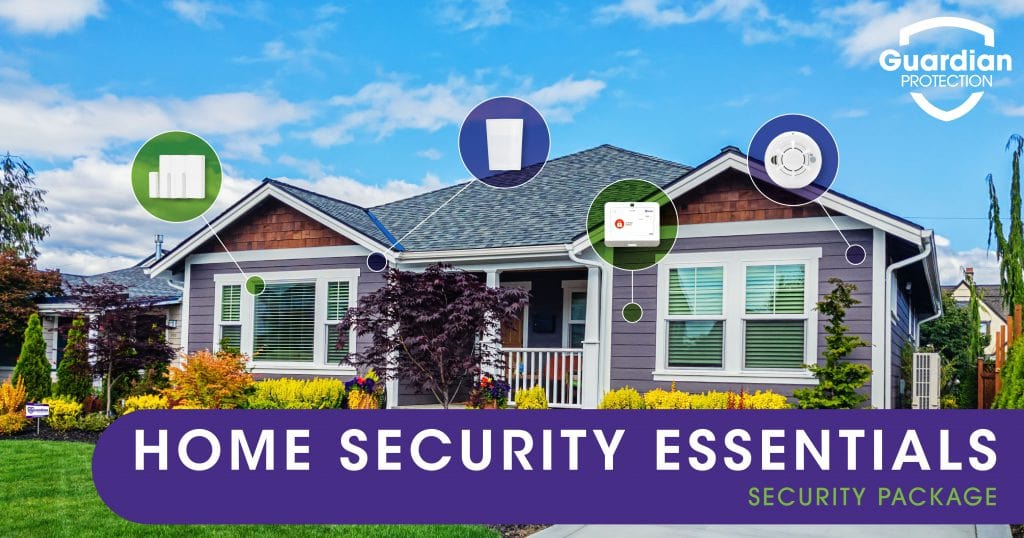 If you're new to home security or simply want the basic coverage of a smart security system, this is the best package for you. These devices are the simplest way to meet the criteria of keeping your home secure. For instance, window & door sensors bring a general sense of security while they monitor the entrances to your home. You can then couple that with smoke & heat detectors to make sure that the inside of your house is protected 24/7. Maybe you don't want to go overboard and are just looking for an additional sense of safety. Getting just the necessities is the best way to do this.
The Home Security Essentials package covers your house with all of the home security basics. It includes:
Three door & window sensors
A smoke & heat detector
A Guardian IQ Panel
A motion detector
Burglar Buster
Part of having peace of mind about your home's protection is knowing who is coming and going – even if guests are wanted or expected. After all, who wouldn't love an extra eye (or outdoor camera) to see that the kids safely arrived home from school? Unfortunately, there are also scenarios that we would never wish for but can still happen – even in the safest of neighborhoods. With the right combination of home security devices, you can leave home, take that long trip, or simply sleep soundly.
The Burglar Buster package allows you to take comfort in your monitored home security system while it looks out for you and your family members. This package includes:
Three door & window sensors
A smart automated plug module
A siren 110db
A motion detector
A Guardian IQ Panel
A glass break detector
An indoor camera
An outdoor camera
New customer offer! Receive a FREE* Video Doorbell Pro with the purchase of a home security system for a limited time.
View Offer Details
Family First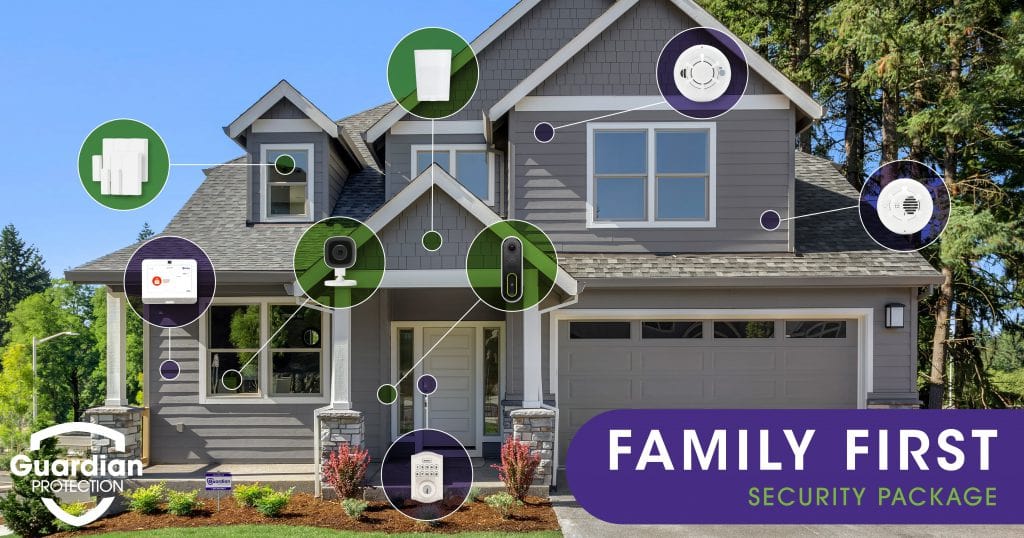 If you're a parent, protecting your family is always a top priority. Making sure that you have the right combination of devices can help ease a lot of stress. For instance, having indoor cameras keeping an eye on your kiddos even while you're at work saves you a lot of worrying (and you can view it all from your smartphone using the Guardian Protection app!). Smart door locks and a video doorbell camera also allow you to have control of who comes and goes from your home, giving you complete oversight so you never have to wonder who is visiting.
The Family First package has all of these smart home devices and more to ensure that your family is looked after even if you're not there. This package includes:
Five door & window sensors
A smoke & heat detector
A Video Doorbell Pro
A Guardian IQ Panel
A motion detector
A carbon monoxide detector
A smart door lock
An indoor camera
Outdoor camera
Pet Parent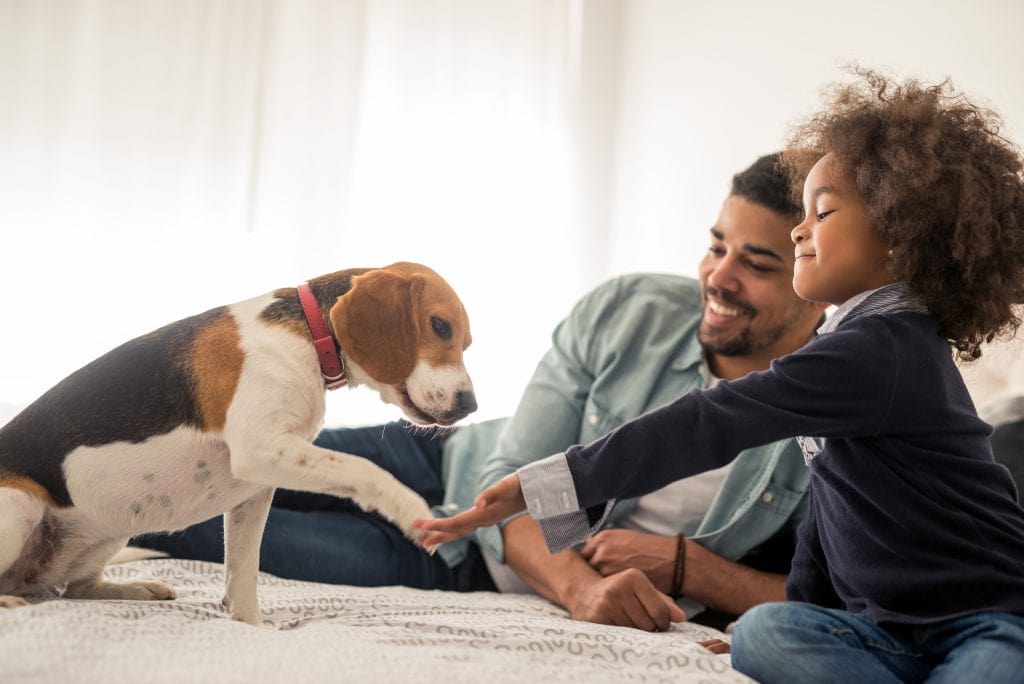 Fur babies are important too! Some pets can get anxious while you're away or might need some extra monitoring to make sure they're not tearing up the couch cushions (again). An indoor camera can become your best friend when it comes to looking out for your pet. Door & window sensors are also an excellent way to be notified any time your pup uses the dog door or when the dog walker arrives. Finding a home security package that brings you a sense of comfort and ease when it comes to looking after your pets can be a lifesaver.
The Pet Parent package ensures that your special furry friend is protected and monitored even while you're away at work. The Pet Parent package comes with:
Three door & window sensors
Two smoke & heat detectors
A smart door lock
A smart thermostat
A room temperature sensor
A Guardian IQ Panel
A motion detector
A carbon monoxide detector
A smart automated light module
An indoor camera
The Works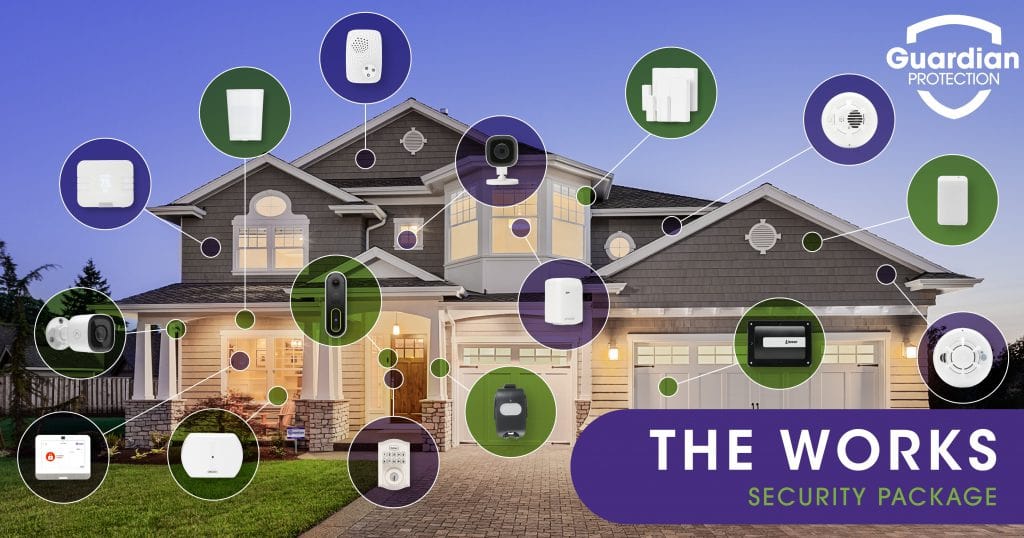 Finally, if home security is as much your thing as it is ours, bulking up on your smart home security devices is the way to go. Indulge in the gadgets that make your life easier by optimizing your whole home!
If you're seeking complete coverage throughout your house, The Works is the package for you. The Works includes all of our state-of-the-art devices from smart systems to home security monitoring to let you oversee every inch of your home. It comes with:
5 Door / Window Sensors
Smoke & Heat Detector
Medical Pendant
Smart Door Lock
Smart Thermostat
Glass Break Detector
Outdoor Camera
Room Temperature Sensors
Guardian IQ Panel
Motion Detector
Carbon Monoxide Detector
Video Doorbell
Smart Automated Light Module
Smart Garage Door Opener
Indoor Camera
Siren 110db
You get a little bit of everything with this package! We know your safety is a priority. The Works is the best package to make every room in your home smarter and safer.
Get the most out of your home security package
Along with our trusted equipment and technology, our packages are backed by real people. All Guardian Protection packages come with 24/7 home security monitoring to ensure that your home is constantly being looked out for. Our highly trained Monitoring Team will keep an eye on your house and loved ones even when you're away or asleep (read more about the benefits of monitoring). Professional monitoring is a great way to ensure that your home's safety is not solely your responsibility.
Also, the Guardian Protection app is a free way to keep up to date with what's happening inside and outside of your home. Apps like this allow you to manage the smart devices in your packages to your preferred settings from wherever you are in the world.
Everyone's lifestyle is different. Regardless of what you need to feel protected in your home, there is a package for you!