With tech start-ups and do-it-yourself home security options expanding the choices available to consumers who want to secure their homes, it's not surprising the global residential security market is expected to reach $44.8 billion by 2023, according to a report by Market Research Future.
People want to feel safe in their homes, and they want to know their homes are secure while they're away. This desire, combined with the growth of the Internet of Things (IoT) and increasing awareness about how the latest technology can be used for home security, is supercharging the growth of the home security market overall.
Smart Home Security on the Rise
A survey by PC Mag indicates that 34% of consumers rely on smart home security devices to keep their homes safe, but it wasn't always this way.
Just ten years ago, smart home technology was unwieldy, complicated to install, and expensive, according to Security Sales and Integration's (SSI) analysis. Things started to change in 2009 when home security providers first embraced the opportunity to introduce smart home technology to their customers.
SSI found that by the years 2010 through 2012, some 55 to 70 percent of smart home automation devices were purchased alongside home security systems. Today, according to a 2019 study from Fixr, smart security systems are the smart home devices people are most familiar with (68%) and most likely to own (53%), and over half of new homeowners include smart home devices in their design plans.
Simply put, home security and smart home technology are thick as thieves — not only because security providers started introducing them early on, but also because the devices work together to help protect homes.
This graphic shows an example of how security plus automation can equal a safer home.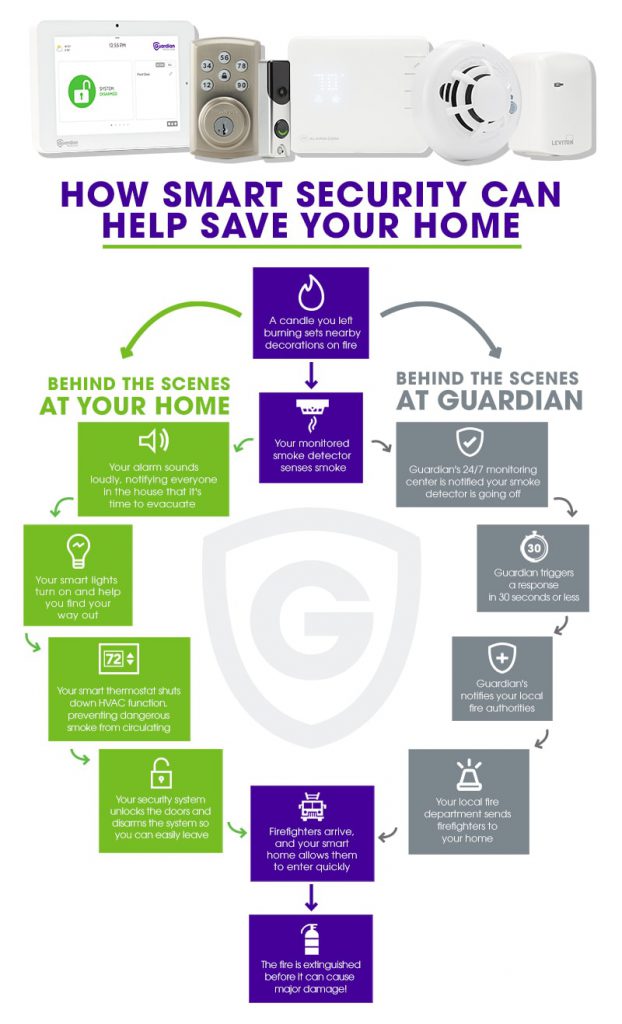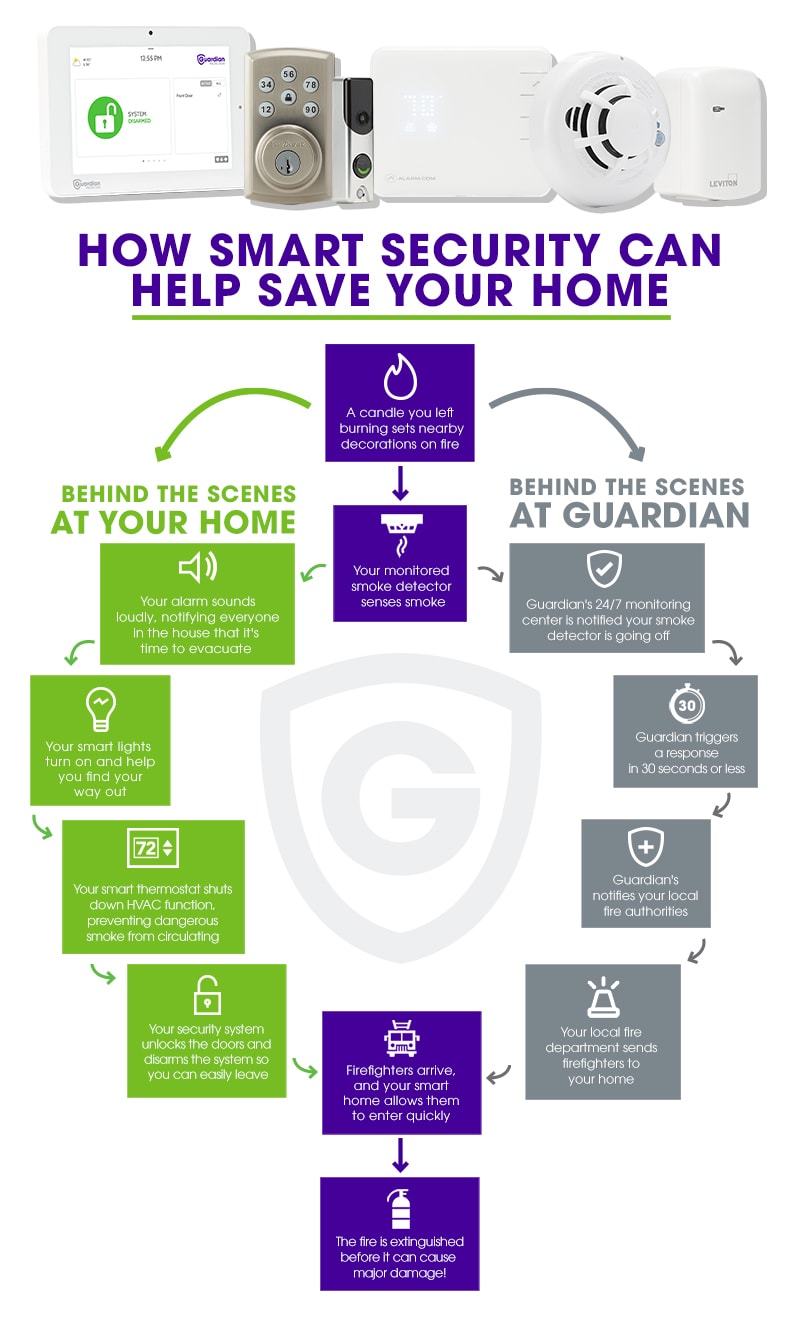 Because of this connection, expect smart home technology to play a starring role opposite home security in any bromance told about industry trends.
Security Trends to Watch in 2020
1. Cybersecurity and privacy of smart homes remain the top priority
In its "2019 State of the Industry" survey, Security Business magazine asked industry leaders what they saw as the most disruptive technologies. For the third year in a row, cybersecurity stood at the top of the pops.
And it's no surprise. When investing in technology for the home, consumers want to know that it's secure and will not compromise their safety. According to the U.S. Houzz Smart Home Trends Survey, concerns about privacy kept 23% of homeowners from installing smart technology in their homes.
Our experts believe that securing the technology itself will be a critical industry-wide focus in 2020, followed by the adoption of practices that better protect the personal privacy of customers.
This is especially true when it comes to security surveillance video cameras:
---
"Security cameras can raise privacy concerns, so transparency is key. I think now more than ever, it's important for any company selling security cameras to provide a clear, easy to read disclosure of who can or will have access to the video taken with those cameras. Consumers deserve this, and it could end up being their decision-maker as demand increases."

John Thompson
Manager, Dealer Accounts
Guardian Protection
---
While big data can be intimidating, there is enormous potential for good. As home security technology becomes smarter and more widely available, new creative ways to extend home monitoring will crop up. Security of the whole neighborhood may become integrated:
---
"The amount of data being collected by smart homes and home security systems is immense. While there have already been some forays towards aggregating some of this data, the future could see an aggregation of data across neighborhoods so that video and sensors in various homes could help triangulate and identify perpetrators in an active crime. This information could even be used for crime trending and utility usage optimization."

Kevin Bish
Vice President of Marketing
Guardian Protection
---
Imagining the future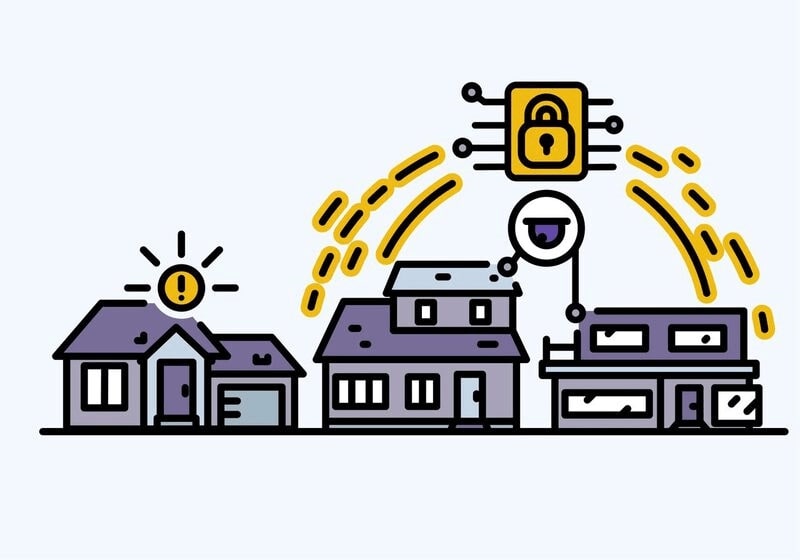 2. More intuitive tech options.
The value of smart home security technology is lost when it's too complicated to be useful — or worse, incorrectly installed and ineffective. The 2016 U.S. Houzz Smart Home Trends Study reported that homeowners considered understanding their options and finding the right products the biggest challenges to adopting a smarter home. The development of more intuitive products is an industry-wide security trend.
In its "2019 State of the Security Industry" survey, Security Business magazine asks industry leaders what they see as the most disruptive technologies. While cybersecurity, cloud/hosted services, and the Internet of Things came out on top for the second year in a row, the technology with the biggest rise was artificial intelligence. In a Security Business poll, 67% of security integrators said they were "confident enough in AI, deep learning, and other intelligent video analytics solutions to offer them to all customers."
According to our home security experts, the technology available to help control and protect your home will only get better and more intuitive:
---
"We've only just scratched the surface on what smart equipment will be able to do. As technology can 'learn' our behavior through artificial intelligence and pattern recognition, it will be able to predict when something is 'not right' and will be able to investigate further or notify the right people."

Kevin Bish
Vice President of Marketing
Guardian Protection
---
Imagining the future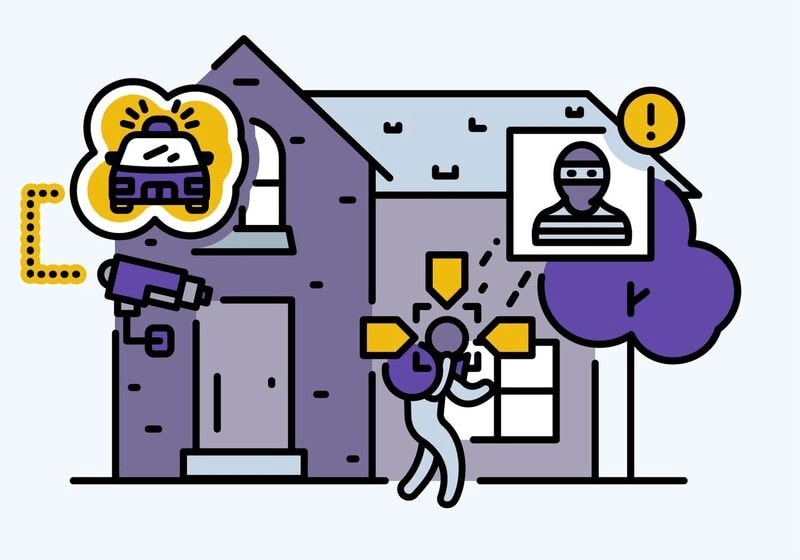 3. More interest in a healthy (and green) home.
We're going to see more overlap between the security industry and the connected health market and the independent living market. The number of Americans age 65 and over is expected to double, according to Parks Associates, so what follows is an increased demand for smart home devices and security solutions aimed at helping seniors and their caretakers.
We believe that the focus on health will be holistic, extending beyond the health of the body to the overall health of the home and environment. That puts "green" home security products front and center:
---
"Perhaps the last place environmentally-aware consumers would look for forward-thinking energy solutions is an alarm system. But quite the opposite is true. With today's technological advancements, your proximity to your home can be determined via geo-fencing technology controlled on a fully integrated app. This one app lets you automatically turn lights on and off or adjust your HVAC settings, helping not only our environment but your pocket in relation to energy costs!"

Jason Bradley
Vice President of Care & Monitoring Operations
Guardian Protection
---
4. Integration will be a given.
Smart home devices and security technology don't always play nicely together. Or (yikes) they sometimes require different mobile apps to manage. As the smart home security industry evolves, our experts believe integration will be one of the key security trends for growth and success. Smart security products that talk to each other give homeowners the best value for their money, and user-friendly systems will make smart homes more desirable:
---
"Smart home and security solutions need to be fast, reliable, and interconnected. The tedious effort of opening multiple apps to control different aspects of your homes is no longer acceptable to the discerning consumer. People want one app, one platform that can control everything in their home from security and life safety, to cameras, lights, locks, garage openers, and more.

With all these devices working together we can perform complex actions with a simple voice command. For example, "Hey Siri, I'm leaving" becomes an automated chain reaction of security systems arming, doors locking, garage closing, lights turning off, appliances shutting down, and the thermostat adjusting to save energy. Coming home is just as easy. Our phones connect automatically to the touchscreen panel, triggering the security system to disarm, the front door to unlock, the thermostat to resume, and the camera to snap a photo and send it to our family to show we are home safe and sound. It's the perfect blend of hardware and software technology, how smart homes were always meant to be."

Jeremy McLerran
Sr. Director of Marketing
Qolsys
---
Imagining the future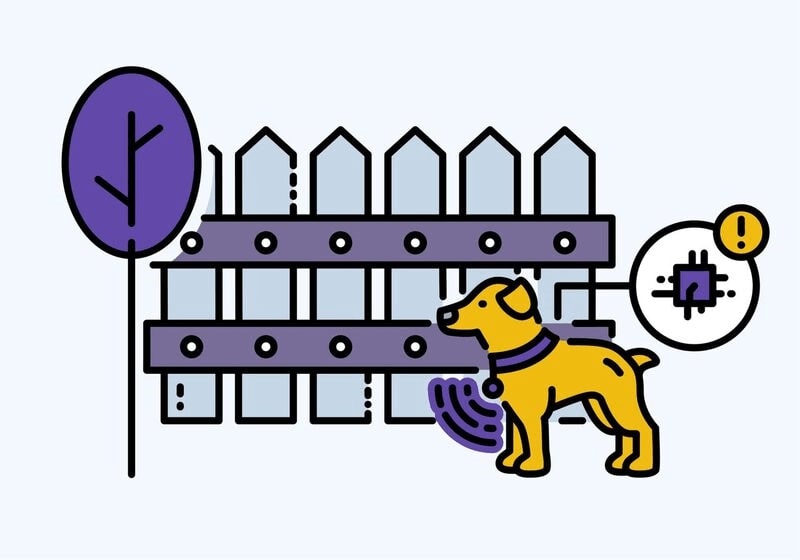 5. Video security gets even bigger (and better).
If you told someone just 10 years ago that you had cameras inside and outside of your home… and in your car… and in your pocket… and even a wearable one on your wrist… they might have given you a strange look. Now, not having immediate access to an amazing camera 24/7 is what's strange. The security industry is no different, and experts predict this trend will only increase.
---
"In the past, many people have been very hesitant about having video cameras in or around their house. But now, with the delivery-to-the-home services becoming the norm, we are going to see even "Never Camera-ers" finally come around. Simply put, when life changes, the way we protect it needs to change too. The benefits of being able to key an eye on your family and your home on the go are undeniable."

Matt Fidler
Vice President of Customer Experience
Guardian Protection
---
Video cameras are not only ubiquitous — their features are downright amazing. What security cameras can do may already be far beyond what your average person uses or even knows about. More and more, customers will be demanding features that allow them to cut quickly through the noise of everyday life and focus on the information they care about. Video Analytics is the perfect example.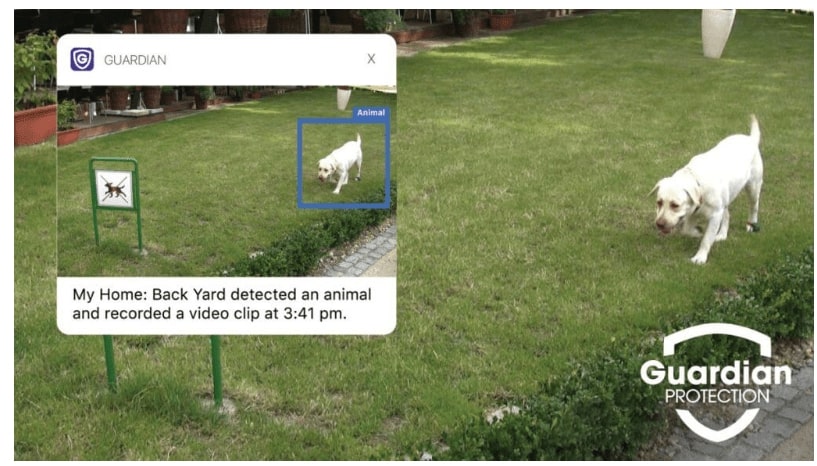 Consider this: A study of U.S. households by Parks Associates revealed that the ability to capture video images that can be used as evidence was valued even higher than faster police response.
---
"Every evening, there's a story on the news reporting a crime that was caught on camera, and this is what customers want. They want to see what happened, who did it, and when it happened, and in turn be able to share that video evidence with authorities, insurance companies, neighbors, and on social media. Video analytics is the future of security cameras. We'll see an expansion of that technology in the coming years. "

John Thompson
Manager, Dealer Accounts
Guardian Protection
---
6. Quality remains king for smart home security systems.
As AI develops and technology becomes smaller and increasingly mobile, the implications for smart home security seem infinite. Regardless of any technological changes that enter the industry, quality control, professional installation, and professional monitoring will continue to be an important part of true security systems.
---
Technology advancements are exciting, especially on the surface. But like an iceberg, underlying dangers can exist for consumers. There's an ever-increasing array of platforms, such as bargain-basement DIY systems, that look similar in appearance to professional product lines, but significant differentiators exist that matter in an emergency.

These distinctions, just like we provide here at Guardian, include certified products that have been rigorously tested by independent agencies such as Underwriters Laboratories (UL), coupled with expert 24/7 monitoring. They provides the end user with connected technology and security — not to mention peace of mind from a life free of the hidden perils of icebergs!

Jason Bradley
Vice President of Care & Monitoring Operations
Guardian Protection
---
7. Security will focus on building the smart hub of you.
A lot of focus in the security industry is placed on making your home the center of your life. Our experts predict this is evolving, and going forward, the goal won't be just a smarter home, but a smarter you:
---
"We want to be aware 24/7, and today, connectedness seems prevalent in the home. But with Alexa devices that plug into your car, awareness is expanding from simply the home into all aspects of life. In the future, everything around you as the consumer will be smart — whether that's your car, your office, or your general ecosystem. This will shift the goal posts from creating a smart home, to making you the center of a smarter life. Smarter you, not just smarter home."

Matt Fidler
Vice President of Customer Experience
Guardian Protection
---
Guardian Protection can assist you in building out the smart hub of you. We can start with your home, but help you expand to a smarter life wherever you go. Call 1.800.PROTECT (1.800.776.8328) to get started today, or explore our site to learn how Guardian Protection smart security helps protect your unique environment.