Pretty much everywhere you look, you're going to bump into something labeled "smart": smartphones, smart watches, smart toothbrushes, and of course — our personal favorite at Guardian Protection — all-inclusive smart homes.
What is smart home automation?
Smart home automation uses internet-connected devices to monitor and control various things throughout your house, like lights, cameras, locks, and more. The devices are connected to each other and are accessible through one main point, like a smartphone or a computer.
A smart home gives you control over everything in your home and how it works.
Guardian Protection offers, installs, and supports a range of smart home security devices. Many customers only scratch the surface of what these products can actually do.
But we want to help you dig into the really interesting stuff, the functionality that makes them truly smart. For example, smart home products have self-learning skills, allowing them to adapt to your routines and preferences. Better yet, a smart home can grow with you, allowing you to easily build upon it and expand as needed.
Let's explore 10 genius ways you can use smart home technology to make everyday life safer and easier, told from the perspective of our buddy, Paul. Paul is the father of two awesome kids, and has a demanding career. He loves spending time with his kids, watching baseball, playing with his dog, and eating Thai food.
Smart Home Solution: Smart Lighting
If you have a smart home and you haven't added connected lighting into the mix, you're missing out. Guardian Protection's light control modules work in tandem with many of our other devices, including your security panel.
Integration with motion sensors — both standalone motion sensors and those embedded in the video doorbell — can trigger the lights to turn on. There are a number of ways to customize how and when this happens.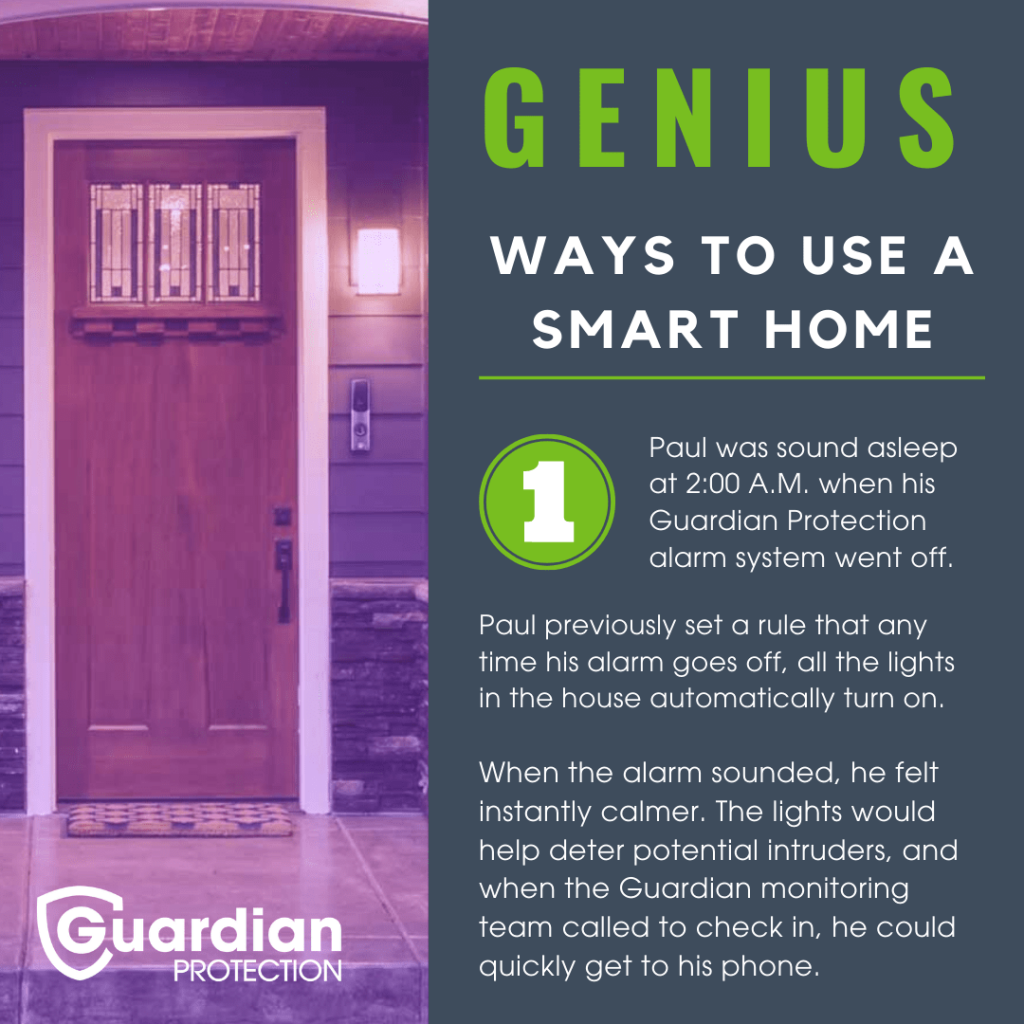 Light controls are perfect for rooms where lights are needed and often left on accidentally, like a basement.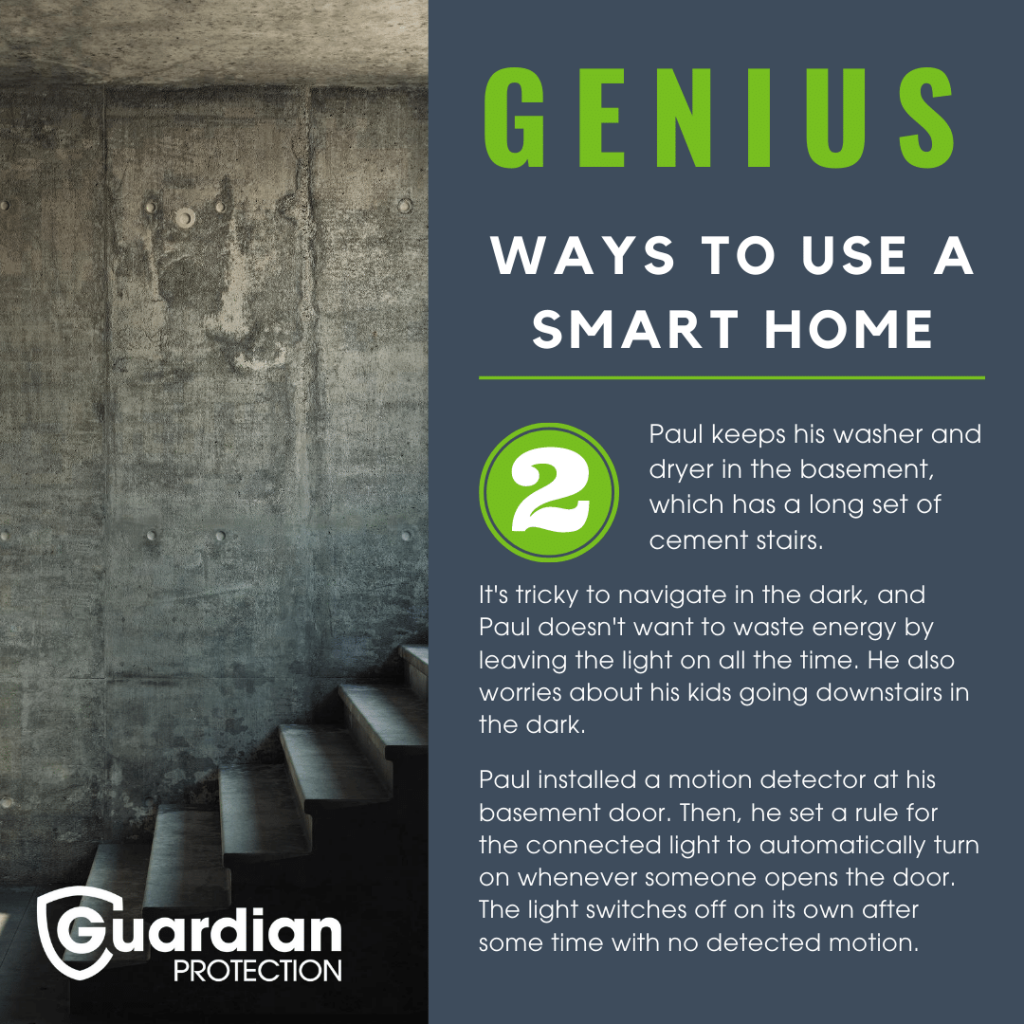 To add smart lighting to your security system, you will need a Z-Wave compatible light control module or a hardwired compatible wall switch, based on your needs or preferences. To set up rules and schedules, you will need to log in to MyGuardianHome.com.
If you're not sure what the best lighting options are for your home, or need help setting rules for your home, just give us a call at 1.800.PROTECT (1.800.776.8328).
Smart Home Solution: Smart Thermostat
You've probably heard a lot about smart thermostats in recent years — they're everywhere, and for good reason. When synced with a smart home security system, they can do even more than regulate the temperature.
In the event of a fire, our monitored smoke detectors can send a signal to your thermostat, telling it to shut the air off so it doesn't redistribute smoke throughout your home.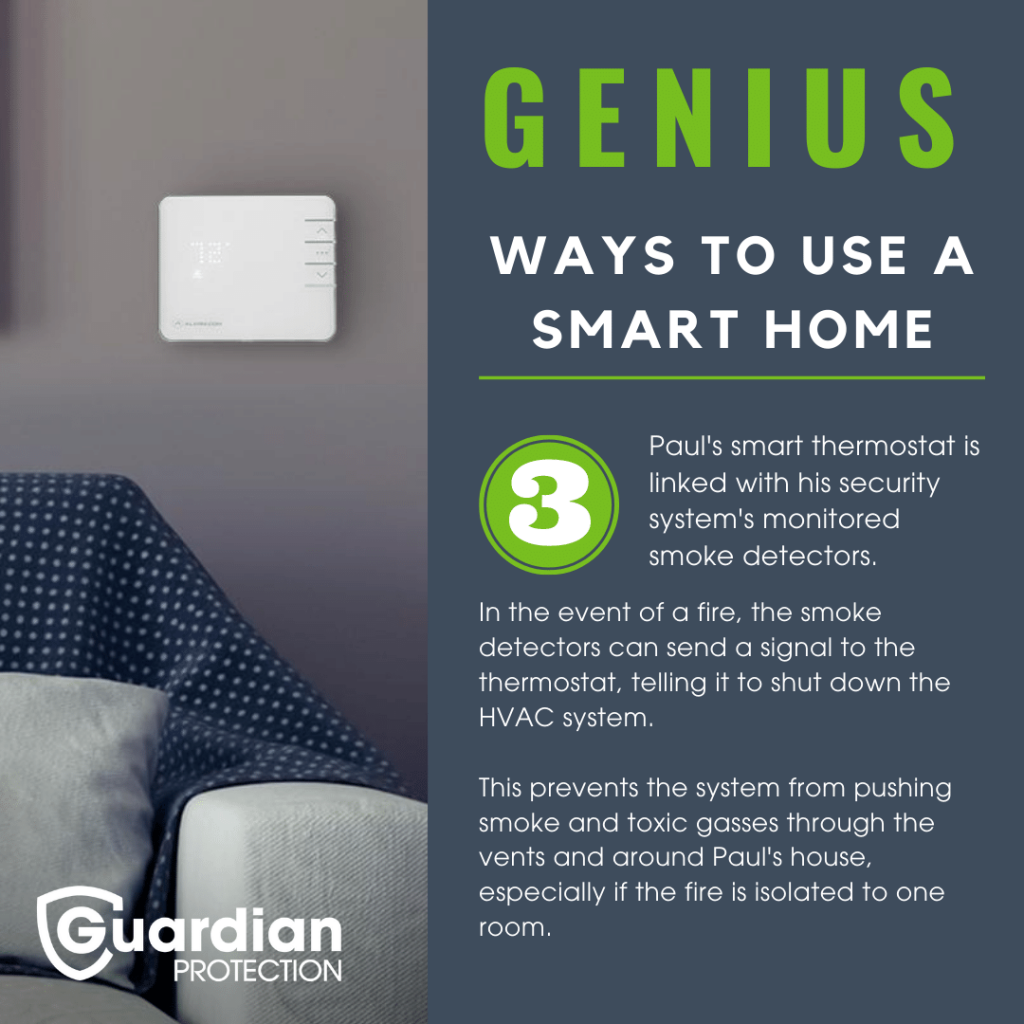 Why is this important? Because while a smoke alarm is going off, your HVAC keeps running, cycling air around your house. So even if that fire was isolated to the basement, an active HVAC system will push smoke and toxic gasses upstairs much faster, through your vents. And keep in mind, the number one cause of death related to fires is smoke inhalation.
When programmed correctly, our thermostat will shut that down and potentially buy you enough time to get out of your house safely. Our CO detectors have the same option.
Smart Home Solution: Window Sensors
Whether you have an entry level Guardian system, a mid-level system, or The Works, there's so much you can do and so many ways to customize.
Window sensors are a great example of small devices with big potential. You can get alerts on your Guardian app anytime a window is opened.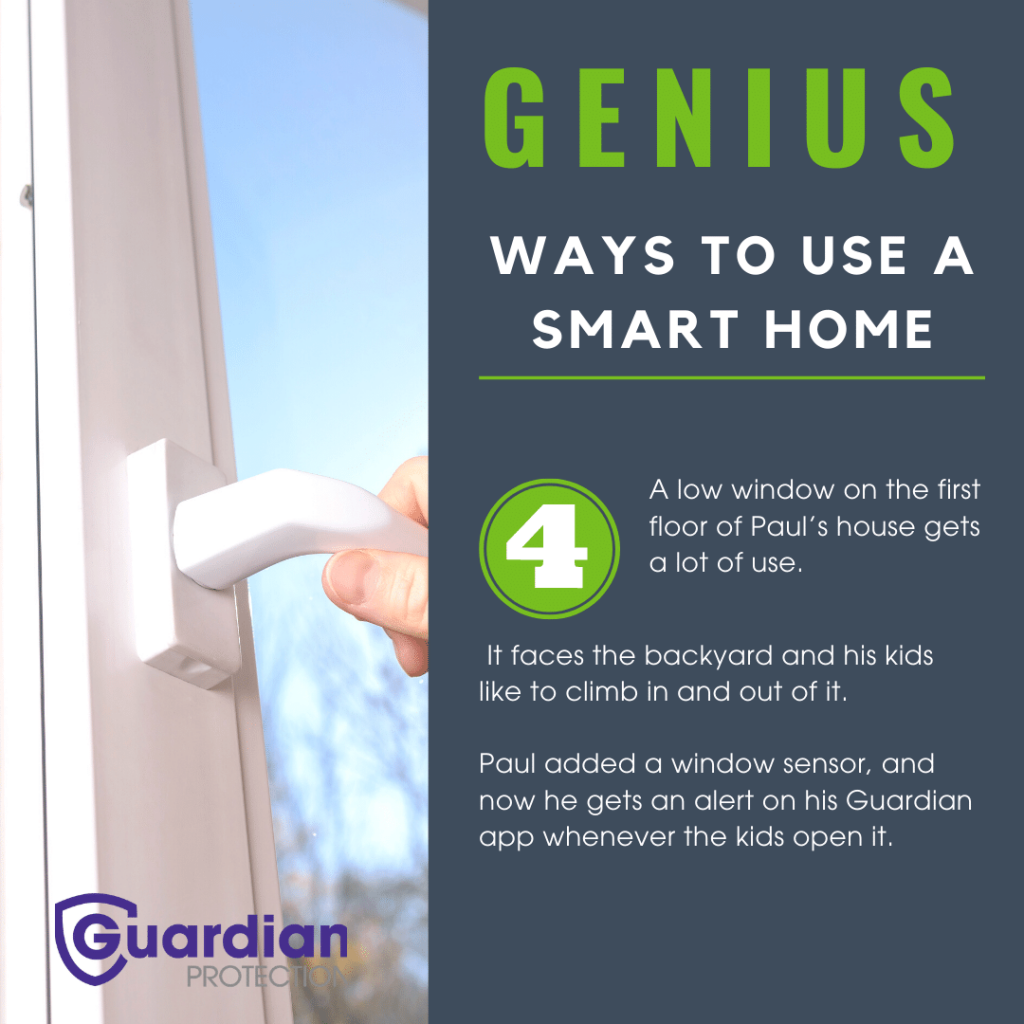 Even better, you can get reminders if a window is left open.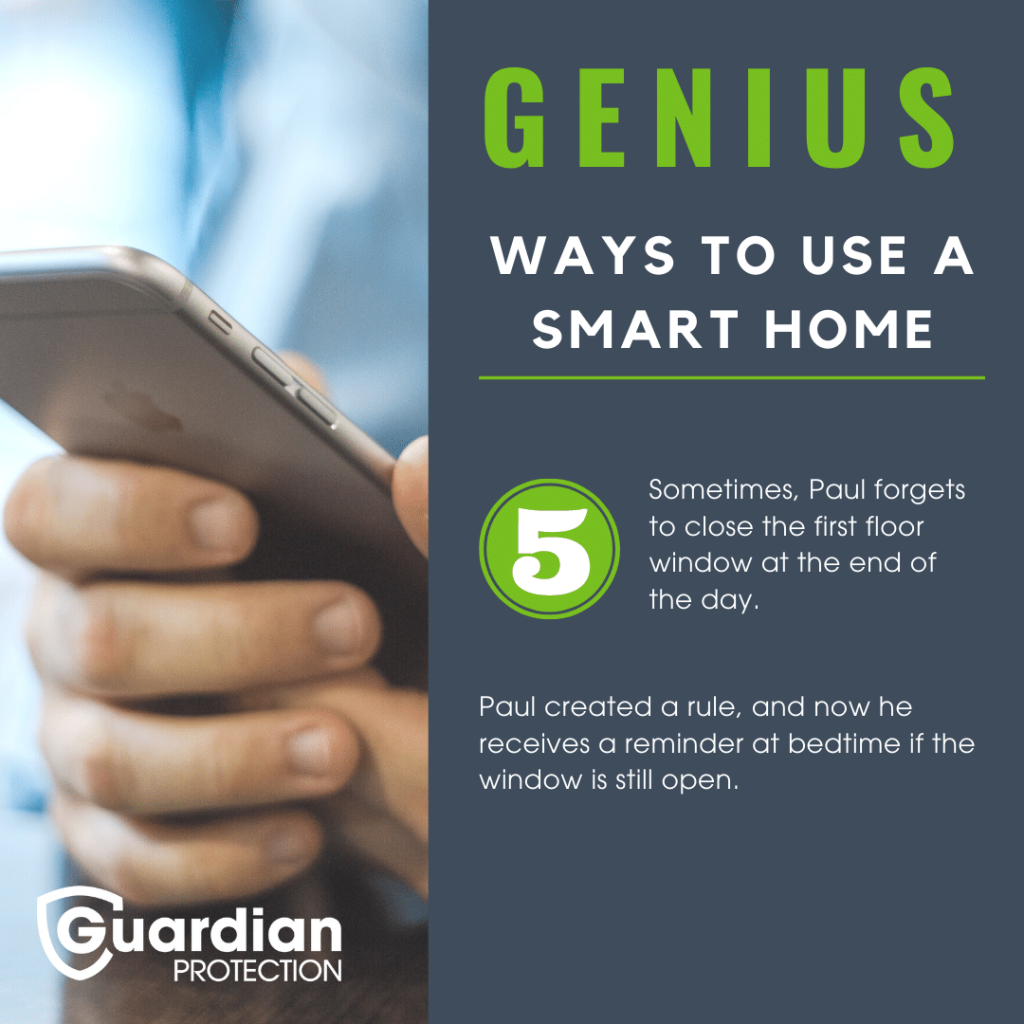 Smart Home Solution: Garage door control + Smart security cameras with Video Analytics
Unlocking your door from your phone is smart. But it's really smart when you don't even have to think about it, and the system just acts on its own. For this to work, all of the devices need to be able to speak to each other, the way Guardian's devices do; that's a true smart home.
We've all had that anxious feeling when we know an important package is getting dropped off while we're not home. When you have an integrated smart home, you have options! Most people already know that you can open the front door for a package remotely with a smart lock, but not everyone is comfortable with that option. Your garage may feel a bit safer, and with smart garage door control, that avenue is open!
Here's how this could work.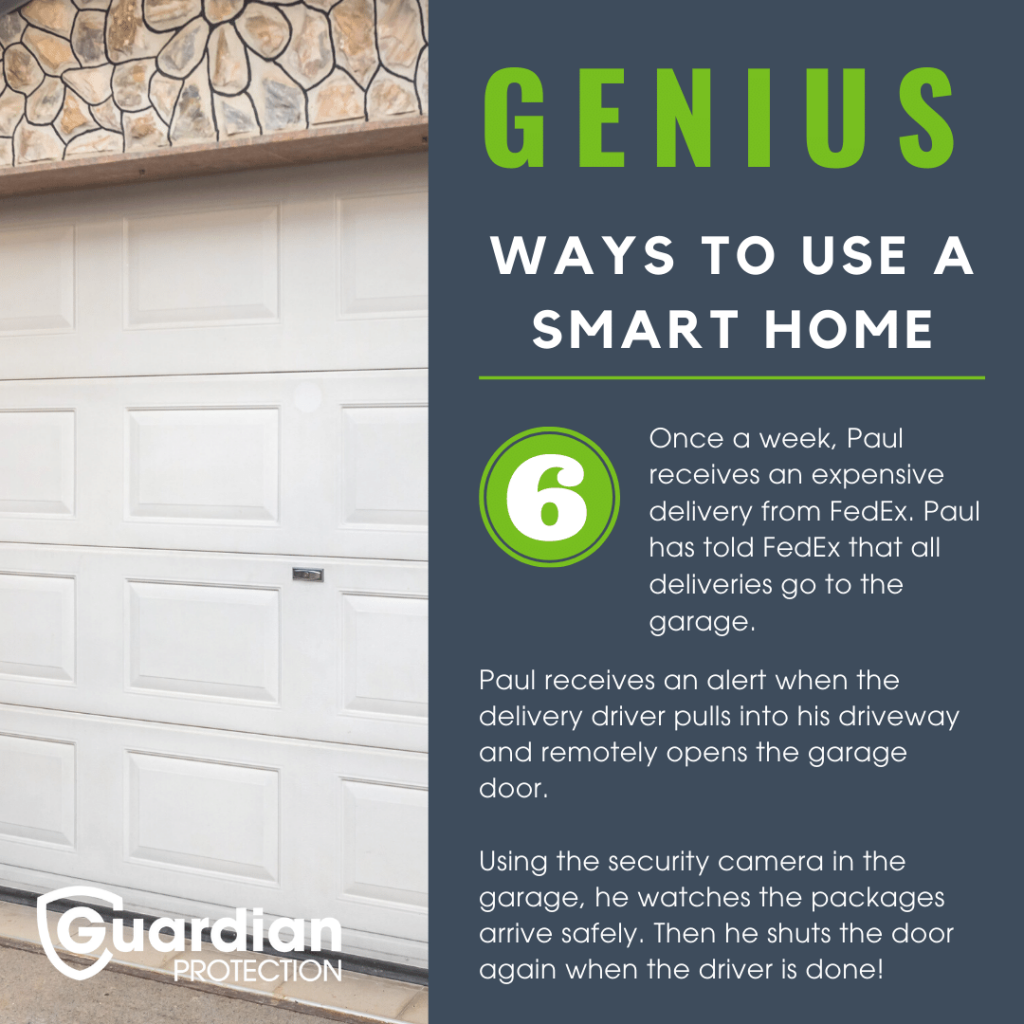 Smart Home Solution: Garage door control + Smart security cameras with Video Analytics + Video Doorbell
Sometimes things don't go according to plan. Let's hit the rewind button and revisit that same package delivery scenario. What if there is a new delivery driver, or the regular driver didn't remember that Paul requested packages go in the garage?
No problem — Paul has a video doorbell!
Smart home solution: Indoor / outdoor camera + Mobile app
COVID-19 guidelines require Paul to work from home indefinitely. Because Paul's kids are participating in part-time online learning, they are sometimes home while he works.
Indoor cameras offer a helping hand.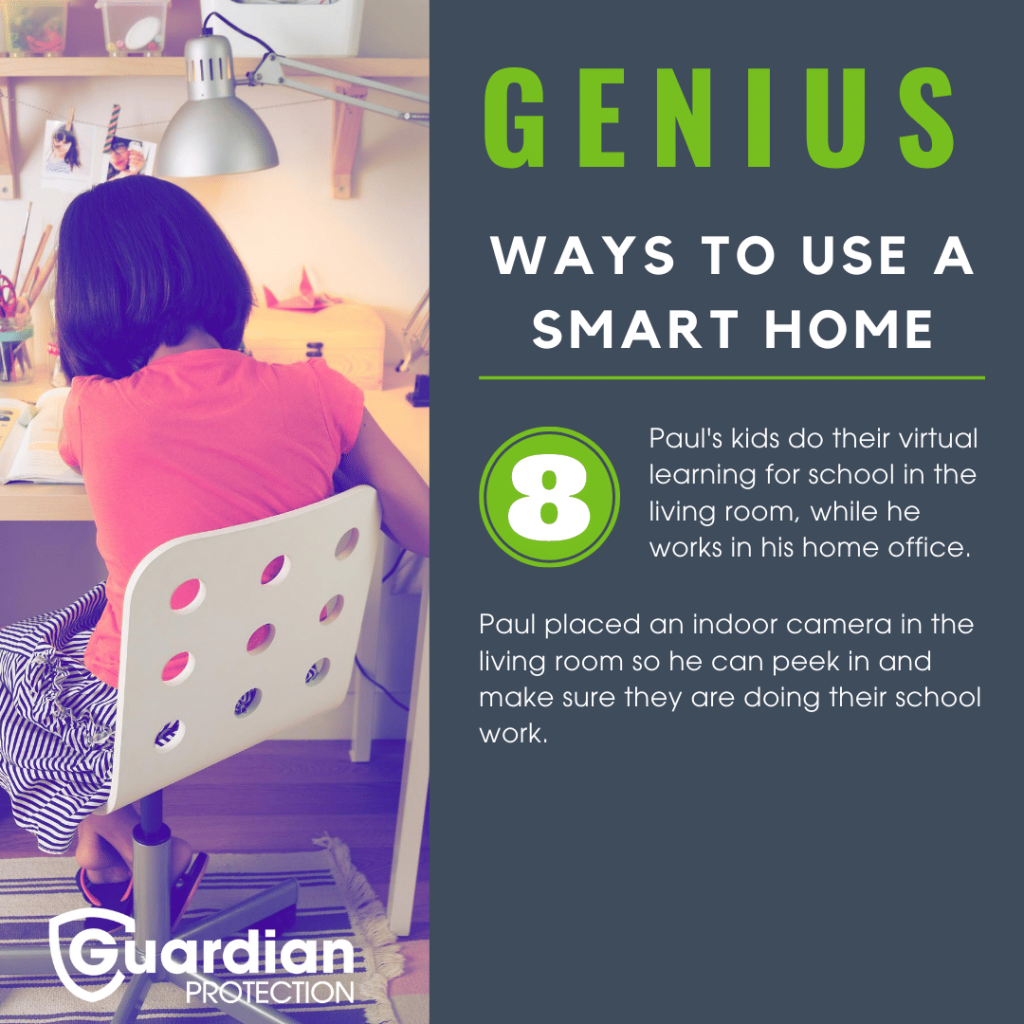 But what about the afternoon, when the kids are done with school but Paul is still working?
Oh hi, outdoor cameras!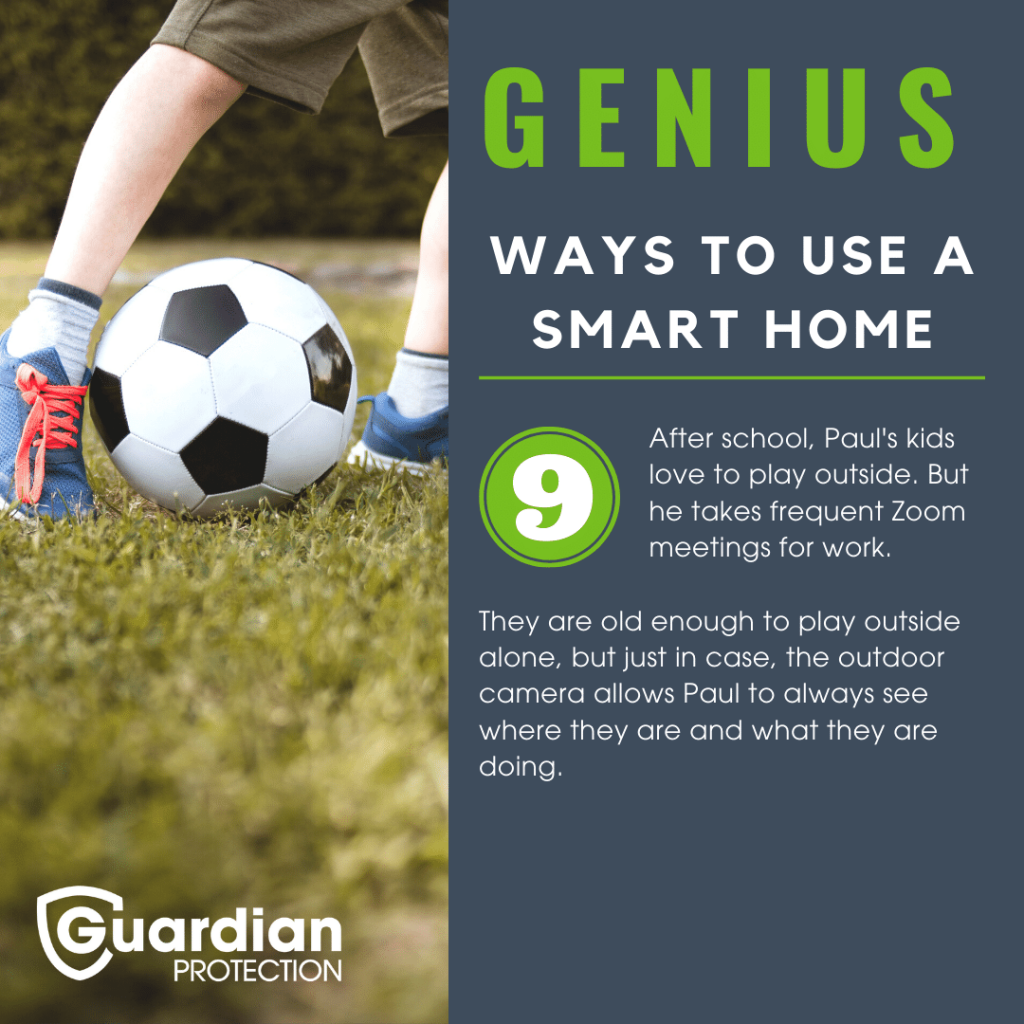 Smart home solution: Smart lock + mobile app
No matter how many times Paul reminds them, sometimes his kids forget to lock the door when they leave the house. Luckily, Paul has a smart lock he can control from anywhere.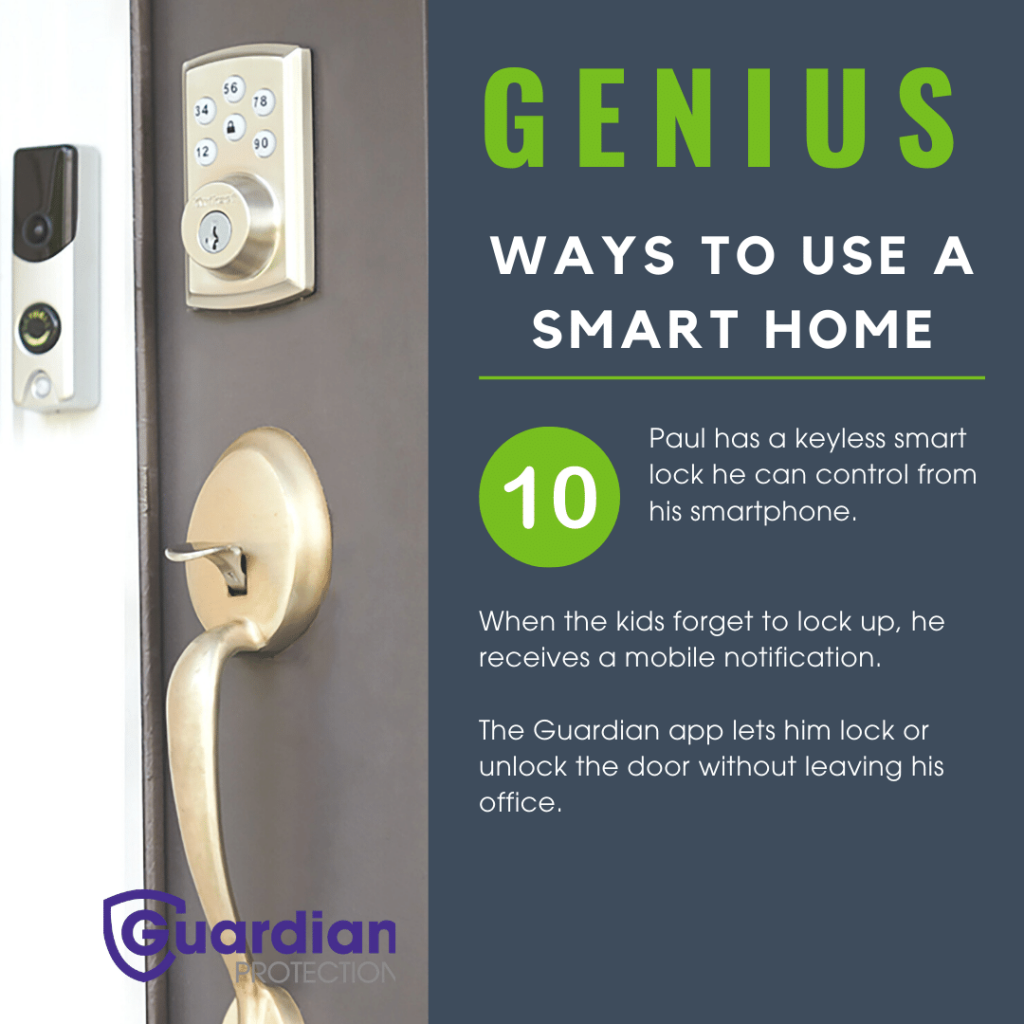 Smart locks also allow you to create individual or temporary user codes. So when Paul is away from home, he can give one to the dogwalker. Because the code is unique, it only works on the days/times a dogwalker is scheduled, and Paul knows exactly when they come and go.
Smart homes are safer homes
Smart home automation makes daily life easier, more convenient, and — when integrated with a security alarm system — safer.
Add in professional monitoring, and now we've arrived at what we consider the gold standard in smart home security: a professionally designed, installed, and monitored solution, customized to meet your specific needs, brought to life by real people who will be there when you need help, have questions, or need your system to grow with you.
Don't have smart home automation yet? Not sure if you have these capabilities? Give us a call at 1.800.PROTECT (1.800.776.8328).