Recently, we kicked off our tribute to National Preparedness Month with a simple suggestion: Worry less. Plan more.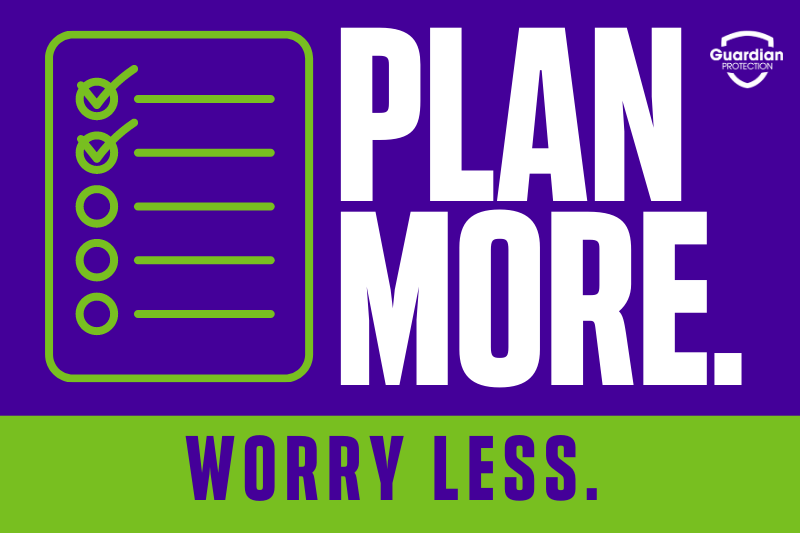 The best way to alleviate the stress of what may happen is to create a plan for Family Emergency Communication and then practice it until it becomes a natural response. Why?
You never know where you will be when the unexpected happens.
The ability to quickly reach and exchange info with your family in an emergency is critical.

With a Family Emergency Communication Plan, should something happen, everyone you love will be playing from the same rule book.
To get you started, we're giving you a free template you can fill out on your own and share with your family!
Want a little more background on what an emergency communication plan is, and why it's so important? Read on.
What is a Family Emergency Communication Plan?
According to FEMA, your Family Emergency Communication Plan starts with one simple question: "What if?"
"What if something happens and I'm not with my family?"
"Will I be able to reach them?"
"How will I know they are safe?"
"How can I let them know I'm OK?"
Simply put, a Family Emergency Communication Plan tells your family what to do, how to find each other, and how to communicate in case of an emergency. Your plan should include strategy for both communication and meeting up.
Create your plan as a family
It's not enough for one family member or just parents to know the plan. When emergency strikes, it's all-hands-on-deck. Find a way to get everyone involved in the planning process. They'll be more likely to remember the plan and willing to practice it.
When your plan is complete, save a copy somewhere safe but accessible. Make sure everyone in your family is familiar with it, and knows where to find it.
What should I include in my plan?
Important contact information
You'll need to collect info for your family members, as well as other important contacts and locations, such as:
Work / Offices
Schools
Hospitals
Home security company and its monitoring center
Doctors / Pediatricians / Vets
Hospitals
One dedicated "out-of-town" contact
Your "out-of-town contact" is the central point of contact that can help your family reconnected. Everyone in your household will reach out to this person to say they are OK. If possible, pick someone who lives outside of your area in case there are local issues with the power or phone lines.
You should also document family meeting places. Your meeting places are the locations where everyone knows to meet up if the family gets separated. It's smart to have one close to your home and one a bit further away, just in case your neighborhood is closed off.
Any special needs
Every family is different, so make sure to think through your family's specific needs, including:
Medical requirements and prescriptions
Mobility issues
Dietary needs
Daily schedules
Pets or service animals
Smart home security information
If you already have a home security alarm system, good for you! You're already ahead of the safety curve. But don't forget to leverage your system in any emergency planning.
Everyone in your family should have the code memorized, and know how to perform basic functions. If you find yourself forgetting to arm your system when you leave the house, set up arming reminders.
If you have a smart home security system integrated with home automation devices, like the solutions we offer at Guardian Protection, you have more than just protection against intrusion. You have control over your house right from your smartphone, which is a huge advantage in an emergency.
A smart security solution lets you do all of this from anywhere:
Arm/disarm your alarm system
Instantly send an emergency signal to the monitoring center (learn more about the Guardian app panic signal button)
See who is coming and going
Answer your front door
Lock/unlock the door
Peek in on pets
Give a friend or family member access when no one is home
Check fire and CO detectors
Adjust the thermostat
Cancel or verify an alarm (learn more about smart signal)
And much more! This is the kind of backup and control you want when the chips are down.
More important communication tips to remember
Review and update your Family Emergency Communication Plan at least once a year, or whenever your info changes.
During COVID, check with Centers for Disease Control (CDC) and update your emergency plans appropriately.
Practice! Have each person practice calling your out-of-town contact and sending a group text.
Make sure children know how and when to dial 9-1-1.
Have the number for your security company's monitoring team programmed into your phone so you don't miss an important call.
Create additional plans for more specific situations, such as how to shelter-in-place, a Family Fire Safety Plan, or plans for any natural disasters common in your area that could require an evacuation.
Make a communication plan for your family today
Making a Family Emergency Communication Plan is one of the best steps you can take to prepare your family for the unexpected. Immediately knowing where to go, what to do, and who to call can help you see through the confusion in a chaotic time and reunite with your loved ones if you are separated.
Next, let's learn how to build an emergency kit!
If you're looking for more ways to protect your family, your home, your business, or anything you care about, give Guardian a call at 1.800.PROTECT (1.800.776.8328), or fill out a form here. We've been helping people like you protect your world since 1950.