As the weather heats up, it's easy to let your guard down. But did you know, summer is one of the busiest seasons for home break-ins? With many people eager to head out of their homes and offices and enjoy some fun in the sun, more houses are left empty, making them vulnerable to burglaries and other crimes.
What the research says about crime in the summer
Studies from around the world have demonstrated that crimes jumps during the warmer months — and even when it's unseasonably warm in the winter.
A report from Drexel's Dornsife School of Public Health, based on a decade's worth of crime data, found overall crime rates were highest in the warmest months.
A report from the U.S. Department of Justice also revealed a clear trend: Rates of household property crimes tended to be higher in the summer (June, July, and August) than during other seasons of the year. Burglary showed the strongest seasonality of all household property crimes, with average burglary rates 11% higher in the in the summer than in the winter.
Why so much summertime crime?
This is a complicated question, and not all experts agree. But researchers have posed a handful of reasons that make a lot of sense:
Looser schedules (more time, more crime)
No school
More daylight hours
Longer windows of time away from home
More vacations
More empty homes
Lots of open doors and windows
Heat discomfort makes people more aggressive and likely to act out
According to one of the researchers from the Drexel study, which confirmed more crime in the heat:
Seasonal patterns and behaviors can change your level of risk, but Guardian's got your back! Whether you're taking a (very) well-deserved trip or just spending more time outdoors, here are some tips to help protect your home and your family this summer.
Protect your home during summer vacations
Nothing says summer quite like getting away from it all. And after a relatively quiet travel season due to COVID-19, it would be an understatement to say people are ready to get out and get going.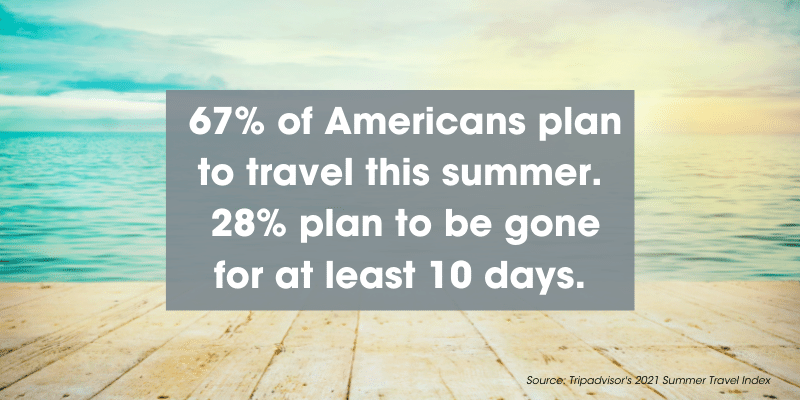 Many burglars "research" and plan ahead, paying close attention to small details suggesting a vacant home. And of course, many homes are vacant for weeks at a time during summer vacations.
Mail. Some travelers choose to stop receiving mail while they're away so an overflowing mailbox doesn't raise a red flag. A better solution? Ask a close friend to retrieve your mail until you get home.
Hold off on social media. This may come as a surprise, but burglars are on social media, too. They may even seek out posts that reveal which homes are empty. Don't post information about or photos of your trip while you are traveling. Save those gorgeous pics for when you get home.
Make your property look active. Tumbleweeds rolling through your yard is bad news. Ask a friend or neighbor to park their car in your driveway from time to time so it looks like someone is around.
Windows. Make sure all your windows are shut and locked, especially any on the ground floor. Fully closed blinds and curtains screams empty home, so be sure to leave a few open.
Lights. Total darkness (especially for days on end) is like burglar catnip. Motion-sensing outdoor lighting can help keep intruders at bay. Automated lighting schedules are another easy way to make it look like someone is home.
Get more tips to help secure your home during summer vacations.
Secure your pool
There's nothing better than hitting the pool on a hot summer day, and it's easy to overlook safety and security when cool water is calling. Make sure you secure your pool when it's not in use, and that any swimming is supervised by an adult.
Place fencing around the pool
The first line of security around your pool is fencing. Make sure the fence you install is lockable (self-locking and self-closing, ideally), at least 8 feet tall, and free of any footholds/handholds. Fences with smaller slats not only block prying eyes, but minimize the chance someone can slip in. Remember, always check with your local municipality regarding pool perimeter requirements.
Use motion-sensing security lights.
Motion lighting can draw attention if there is movement in your pool area at night. It can also scare away a person or animal who's trying to get in when you aren't supervising it. There are many options at varying price points to help illuminate your pool at night.
Cover it up.
Keep your pool securely covered when it's not in use. Look for covers that can support the weight of an adult and are American Society for Testing and Materials (ASTM) approved. Beyond the obvious safety and security benefits, pool covers are essential to pool maintenance and smart way to protect your investment.
Use outdoor surveillance cameras.
Video surveillance is a great tool for securing your pool area. With outdoor home security cameras, you can see what's happening poolside anytime from your smartphone. Monitored home security plus outdoor video cameras? That's total peace of mind.
Pro tip: Having a pool party? When you add a doorbell security camera, you can answer the door without even getting off your lounge chair.
Install security sensors.
If a door from your house opens to a pool deck, install a home security door sensor and set-up alerts so that you are notified when the door is opened and closed. You can also opt for an underwater pool alarm, which is placed inside the pool itself and detects displaced water.
Pay attention to your yard and keep it safe
As you're getting your lawn ready for summer, ask yourself these questions:
Do you have a spare key hiding under a rock?
Do you have a large amount of lawn furniture left out all summer long?
Do you sometimes leave tools and ladders in the yard?
Do you have a weak/broken area in your fencing?
Do you have high shrubbery or hedges surrounding your doors or windows?
Is your yard not visible from the road/ to neighbors?
Could someone access a window by climbing a tree or drainpipe?
Is your lawn poorly lit at night?
Do you have an unlocked shed or storage area on your property?
Do you leave bicycles unsecured in your yard?
If the answer to any of these questions is yes, your security has room for improvement. Here are a few tips to enhance the safety and security of your yard. (Spoiler alert: It doesn't have to be expensive or complicated to be effective.)
Always put your tools and ladders away.
Secure any outdoor valuables like grills or patio furniture.
If you have a fence, repair any weak or broken spots to eliminate access points. If you don't have a fence and are considering one, look for these features:

At least 8 feet high
Has a lockable gate (childproof)

Self-closing and self-latching
No horizontal rails or pieces that could serve as handholds/footholds, making it easy to climb.
Has small spacing between the slats. Privacy fences are nice, but they obstruct the view of your yard.
Complies with your municipality's requirements.

Keep your landscaping neat and trimmed. Hedges and shrubbery should be low around your doors and windows so they don't create a good hiding place. A manicured lawn is also an indication that you're paying attention to your yard.
Stop hiding spare keys and invest in a smart door lock. You can finally break free from the key and even give visitors temporary codes.
Improve the visibility you have into your yard by installing outdoor surveillance cameras. 
If you have a monitored home security system, prominently display window stickers and yard signs as a deterrent.
Make sure you have a good security system that's monitored while you're away.
Hands down, a professionally monitored home security system is the number one way to deter intruders and help protect your home from break-ins. Here's just a few things a fully-integrated smart home security solution can bring to table:
24/7 professional monitoring. If a potential burglar gets up to your home and attempts to enter, an armed, monitored security system will alarm and notify the monitoring center.
Smart lighting. Motion detecting lights will draw attention if anyone enters your yard and may scare off a potential burglar.
Video surveillance. Well-positioned exterior cameras help keep an eye on the exterior of your home. They also send a clear message that someone's always watching.
Mobile access. Anytime, anywhere access from your smartphone.
Want more tips to help protect your home?
Our security experts at Guardian Protection identified the top 10 home security mistakes they see in the wild, and what to do instead. Read it here.