It's said to be the most wonderful time of year, and Team Guardian agrees — although it may look different than previous years. But one thing that hasn't changed? We're still on a mission to help you secure the safest holiday season possible for you and yours.
Whether you're wishing for snow, cooking smaller family dinners, or opening gifts over Zoom calls, we want you to keep your home's safety top of mind. Here are 12 tips and reminders for safer holiday celebrations.
Day 1 – Protect your home.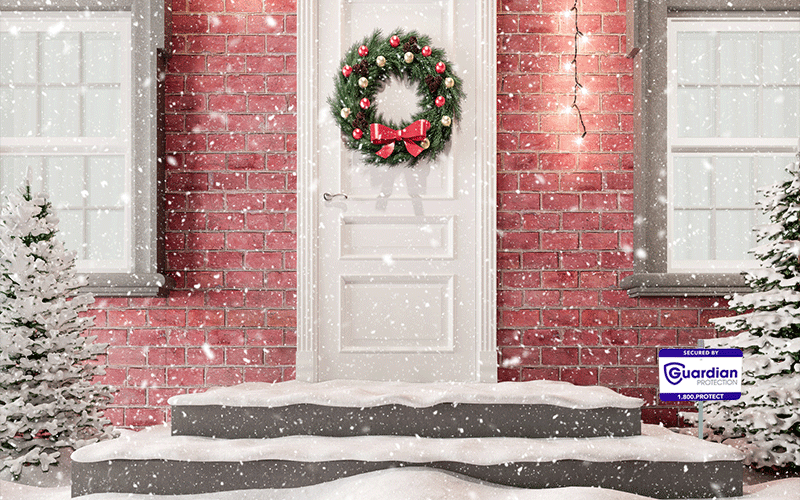 Investing in a home security system (or business security system) can be a lot to take in. At Guardian Protection, our professional customer care representatives and professional installers will talk and walk you through everything you need to know about our security systems and how to operate them efficiently. Our goal is to help you feel confident that your home is safe. Learn about our Home Security Essentials package here.
Day 2 – Check your smoke detectors.
The Red Cross found that nearly 47,000 fires occur during the winter holidays, and we believe a lot of it has to do with all of the distractions going on around us. We highly recommend checking your smoke detectors to ensure they are working properly. Guardian's professionally monitored smoke detectors help protect your world from fire and smoke around the clock, even if you're not home.
Day 3 – Unplug your Christmas tree.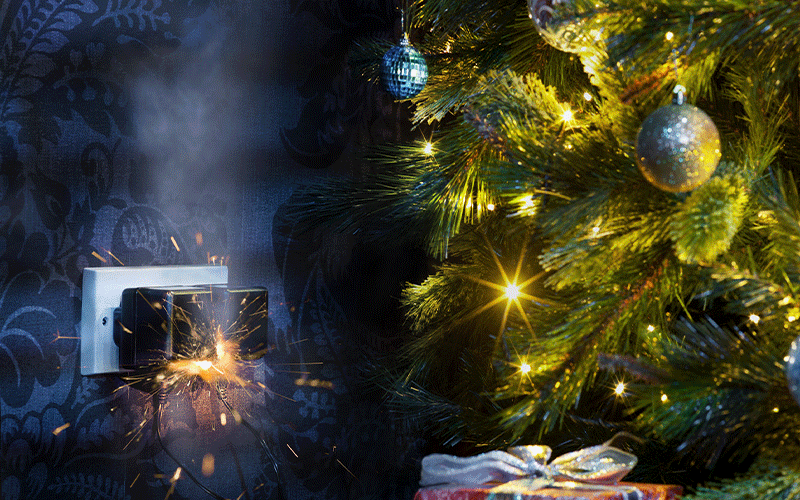 Decorating is fun and exciting. Since practically everyone has had their holiday decorations out since before Thanksgiving, here's a friendly reminder to unplug your lights anytime you leave the house or go to sleep for the night.
Day 4 – Beware of porch pirates.
Dec. 2 is #NationalProtectYourPackageDay, and after all of the Black Friday and Cyber Monday shopping you just did, you'll want to make sure your purchases are safe from porch pirates. The good news? We can help you keep your online orders safe with our video doorbell. This smart doorbell camera has motion sensors, two-way communication to scare the pirates off your porch, and mobile alerts so you're always in the know.
Day 5 – Keep an eye on your heating equipment.
Brrrrrr! December can be pretty chilly, and sometimes our home heating systems don't seem to be enough to keep our toes toasty. So, what do most people do? Turn on a space heater.
That's all fine and dandy, but allow us to share some info that isn't dandy at all: According to the NFPA, heating equipment is a leading cause of fire-related deaths in the United States, and half of home heating equipment fires are reported during the months of December, January, and February. Be sure to keep your heating equipment away from flammable household items and remember to shut it off when you're not around.
Day 6 – Avoid Christmas tree fire hazards.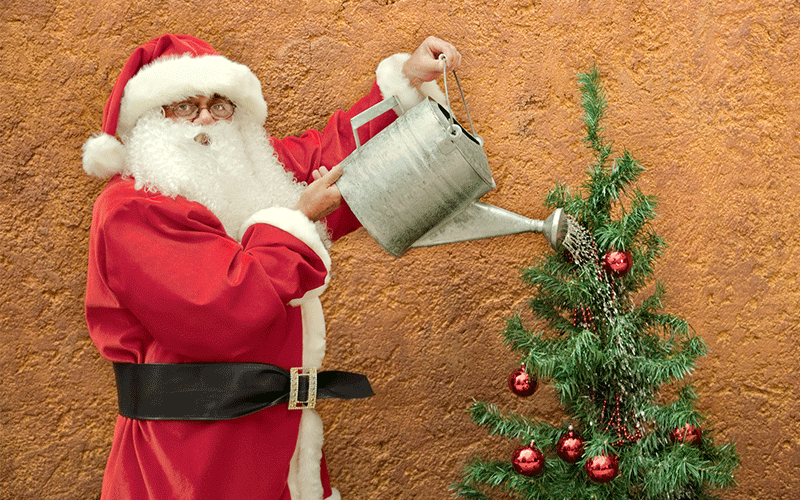 According the ESFi, an average of 260 home fires begin with Christmas trees every year. Celebrate safely by taking a few precautions with your tree this year. If your fam prefers that fresh pine smell in your home during the holidays, add water regularly to keep it from getting too dried out. Move your tree away from heating sources, and always turn off anything electrical on your tree before leaving home or going to bed.
Day 7 – Keep your gifts and home safe from burglars.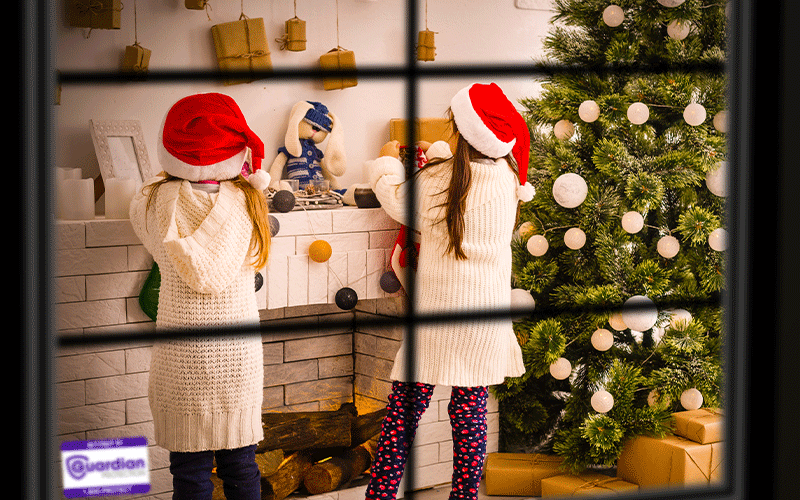 The holidays are prime time for burglaries. People leave their houses to be with family and (most of the time) there are brand new electronics, purses, shoes, etc. freshly unwrapped right under the tree. Any thief would be itching to attempt a break-in, but with our 24/7 monitoring we'll help keep them safe. Check out our Burglar Buster package.
Day 8 – Protect your business, too!
That's right! Guardian Protection is not just for the residential population — we have business security options. Since most businesses are closed during the holidays, we highly recommend looking into our business security solutions.
Day 9 – Don't overload electrical outlets.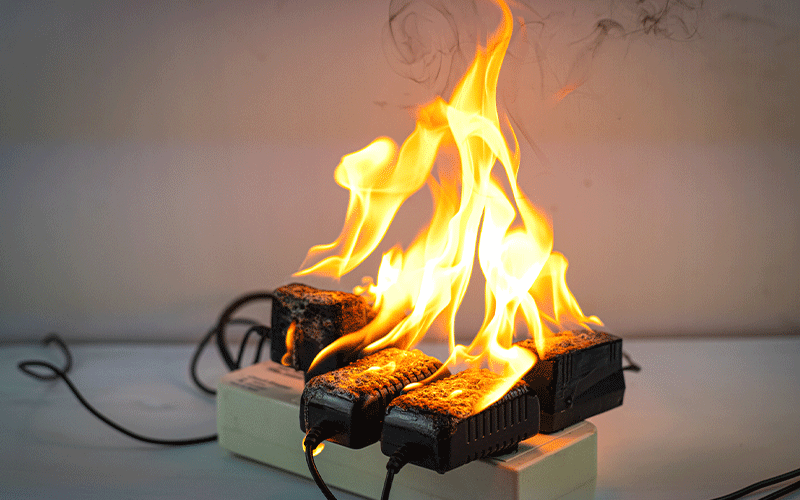 With all of the lights and decorations, it seems like there never are enough outlets to plug everything in. Try not to overload your electrical outlets; it's a major fire hazard!
Day 10 – Keep pets away from Christmas trees.
If you have a curious cat or pup with a wandering nose, you'll want to do your best to keep them away from your tree. Check out our Pet Parent package that includes 24/7 professional monitoring and video security to help you check in on pets anytime, from anywhere.
Day 11 – Decorate with caution.
Every year, U.S. fire departments respond to an average of 780 home fires that start with decorations. Replace any string of lights with worn or broken cords or loose bulb connections, and opt for decorations that are flame resistant. Also, keep those amazing holiday-scented candles away from decorations and other things that can burn.
Day 12 – Simplify your holidays with mobile control.
With all of the hustle and bustle, running around for last minute gifts and last minute ingredients, it's easy to forget to arm your security system. With our mobile app, you have the ability to control your security and home automation from your smartphone!
Regardless of what your holiday season looks like in 2020, we promise to be there even when you aren't. To learn more about how we can help protect YOUR winter wonderland, click here.