Some are big, some are small. Some want to play all day, and some prefer to take it easy. Some chirp, bark, meow, yip, yowl, caw, cry, whine, or howl. They're our pets, they're all different and special, and they make everything better. Why not say thank you by making your house a safer place for your pets to call home? To help you get started, we put together this paws-sitively essential guide to help you create a safer environment for your animal family.
Remember, your veterinarian will always be your best resource for the physical health and well-being of your pet. If you believe your pet is sick or injured, please contact your vet immediately. If your pet has ingested a potentially poisonous substance, call the ASPCA's 24-hour Animal Poison Control hotline at 888.426.4435.
Basic room-by-room pet-proofing
Pets have an uncanny ability to get into trouble, and they might break the rules a bit more when no one's home. Here's a room-by-room guide to identifying potential hazards.
Kitchen
Your pet may be a really "good boy" or "good girl," but that doesn't mean it's always safe to reward them with table scraps.
Some foods that are safe for people are no good for animals. According to the American Medical Veterinary Association and the ASPCA, the following foods should be kept off your pet's menu, no matter how cute they are when they beg:
Alcohol
Avocado
Coffee, tea, and caffeine
Chocolate
Citrus fruits
Coconut and coconut oil
Milk and dairy
Yeast dough
Grapes and raisins
Salt and salty foods
Nuts
Onions, garlic, and chives
Garlic
Raw/undercooked meat and eggs
Fatty, rich, or spicy foods
Anything with xylitol (an artificial sweetener)
Also, be extra careful if you have a pet who gets into the trash, because rotting food and other discarded items can make them sick.
Living Room/Family Room
We spend a lot of time in this area, making it one of the easiest spots for your pet to get its paws on an off-limits item.
Make sure any electrical cords and wires from computers, televisions, stereos, lamps, and phone chargers are out of reach.
Keep areas your pet can reach clear of choking hazards, including strings and threads, small game pieces, paper clips, bottle caps, etc.
Many household plants, if ingested, can make animals sick or even be life-threatening. To see if any of your plants are unsafe for pets, check the ASPCA's toxic and non-toxic plants database here.
Cover up all heating and air vents.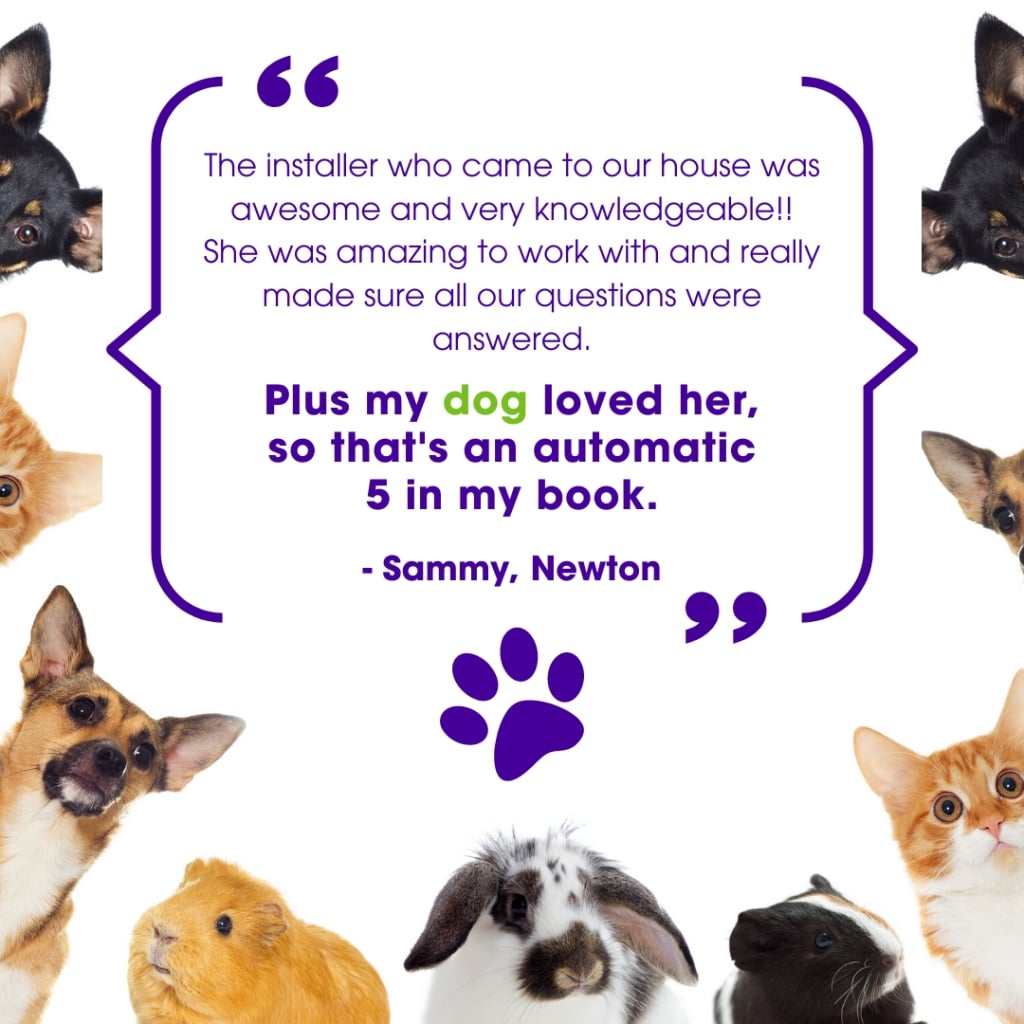 Bathroom
Some pets (cats and dogs, we're looking at you) seem to dedicate their entire lives to getting into the bathroom. There are new water sources to taste, toilet paper rolls to dominate, and tubs to slip around in. While they have their fun, just make sure you're taking some precautions:
Keep the toilet lid closed. Toilet water may contain chemical cleaners (among other things) that can make pets sick.
Use a trash can with a lid to keep pets from getting at dental floss and other disposables.
Keep any cabinets containing medicine or cleaning supplies secure. If your pet has figured out how to break in, try a child-proof lock.
Garage
Store products and chemicals — like fuel, solvents, lubricants, waxes, and pesticides — in a high place.
Use a hose to spray down any antifreeze, fuel, salt, or battery acid on the garage floor and driveway. Antifreeze is particularly dangerous because, beyond being lethal, its sweet taste and odor attract animals.
Sometimes pets (or even neighborhood cats) hide under cars for security or warmth, so make a little noise to ensure the area is clear before driving.
Keep tools, batteries, and sharp objects out of reach.
If you leave your car idling, make sure your pet is not trapped inside the garage to avoid CO poisoning.
Bedrooms
Keep clothing behind closed doors (drawstrings and buttons can cause major problems if swallowed).
Keep medications, lotions, and beauty products off your nightstand and any other accessible surfaces.
Before you leave the room, make sure you haven't trapped smaller pets in closets or dresser drawers.
Be prepared for a health emergency
If your pet was in trouble, would you know how to help?
Some injuries immediately require a vet's care. But for minor wounds, talk to your vet about how to administer basic first aid. If you're not sure whether an injury is too much for you to handle, err on the side of caution and head to the animal ER.
TIP: The Red Cross has a Pet First Aid mobile app to help you with animal emergencies. It's available for download on their site: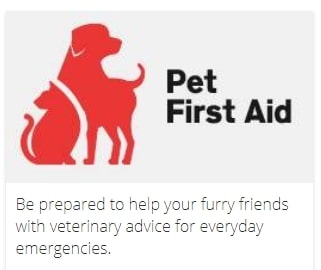 You probably have a human first aid kit, but do you have one for your pet? This can help a great deal in an emergency, even if it's just a temporary fix during a rushed trip to the vet. Essentials include alcohol wipes, gauze, an eye dropper, cotton balls, medical tape, and tweezers.
Get a free copy of the American Veterinary Medical Association's Pet First Aid brochure here, including a first aid kit checklist.
Home security systems help keep pets safe
Even if your pets aren't your primary reason for getting a home security system, there are plenty of benefits to consider. A fully integrated smart home security system can monitor your house for signs of a break-in, fire, or carbon monoxide, giving you peace of mind that your pets are safe when no one is home. (We'll dive deeper into fire safety for pets in an upcoming post.)
We hear the term "watchdog" a lot in the security industry, so let's say it together now — "My pets are not a security system!"
For one thing, even if you have the baddest, fiercest pup on the block, you wouldn't want them facing off against a desperate intruder alone. A loud and intimidating dog could definitely make a burglar think twice, but once they are inside, the burglar might attempt to quiet the dog with a treat, or something worse.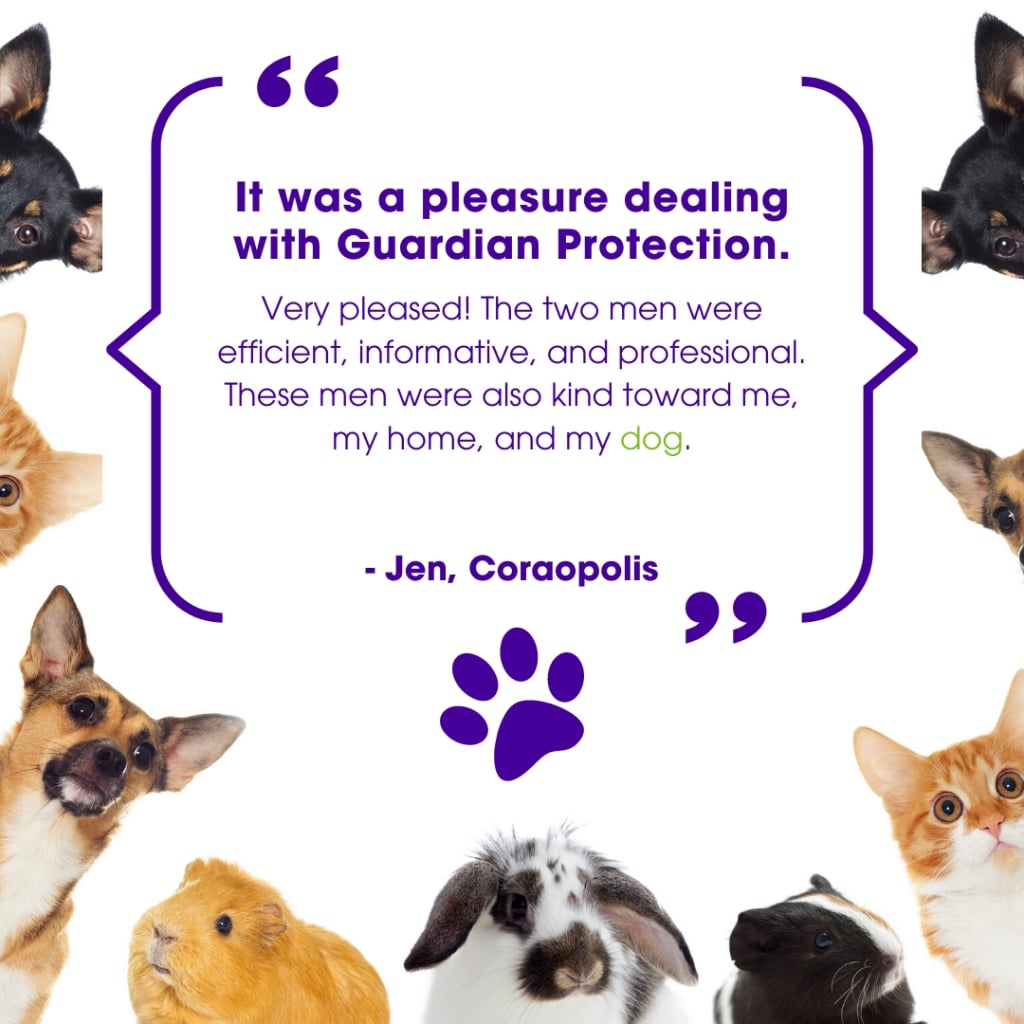 Our advice? Let your dog keep the sheriff's badge, but let a security system serve as the first line of defense.
Pets and motion detectors
In case your pet runs away, we strongly recommend safety precautions like implanted microchips, collars, and ID tags, and always keeping them leashed outdoors. But to help prevent pets from getting out in the first place, a monitored security system with monitored door and window motion sensors is your best bet.
Speaking of motion detectors — if you have a pet and you're getting a security system, we recommend going with a company that gives free consultations and offers professional installation. Many motion detectors are fine for small pets. But some may be triggered by bigger ones, or require some adjustments to sensitivity and placement (for example, Guardian motion sensors accomodate pets up to 40 pounds.) A security expert can help you plan all of this out.
Security cameras help you pet-sit
Do you break out in hives every time you have to leave your pet home alone? Video security could be the perfect solution for you.
Indoor video security cameras can be focused on the areas where your pets hangs out during the day to help you keep an eye on them. Make sure the camera you choose comes with a mobile app allowing you to peek in or review clips from your smartphone. Guardian's indoor cameras are integrated with our smart home security systems, so the app you use to adjust the temperature and make your pet cozy is the same app that lets you watch (and re-watch) the video clip of your kitten taking a snooze in your shoe.
Smart video cameras have the added benefit of object detection, meaning the camera can identify whether what it's seeing is a person, vehicle, or animal. This is a big help if your pet misbehaves or tries to get into rooms that are out-of-bounds.
Learn more about what you can do with smart video cameras
Find a security system that's perfect for pet parents
Your pets are part of your family, so do what you can to keep your furry, fuzzy, feathery, shaggy, four-legged, winged, or cotton-tailed family members safe.
If you already have a Guardian Protection home security system, consider adding in some smart home tech, like automated lighting and temperature control. It's kind of a win-win — your home is safer and easier to manage, and your pet is more comfortable when you're away for extended periods.
Check out our smart home automation devices
We even customized a smart home security package just for Pet Parents! Take a look at the devices we recommend to help keep your pets safe.