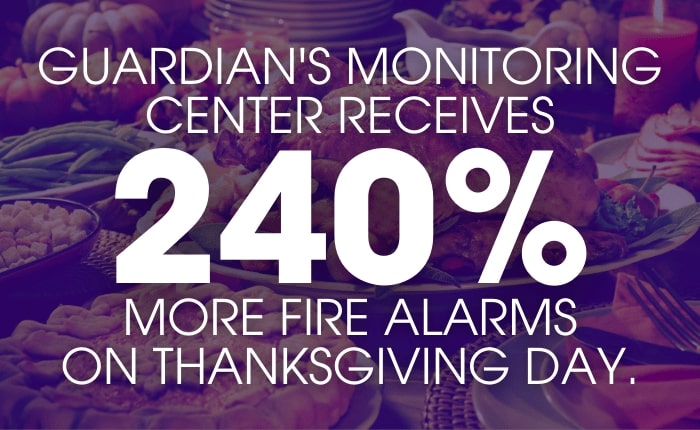 What comes to mind when you think of Thanksgiving?
Perhaps you think of traditions, all the delicious food you get to eat, or even looking for the best deals on Black Friday. A fire probably didn't pop into your head when thinking about Thanksgiving, but maybe it should. Why? Cooking is the number one way house fires start, and according to the NFPA, Thanksgiving is the peak day for home cooking fires.
Here at Guardian Protection, we can back that up. The number of fire alarms our monitoring center receives skyrockets on Thanksgiving Day, largely because of home cooking fires. Luckily, many of these signals are accidental alarms, not full-fledged fires. But with a house full of guests and a belly full of carbs, revelers often aren't prepared to respond to their monitoring center's outreach.
This year, Turkey Day might feel a little extra special if you had to keep it small last year, so you won't want your holiday interrupted by a cooking fire or even a smoke alarm.
Many Guardian customers experience this frustration around the holidays, and the people who know first-hand are the Protection Specialists in our 24-hour monitoring centers. They've provided tips on how to help prevent cooking fires and accidental alarms on Thanksgiving, and what to do if your smoke alarm goes off.
How to prevent home cooking fires on Thanksgiving
The number one factor in home cooking fires is leaving your cooking food unattended. While everyone wants to spend time with guests on Thanksgiving, it's important not to abandon an active kitchen. If possible, bring some of the socializing into the kitchen with you. Here are more tips to help prevent unintentional home cooking fires.
Clean any grease, dust, or food particles from your oven and stovetop.
Make sure you have a non-expired, properly inspected handheld fire extinguisher nearby.
Keep kids at least three feet away from the stove.
Make sure all towels, potholders, flammable utensils, and other items are kept away from the stove top. Long sleeves, loose clothing, and long hair can also pose a fire risk.
Double-check the burners when you turn a new one on or off.
Don't cook sleepy or while drinking. If you were up all night basting the turkey — or started celebrating early — give yourself a break and avoid the stove.
When cooking with grease, keep a lid nearby in case you need to smother a fire. 
Turn your pan handles inward so you are less likely to knock it off the stove.
Tips for your professionally monitored fire alarm system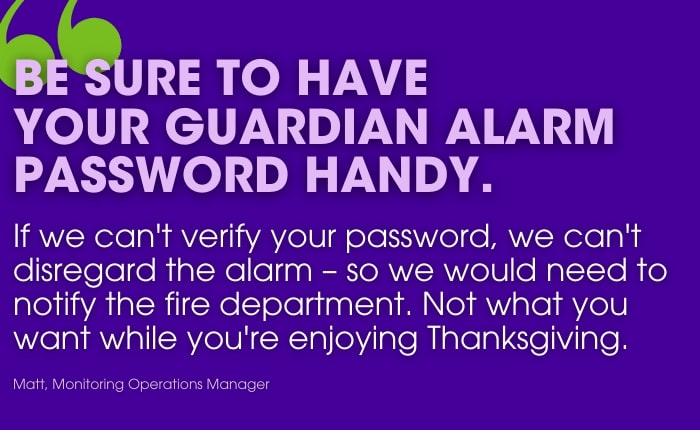 1. Just in case your monitored smoke alarms are triggered, have your passwords/passcodes on hand.
For Guardian customers, you'll need:
Your Verbal Alarm Password – this is the single word you will give Guardian to verify your identity on the phone.
Your Master Panel Code – this is the numeric code you will need to disarm your system at the panel.
2. If possible, give several people you trust access as well. If you're pulling a 12-lb turkey out of your blazing hot oven, you'll appreciate the extra hands.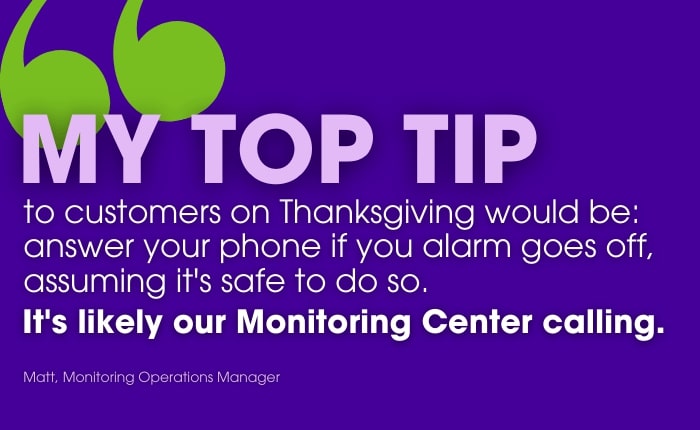 3. Program the phone number for your provider's monitoring center into your phone so you'll immediately know who it is if they call. Guardian's monitoring center number is exclusively used by our monitoring team, so you can also use it to notify us of an accidental alarm or return a call from one of our Protection Specialists.
4. Make sure your emergency contact list is up to date.
5. Test your smoke detectors to ensure that they are in working order. More info about testing your Guardian security system is also available on your online Guardian account.
Is it safe to fry a Thanksgiving turkey?
We love the crispy outside and juicy inside of a fried turkey just as much as the next guy. But unfortunately, frying a turkey can be dangerous, and we strongly recommend skipping this cooking method on Thanksgiving.
Our friends at the Marshall Township Fire Department demonstrated just how quickly things can go wrong in this video.
If you decide to deep fry a turkey and it results in a fire, follow these steps:
Evacuate immediately
Call 9-1-1
Attempt to extinguish the fire, if possible (safety first!)
How to respond to a smoke alarm
First things first: If your smoke alarm goes off, start by determining whether there is a fire. This may sound obvious, but even if you're pretty sure, play it safe and double-check. Your top priority is always getting yourself and your guests out of the house safely.
Next, know the drill. There's always a chance you'll accidentally trigger your smoke alarm while cooking a big meal, no matter how careful you are. Smoke detectors sounding off when there's no emergency can be frustrating, but knowing what comes next will make it much easier to respond.
Why Is My Smoke Detector Beeping When There's No Fire?
If you have monitored smoke detectors with Guardian Protection, we take the extra step of calling you right away if your alarm goes off. If a Protection Specialist can't reach you, they will notify the fire department as a safety measure.
"I've experienced fire alarms on Thanksgiving day as a Guardian Protection Specialist responding to an alarm, and as a Guardian customer accidentally activating my alarm due to cooking. In either case, I've witnessed how incredibly important it is to answer the phone when Guardian calls."
While these steps give you an extra layer of protection, we know you don't want a visit from the fire department over just a little too much smoke. So be sure to scoop up the phone when Guardian calls and give them your verbal password.
If there is an accidental alarm, you can temporarily silence your Guardian smoke detector by entering your numeric passcode and disarming your system. Remember, if there is still too much smoke, it may sound again. To lessen the chance of a false alarm while cooking large meals, try the following:
Clean your smoke detector regularly to eliminate dust and dirt build-up.
Keep a close eye on your food while cooking.
Crack open a window before you start cooking.
Set up a fan near your smoke detector.
Use a smoke detector cover, which can be found at a hardware store or online.
If you have Guardian smoke detectors, put your system in test mode temporarily.
IMPORTANT: Make sure you put everything back to the way it was as soon as you're done cooking — uncover your detector, put away the fans, etc.
We're here to help.
If you do experience a fire or medical emergency on Thanksgiving, remember: Guardian is here for you 24/7, and that includes holidays!
In an emergency, you can always activate the fire or medical panic on your control panel, and Guardian's monitoring center will respond quickly.
Don't have a Guardian professionally monitored fire alarm system? Call 1.800.PROTECT (1.800.776.8328) to speak with one of our security experts.