Somewhere, perhaps in a not-so-far-away land, someone has just had an idea:
I'm going to start a new home improvement project!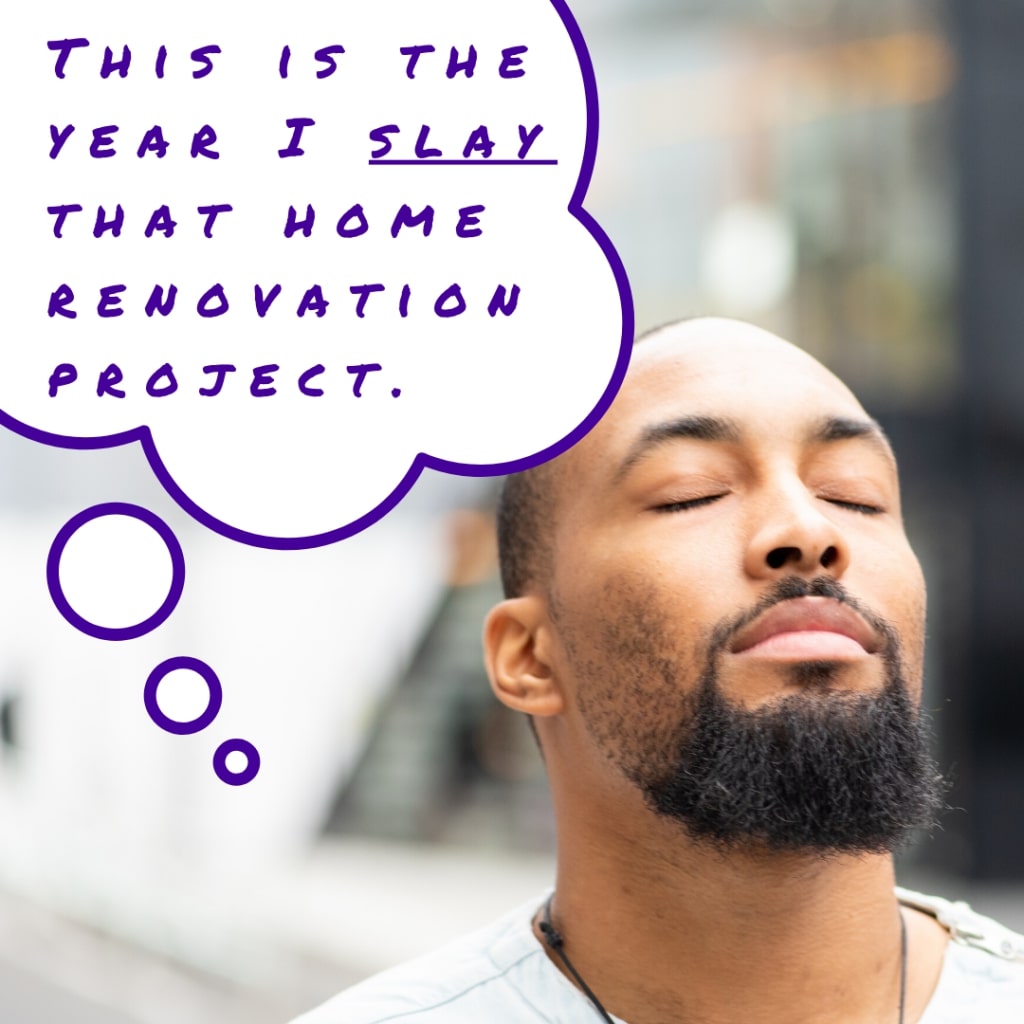 From personalizing a new space to remodeling a fixer-upper, owning a home comes with endless opportunities for improvement. Home Advisor's 2019 State of Home Spending Report revealed homeowners spent, on average, $7,560 on home improvements over the previous year. In fact, for every $1 spent on home maintenance, homeowners are spending an average of $5 on home improvements.
If you're planning to take on a home improvement project, you have a ton of options to consider and decisions to make. Here are three major questions you should ask yourself before diving in:
1. How will this project impact my home's resale value?
Sometimes home improvement projects choose you, like replacing a leaky roof or rebuilding a retaining wall. When selecting a project that isn't a necessary repair, factor in how it will impact your home's value. Remodeling Magazine found the following projects had the highest return on investment:
10 Highest Value Home Improvement Projects (from highest to lowest)
1. Manufactured stone veneer
2. Garage door installation
3. Minor kitchen remodel
4. Siding replacement
5. Window replacement
6. Deck addition
7. Entry door replacement
8. Roofing replacement
9. Bathroom remodel
10. Major kitchen remodel
If you have the budget for a project but you're not sure what to tackle next, consider one of the options above. Even if you aren't looking to sell your home anytime soon, the possible return on investment can help you prioritize.
2. Should I DIY or Hire a Pro?
Once you've chosen a project, the next decision is whether to hire a professional or do it yourself (DIY).
Whether it's driven by a desire to save money, or inspired by plucky home renovation reality stars and endless YouTube videos, DIY is an increasingly common choice. According to the Home Improvement Research Institute in 2018, nearly a quarter of the U.S. population made home improvements in the prior year and only 7% opted to work with a professional.
If you're not sure DIY is a good idea, start by running through our checklist below.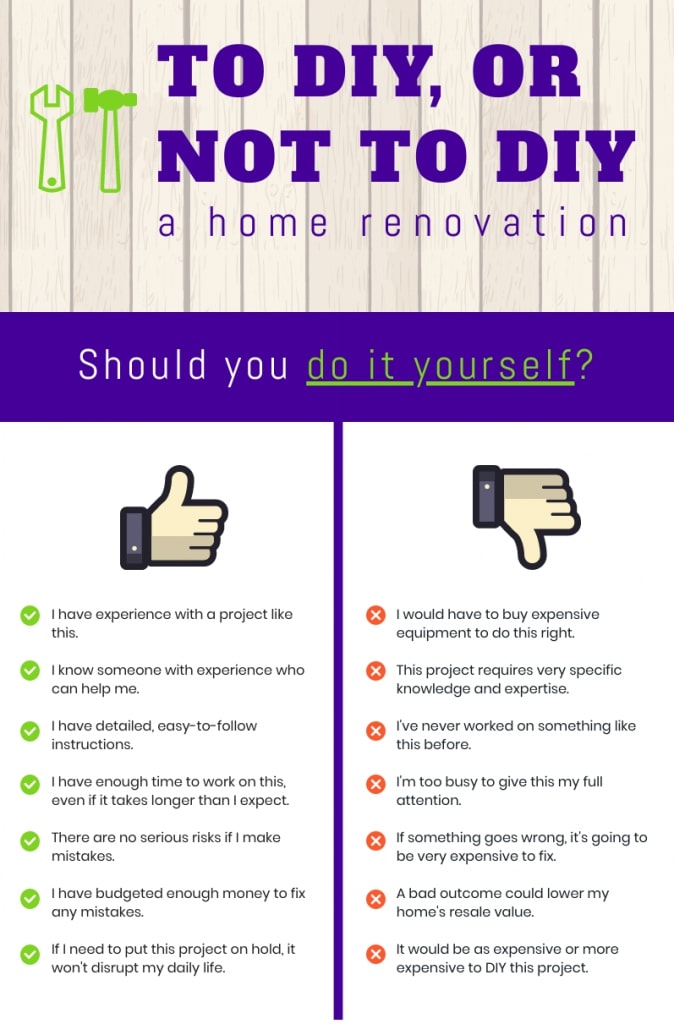 Don't DIY if:
It requires you to buy expensive equipment that you probably won't ever need again.
The work is very specialized and you don't have the proper training or expertise.
There are too many things going on around you to focus.
A mistake could be really expensive, and could even hurt the value of your home.
Doing it yourself costs as much as hiring a pro.
Consider DIY if:
You've done a project like this before, and nailed it.
You have help from someone with a lot of experience.
You've found good step-by-step instructions from a reliable source.
You can give this plenty of time, and delays aren't a big concern.
You've set aside extra money if something needs to be done again.
3. Am I prepared to do this safely?
Safety should be your highest priority during a home renovation, so decide ahead of time what precautions are needed to keep you and your home secure. If you're doing the work yourself, preparation is key. Make sure you have all the safety gear you need, including protective eye gear, dust masks, ear plugs, and a first aid kit.
If you're hiring a professional, vet them ahead of time. Any good contractor will be happy to discuss their credentials, provide references, and give you their insurance information.
Once the ball is rolling, a home security system can help you monitor the situation remotely — leaving you free to accomplish other tasks. If you're at your home while contractors are working, video cameras let you see their progress from your smartphone without awkward check-ins.
Have a work crew arriving at your house while you're out? No need to cancel your plans. With a smart lock, you can assign temporary codes to allow contractors into your home, and even track when they come and go.
Managing Home Renovations with a Security System
If you have a security system, be cautious when undertaking home improvement projects in areas where you have home security devices placed — for example, monitored doors or windows.
Here are some steps Guardian customers should take to prevent service interruptions:
1. Call 1.800.PROTECT (1.800.776.8328) before beginning any project that might affect your security equipment.
2. If any devices need to be moved, schedule a Guardian technician to handle it for you.
3. If you attempt to move equipment yourself, test your system before and after.*
*Remember: Guardian cannot ensure that your system is working if you change or move installed devices on your own. If you have questions or concerns, call: 1.800.PROTECT (1.800.776.8328).