Did you know that some Guardian Protection security system panels have a built-in Severe Weather Alert feature? Just like notifications of extreme weather sent to your smartphone, certain Guardian security panels offer you a similar heads-up.
Hearing any tone coming from your security system can be scary, so here's an overview of what Severe Weather Alerts are, steps to silence the beeping, and how we can help you disable this feature if desired.
What is a Severe Weather Alert?
Severe Weather Alerts ensure that if a person is inside their home or business, he or she will be cautioned when a tornado, tsunami, or fire is headed their way. This gives people more time to prepare and react and helps reduce the number of people harmed during these dangerous events.
If it has this feature built-in, your panel will beep as an indication that the National Weather Service (NWS) has issued a severe weather warning in your area. For some panels, the alert will sound the same as a burglary alarm or when you test your system. In others, a weather alert has a different tone and cadence.
We've heard some great true stories from our customers about how weather alerts helped them stay safe. Weather alerts helped one such family become aware of a dangerous situation and move to a safe place until the warning cleared. Read Ciegi's story to learn more.
How to clear a Severe Weather Alert and stop the beeping
Just like the previously mentioned weather alerts on your smartphone, not every alert will impact you directly. Sometimes you just want to make the beeping stop, without having to call us — and you can!
There are quick steps you can take on your own to silence the alert. Troubleshooting for weather alerts varies by panel, so if you're not sure which panel you have, you can always log in to our Customer Care site. You can also find system and account info, panel manuals, troubleshooting FAQs, and more.
IQ2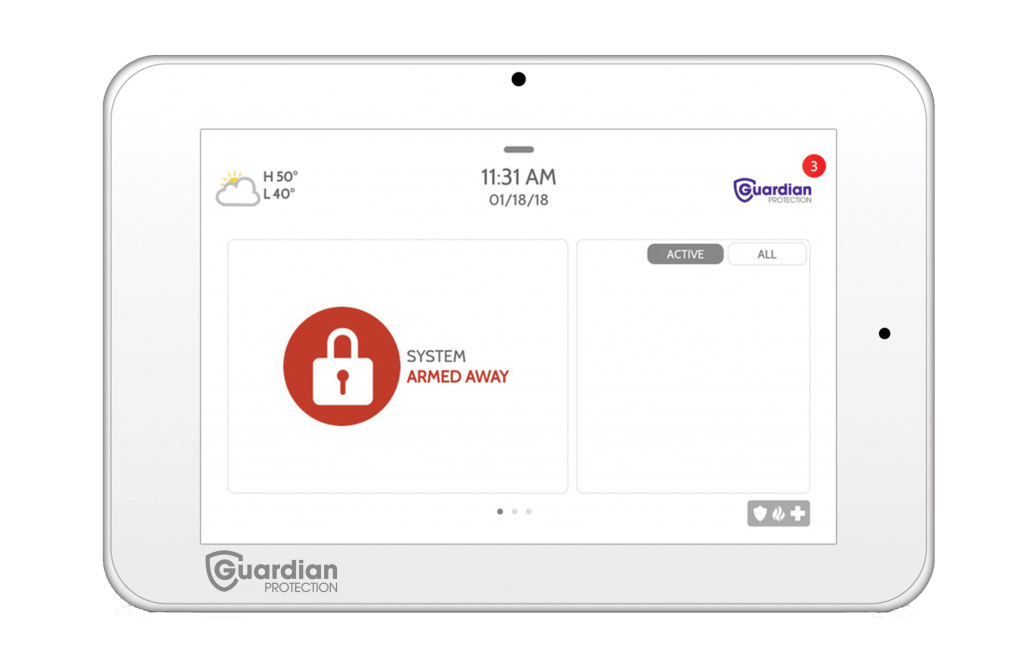 Panel's siren will sound, and a red severe weather alert message pops up on the panel's screen. Read the alert details.
Tap the red X to clear the alert.
Simon XTi and XTi-5
Panel will issue an alarm with low siren for the duration of the panel's siren timeout on sensor 39 "Weather Alert."
To cancel the alarm and stop the siren, press the alarm message and disarm the system.
Once disarmed, a scrolling banner at the bottom of the panel screen states the nature of the severe weather and the expiration time of the warning as specified by the NWS.
Banner will automatically clear 30 minutes after the alert expires or 30 minutes after the system is disarmed, depending on whichever is later.
Simon XT
Panel will beep loudly, and screen will display a message with the nature and expiration time of the weather warning as specified by the NWS.
Press and hold the [#] key for 10 seconds to acknowledge and clear the message.
2GIG GoControl
Tap the Security Alert on the panel's screen.
Tap the Trash icon.
When asked if you would like to delete the message, tap OK.
DSC PowerSeries Neo
On an LCD keypad:
Press and hold the [0] key.
On a touchscreen keypad:
Press and hold the Trash icon on the alert banner.
IQ Gen 1
Panel will chime approximately every three seconds until acknowledged.
Status bar will display a scrolling message stating the nature of the severe weather.
An alert bubble will appear on the Contact Us icon in the bottom right hand corner of the screen.
Press the Contact Us icon, then press Message Center.
Read alert details.
Press to check the box next to it to acknowledge the alert and discontinue the chime.
DSC Impassa
Press and hold [0] to clear the alert.
How to turn off Severe Weather Alerts
Severe weather alerts are an important and potentially life-saving safety feature. But we understand some customers may prefer to shut them off entirely, and it's easy to do!
Here are the step-by-step instructions on how to disable Severe Weather Alerts on your Guardian system.
1. Log in to MyGuardianHome.com. This is the same site you use to control your system (alerts, schedules, notifications, etc.).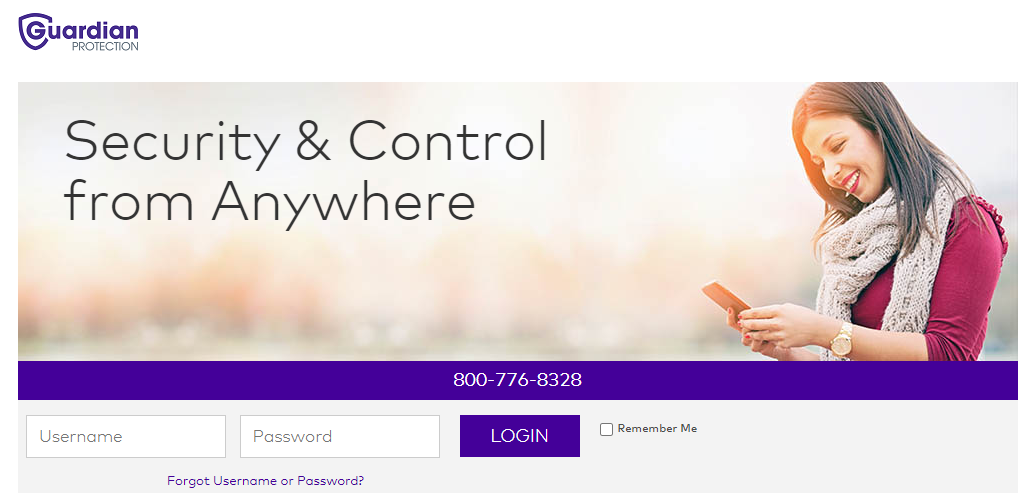 2. Click on "Notifications" on the left-hand side of the page.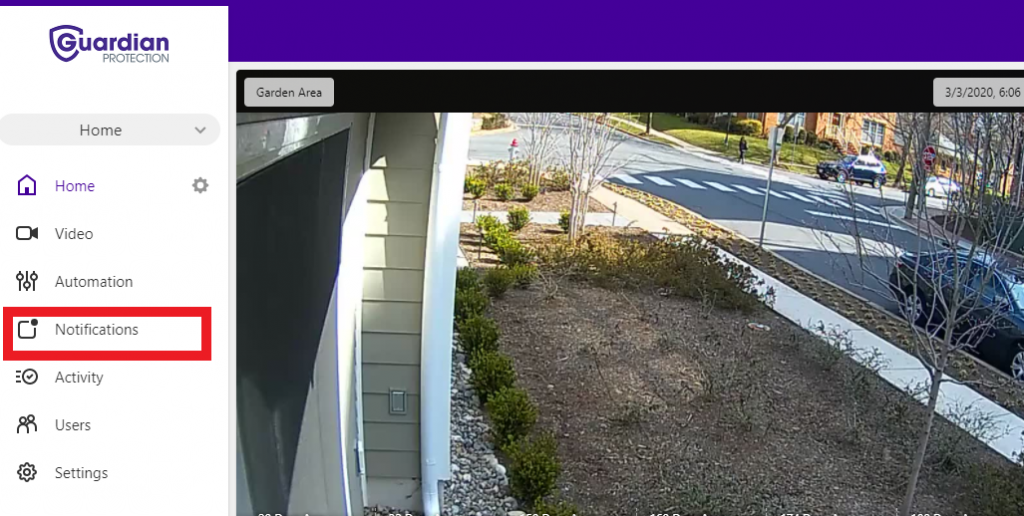 3. Toggle the Severe Weather Alerts option on or off.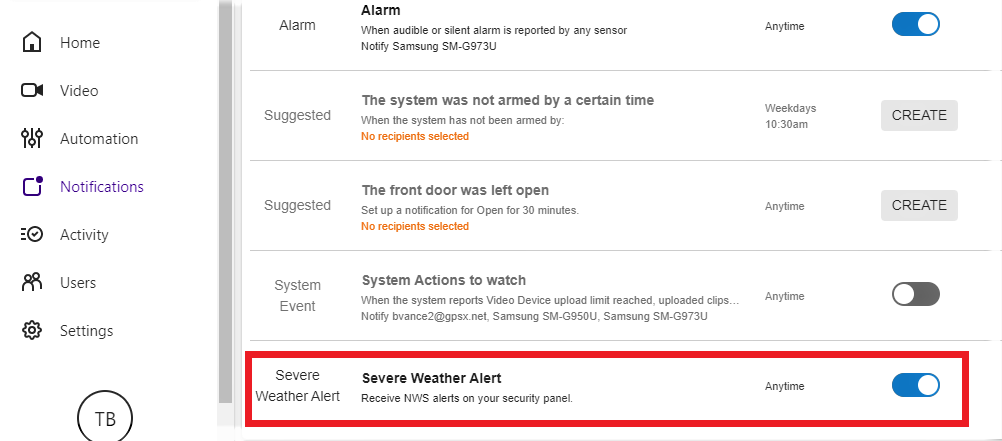 A few more things to remember
You may be used to calling Guardian when your panel makes any sounds, but this is not necessary in the case of a weather alert.
Our monitoring center is not notified when you receive a weather alert, and they may not be aware of every weather risk in your area. The alerts are intended to let you and your family know that a weather event may be coming.
Here are basic steps you should take if you receive a weather alert that impacts you:
1. If you can get to your panel safely, go to it. It will give you more information about the weather alert.
2. Check other weather sources on your phone or on the news if you need additional information.
3. Once you've gotten the info you need, you can silence the alert from your panel. (see steps above for common panels)
4. Proceed appropriately for the type of weather alert. For example, if it's a tornado warning, make sure your family moves to the basement or another safe location in your home.
5. Stay safe until the weather has passed.
If you experience any issues with your system following severe weather, call us at 1.800.PROTECT (1.800.776.8328).
Still Need Assistance?
Even if your panel does not support weather alerts, there are other situations or trouble signals that might cause your panel to beep (such as low battery alerts).
Check out our post on how to stop beeping or visit the Customer Care site for troubleshooting steps.