Did you know that more than 500,000 pets are affected by residential fires every year, and about 40,000 die?
Unfortunately, there's more — the National Fire Protection Association estimates that nearly 1,000 home fires are accidentally caused by pets each year.
We know this is hard to hear. And if you're anything like us, these facts make you want to run home, scoop your pets up into your arms and never let go. But we want to help you do more than that.
Luckily, there's plenty you can do about it. We're going to give you some proactive steps to not only help protect your pet from house fires, but maybe even prevent your pet from starting one. Read on to get some fire paw-tection tips that will make you want to raise the ruff (sorry, we just can't help ourselves).
Monitored fire detection
Before, when we mentioned that fire safety could even help with accidental fires caused by pets? We weren't kitten (last one, we swear). Case in point, read this true story from a Guardian customer: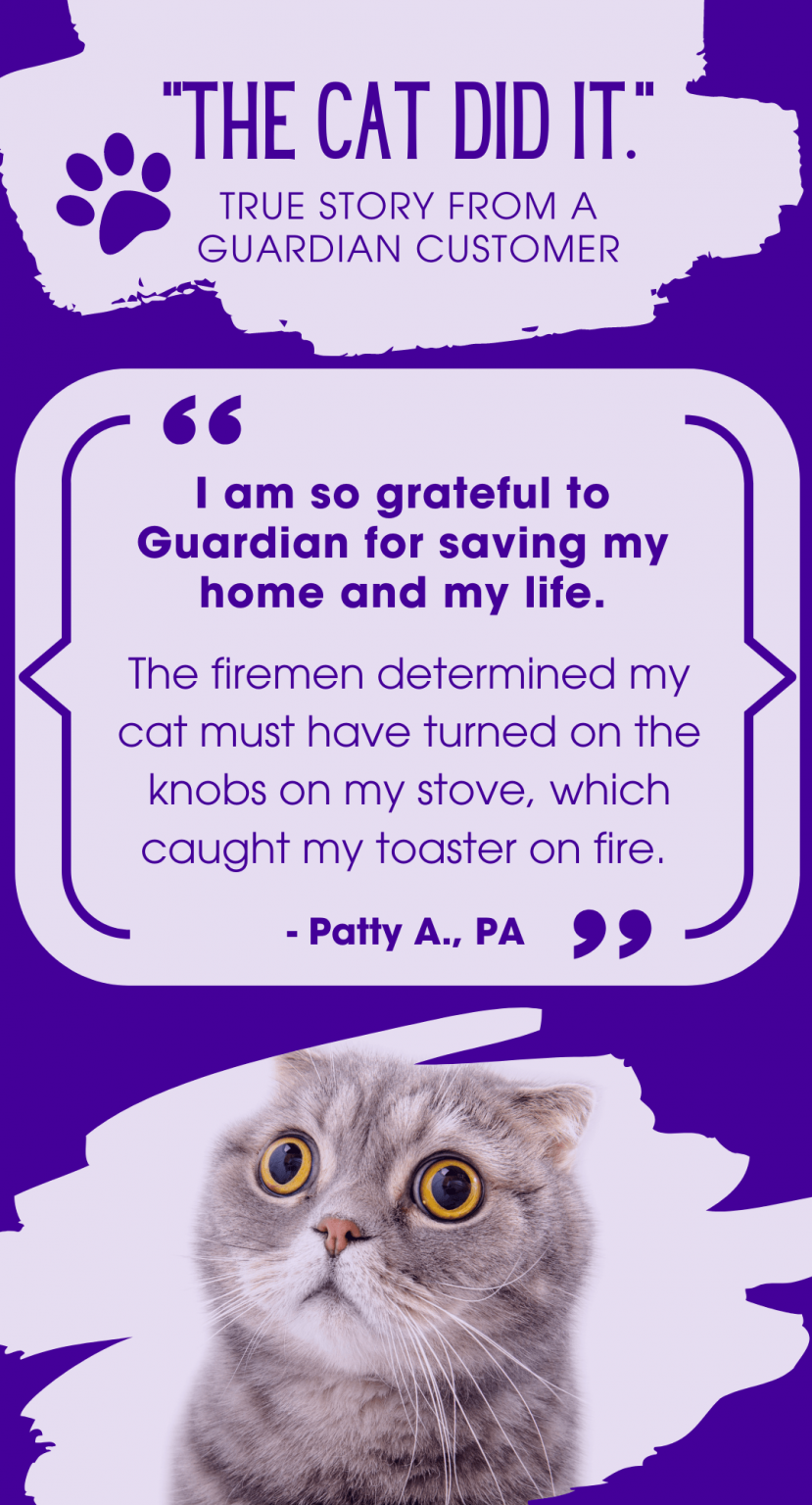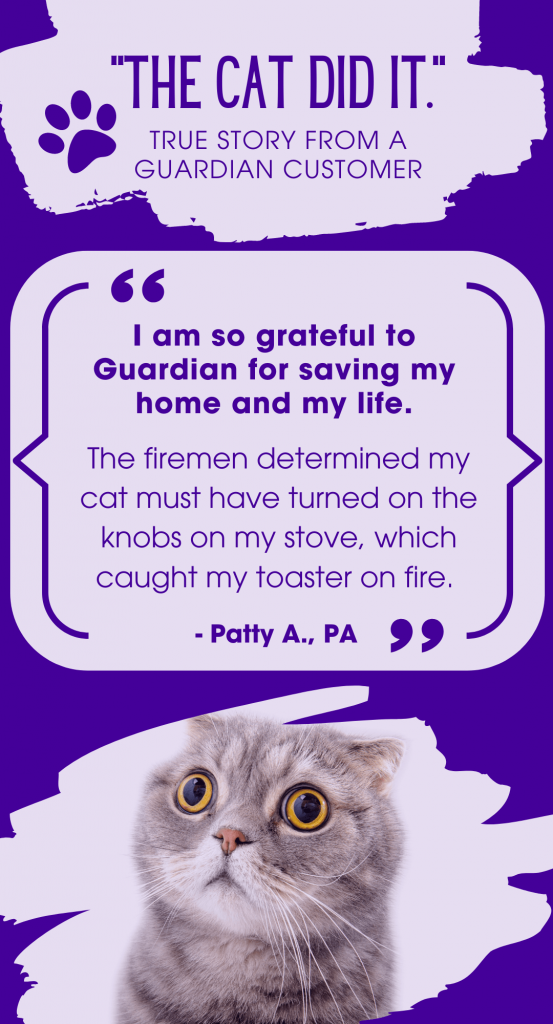 "Early in the morning, I heard my alarm go off while I was still in bed. I instantly felt panicked, but Guardian called me right away. I assumed someone had broken in; I had no idea there was a fire in my kitchen at that exact moment until the Guardian operator told me!

He requested help, and there were two fire trucks outside my home within minutes. The firemen determined my cat must have turned on the knobs on my stove, which caught my toaster on fire. If Guardian hadn't installed a 24-hour monitored smoke alarm in the back area of my house near the kitchen, the fire never would have been caught so soon. Guardian's help meant the world to me, and the operator did a great job calming me down. No one was hurt; the damage was limited to my toaster, and I now have childproof knobs on my stove! I am so grateful to Guardian for saving my home and my life."

Patty A., PA
In the event of a fire, smoke detectors can help you and your pets escape safely. Keep these two things in mind:
1. Install working smoke alarms on every level of your home, and test them at least once a month.
2. A pet who is home alone can't escape a fire, even if smoke alarms are working — that's where monitored fire detection makes a huge difference. Monitored smoke detectors are connected to a 24/7 central station who can notify the fire department if a fire starts when no one is home.
Prevention best practices
From the true story above, you already know that stoves and ovens are a potential hazard. It's no surprise, because cooking is the leading cause of home fires and fire-related injuries.
To prevent curious paws from firing up the oven, you can purchase inexpensive stove knob covers or childproof locks. Or, remove the knobs completely while not in use.
Here's a few more tips:
Banish pets from countertops and any other high surfaces in the kitchen.
Keep pets far away from open flames, and never leave fires burning unattended.
Make sure lit candles are resting on flat, even surfaces, clear of anything flammable. If your pet is a little wild, consider flameless candles instead.
Never leave pets alone in a room with an active fireplace. Set up a safety barrier or a pet-proof screen to keep them from getting too close.
Minimize your pet's exposure to cords and electrical wires so they aren't tempted to chew.
Learn more about creating a safer home for pets
Include pets in your fire escape plan
You already have a fire escape plan for your family (we hope!). But have you considered what you would do with your pets? Don't forget to write them into the plan!
Every family should have their fire escape plan memorized, and practice it at least twice a year. And when you do, practice taking your pets with you. Every second counts, and training pets to come when you call can help speed this process along.
Your safety is the top priority, so never delay your escape or go back inside to rescue a pet. Just in case you ever have to evacuate without your pet, remember:
You can call to your pets to draw them out, but keep a safe distance from the fire.
Leave a door open so they can escape on their own.
Make sure pets are microchipped and wearing up-to-date ID tags, just in case they run away or get lost.
Know your pet's favorite hiding and napping spots, in case you need to find them quickly or tell firefighters where to look.
Storing leashes by the door will help emergency personnel get pets out of the house safely.
Get a pet window cling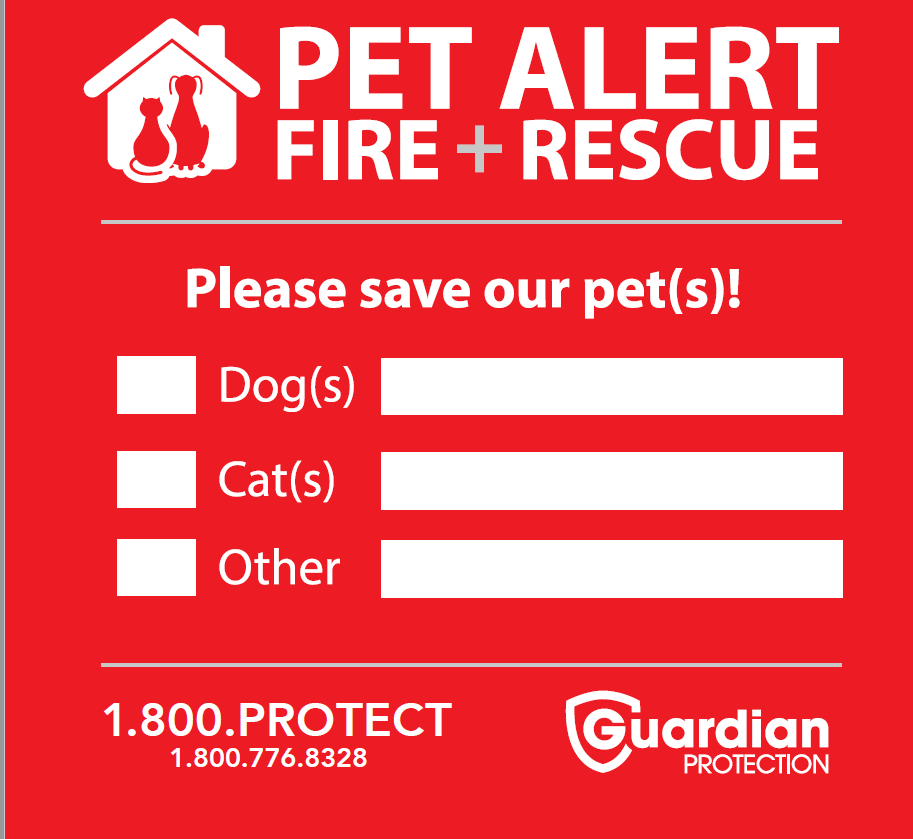 A firefighter may not be able to re-enter a burning house to find a pet, and it's incredibly dangerous for you to do so. Instead, get a pet alert window cling that tells firefighters to watch out for your pet. It could be the only warning first responders get that there are animals inside.
Just write down what kind of pets you have and how many. Guardian customers get them for free!
Protect your family pets
Understanding and practicing fire safety is an important part of being a rockstar pet parent. When left home alone, pets have no ability to escape and call for help, making them especially vulnerable to the dangers of house fires.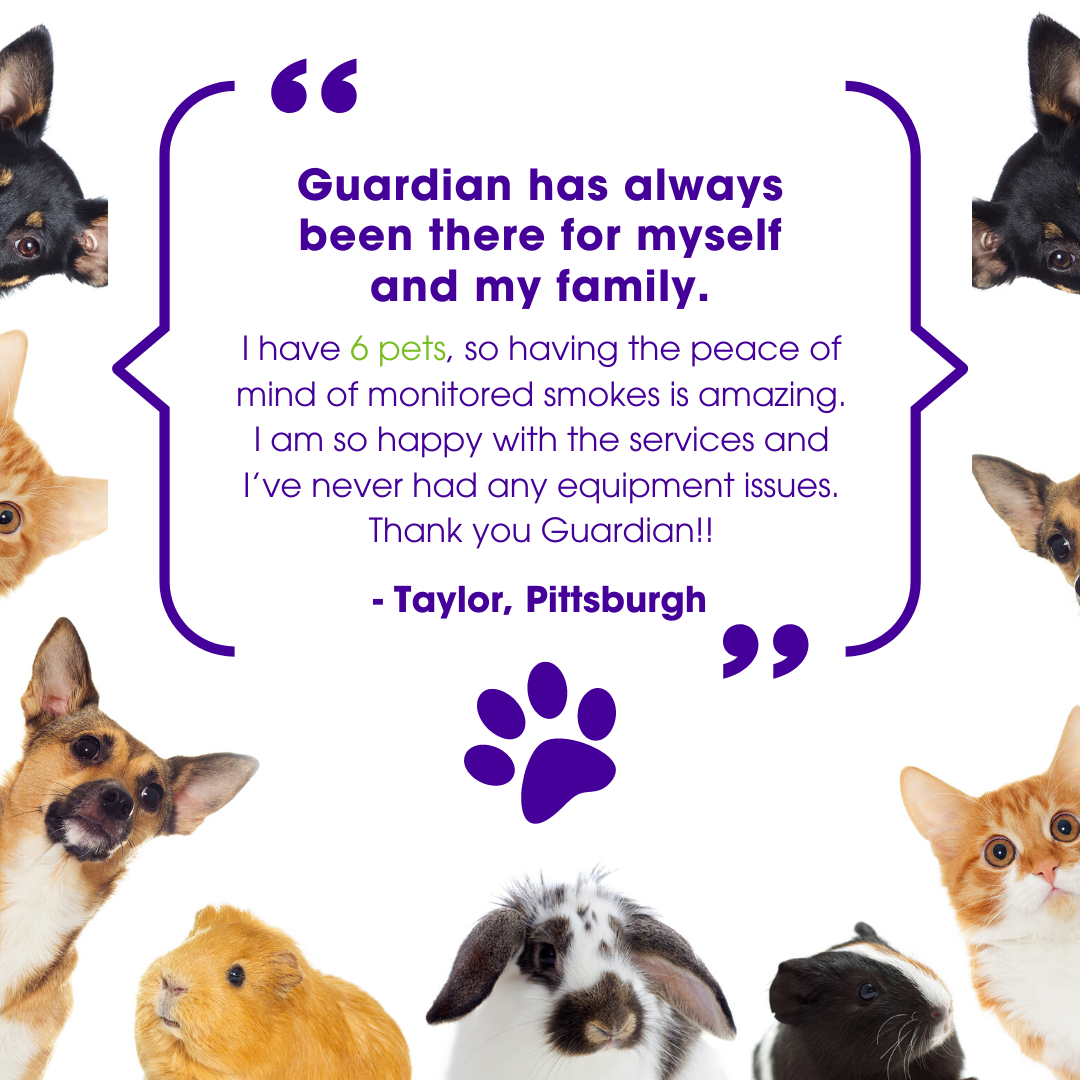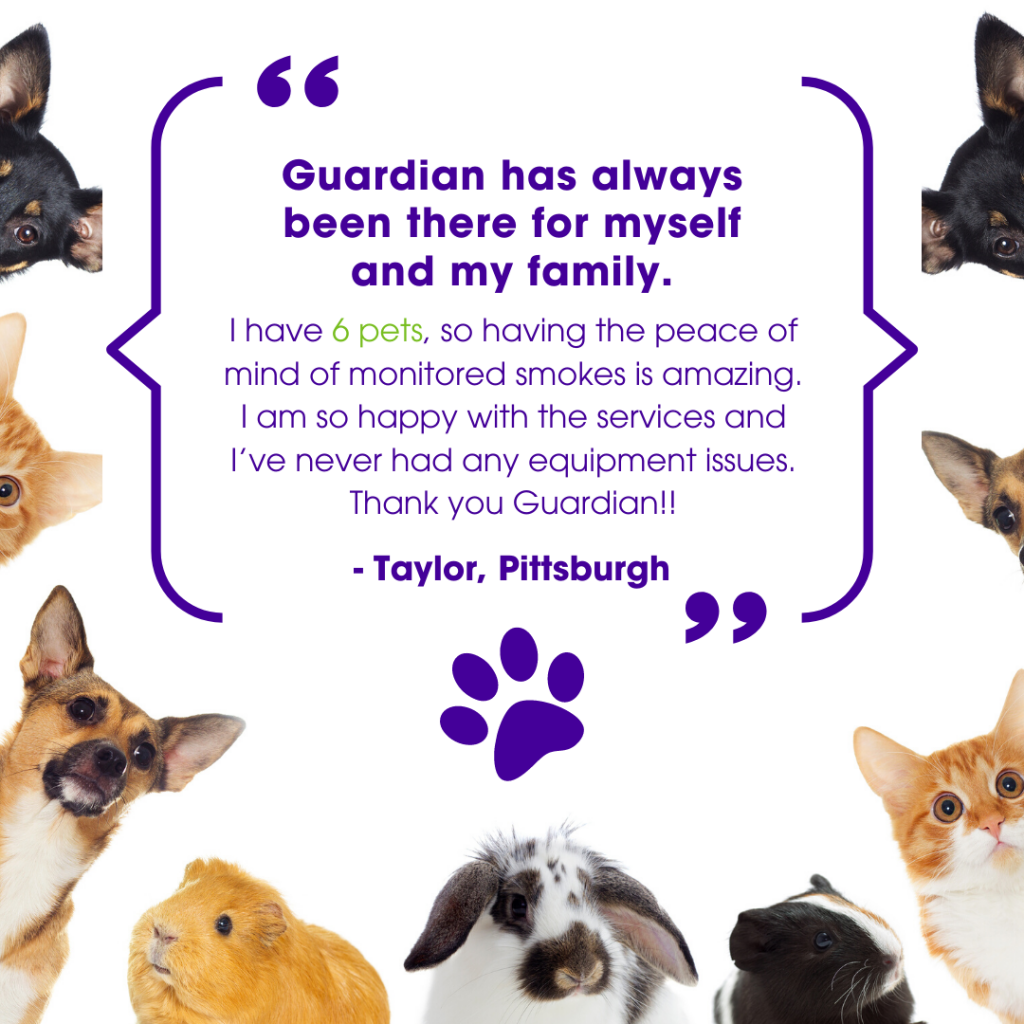 Our security experts at Guardian Protection created a smart home security package just for Pet Parents, including professionally monitored smoke and CO detectors.
Check out all devices we recommend to help keep your pets safe here.