Emergency and disaster preparedness is not one person's job — the entire family or household should be involved, including the kids! Disasters can be even more frightening for and confusing for children, but with a little help, they can learn how to respond and even help. At the end of the day, that's less stress for everyone!
Give them the right vocabulary
At Guardian, we're all about keeping things simple, yet clear. When we talk about preparedness, you'll hear us use certain words over and over again, like "emergency" and "disaster." But what is a simple and common idea for an adult might be a new idea for a child, so it helps to check that everyone in the family is speaking the same safety language.
For younger children, Ready.gov provides excellent, easy-to-understand definitions for some important words:
HAZARDS: Hazards are the events that may lead to emergencies and disasters, like a flood.
EMERGENCY: An emergency is a time when something serious happens and help is needed right away.
DISASTER: A disaster is an emergency that causes great harm to people and an area.
PREPARE: Prepare means to get ready. You get ready for things all the time — like when you put on a jacket and grab an umbrella to get ready for a rainy day. There are lots of things you can do to "PREPARE" for emergencies and disasters, like learning what to do if one happens, making a plan with your family, or putting supplies in an emergency kit.
SAFE PLACE: A safe place is somewhere you can go to be safe from things that could harm you. What is considered a safe place may be different depending on the emergency or disaster.
Make preparedness a fun activity
A lesson that can be turned into a game is often to easier to teach, and preparedness is no exception. Ready.gov recommends encouraging kids to participate in gathering supplies, and they've even made a game of it! Check out this great resource, available on their website: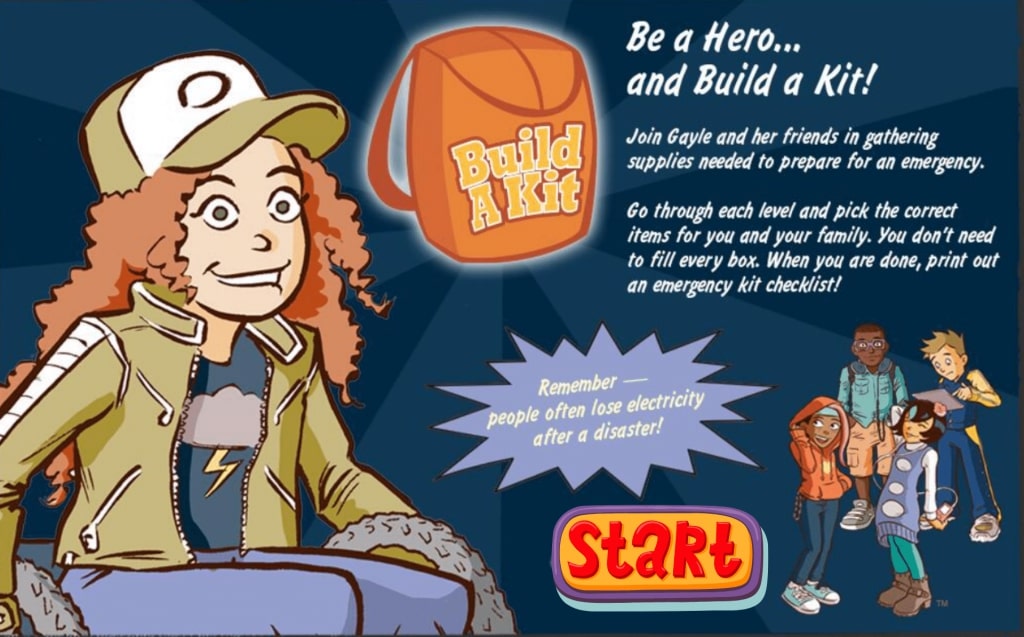 Run practice drills
You've already created your Family Emergency Communication Plan (we hope!), which should tell you how your family will check in, and where everyone will meet in case of an emergency. As we discussed in a previous post on preparing for natural disasters, it's also key to plan an evacuation route and practice.
Practicing emergency drills takes something that requires thought and concentration and makes it instinctive and easy. In an emergency, tensions are high, and it can become difficult to think clearly. It's easy for anyone — especially children — to forget something important in this state.
An emergency may still be frightening, but because you practiced, everyone you care about will know what to do.
Discuss the basics of being home alone
An unexpected event could put you and your little ones in unfamiliar territory. What if a child who is not used to being home alone suddenly finds him or herself in that situation?
Even if it will only be for a short while, consider anything your kids would have questions about or need to know if they were home alone. For example, if you have a home security system, make sure they know the code and how to perform important functions, like arming and disarming your system.
Preparedness for kids is just one more way to protect your world.
Ready.gov has tools and info to help people of any age help before, during and after disasters. Check out their site to find tips tailored to kids, teens, educators, and family.
And don't forget, your pals at Guardian are always here to help. Whether it's your home, your kids, your pets, or your business, we can help you create the security solution you need to protect what matters most to you. Call 1.800.PROTECT to learn more about Guardian Protection's award-winning smart home security.