Are you considering selling your home this year? If so, we have good news: People are buying! Low interest rates, growing families, and a desire for more space has resulted in a demand for new homes that exceeds the supply.
Even better, The Association of Realtors predicts housing prices will climb 8% in 2021 and 5.5% in 2022.
Anyone familiar with Guardian Protection knows how much we love smart home automation. So we asked the question, can smart home upgrades increase your home's resale value?
The best smart home devices to attract new homebuyers
The Forbes Real Estate Council identified smart home technology as one of the most desirable qualities in a home on the market. But smart home tech is a great, big world of possibilities. So, we decided to dig into the specifics of what kind of smart home options homebuyers are really looking for.
Here's just a few highlights of what we learned:
More and more people want smart home tech, especially during the pandemic.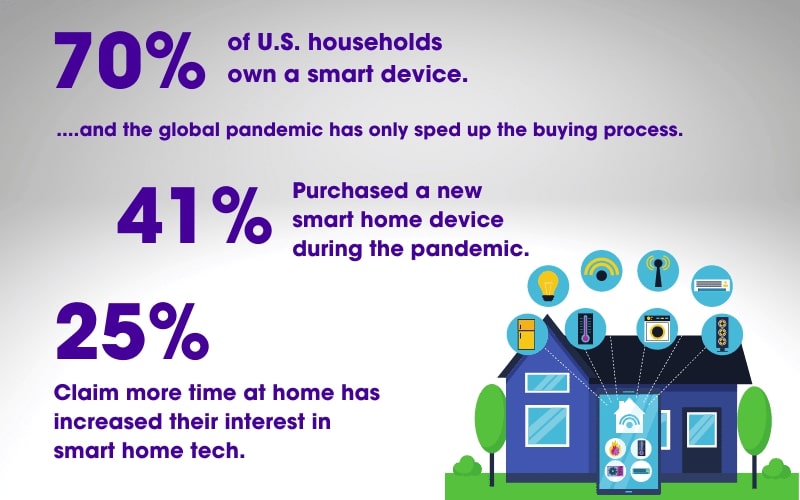 People are willing to pay more for homes outfitted with smart home devices like video doorbells, smart lights, and smart thermostats.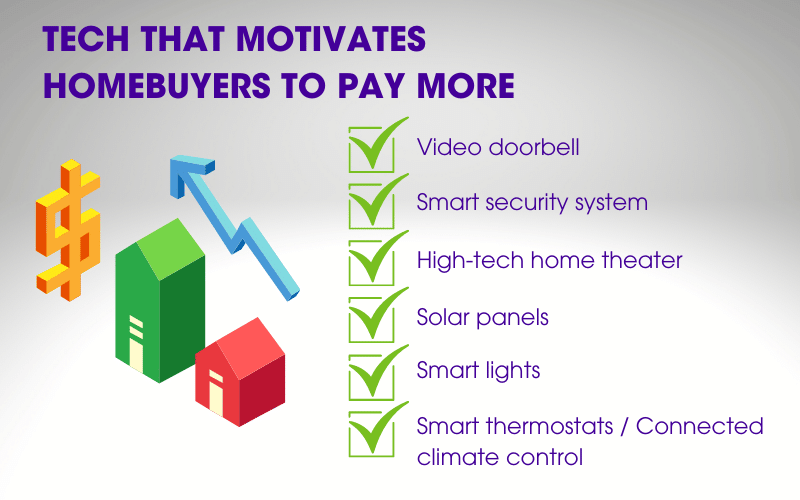 Smart security systems topped the list of desirable smart home features.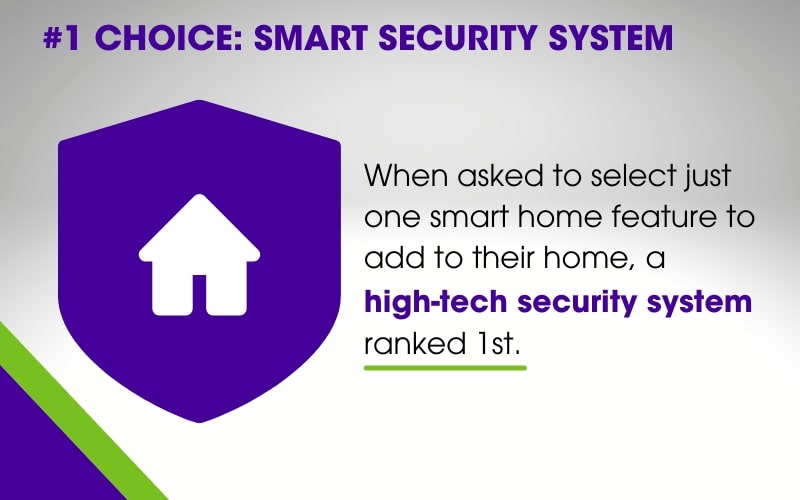 Homebuyers prioritize safety and convenience
In a time filled with so much uncertainty — and a lot of time at home — it's no surprise that people are prioritizing the comfort and safety of their homes. Findings from a Realtor.com and YouGov survey made this apparent.
A quarter of people surveyed said they are more interested in smart home technology now that they're spending more time at home, and 41% of smart home technology owners have bought at least one device or feature (like a video doorbell camera) since the pandemic began.
Consumers are particularly interested in smart features that make homes safer — so consider a smart home security system. If you already have a security system, integrating smart devices can make your home even more attractive to buyers.
Energy-saving and environmentally-friendly homes wanted
A green, energy-efficient home is high on the priority list for homebuyers. According to the Realtor survey, consumers are willing to spend more on environmentally-friendly features that can possibly save them money in the future, like smart home thermostats and solar roof tiles.
Smart home upgrades don't have to break the bank
Smart home modifications don't necessarily have to be elaborate or pricey. Many affordable home automation devices are both aesthetically pleasing (read: they look cool) and easy to use. This last bit is key, because homebuyers won't value what they don't understand. And if the device lends itself to demonstration when the house is being shown, even better.
The video doorbell is a great example of a demonstrable smart home automation device that's both desirable to homebuyers and easy to use — plus, advanced users can get even more bang for their buck. According to a National Association of Home Builders' (NAHB) survey, "What Home Buyers Really Want," 45% of new and prospective homeowners wanted a video doorbell.
Which smart home features should I add to my home?
You should always take the specifics of your home into consideration when deciding which smart home features will add the most value to your home's resale value. Ask the following questions:
What demographic will be looking for a home in my neighborhood?
What devices are likely to appeal to my buyers?
Does my home's layout support these modifications?
Do the devices I'm installing talk to each other? Am I giving the buyer room to grow if they want to add more?
Your realtor should be able to provide the answers to questions one and two. For three and four, give Guardian a call at 1.800.PROTECT (1.800.776.8328). We can help assess your home's specific needs and explain your best options.
Sources: Association of Realtors; Realtor.com; National Association of Home Builders; Forbes Real Estate Council