You may be really missing the sports you love right about now. We are, too. What if we could do something right here at Guardian Protection that might even bring someone a little fun and a big smile?
The Big Idea
March Madness couldn't happen this year due to COVID-19 government mandatory shutdowns. While there are, of course, far more serious consequences surrounding the coronavirus emergency than missing basketball, we still miss it nonetheless.
To spread a little cheer, we thought we'd host our own bracket-style competition — only in this version we aren't looking for the best team but the biggest benefit for having Guardian Protection smart home security. How will we find this out? By asking the people who matter most to us: our customers.
The Methodology
You might be thinking, "How'd this work?" In a little over a week, we hosted four rounds of matchups for 16 benefits to faceoff. Each matchup was displayed on our Facebook and Instagram stories so anyone could vote.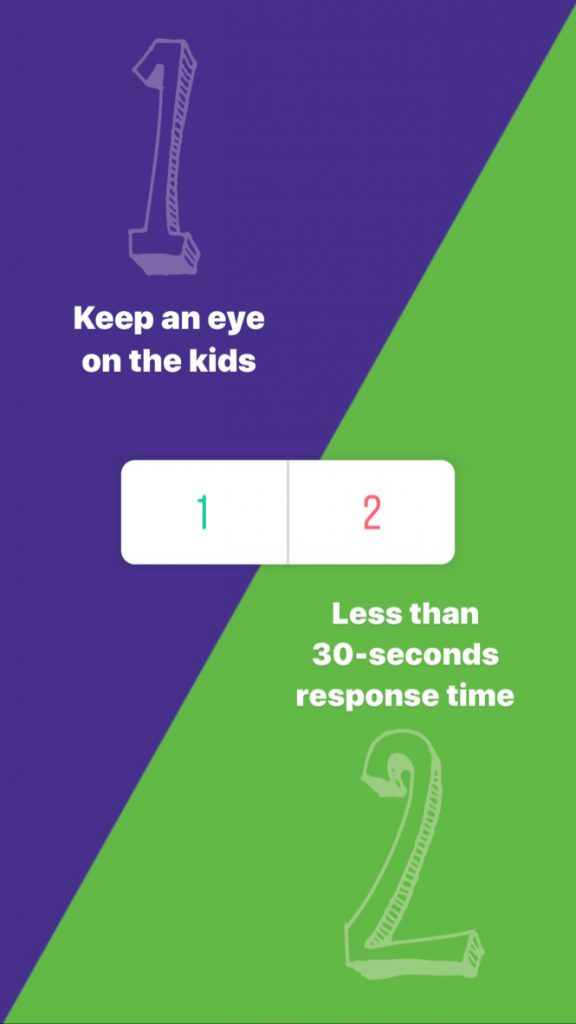 After 24 hours, the polls would expire, and we would have our winners. The winners would then move on to the next round in the bracket. This cycle went on until we were left with a single benefit— the BIGGEST benefit, straight from our customers.
The Sweet Sixteen
As we thought through our bracket, we wanted to include the top advantages our smart home security brings everyone we serve — regardless of age, family-size, or lifestyle. Here's what we came up with: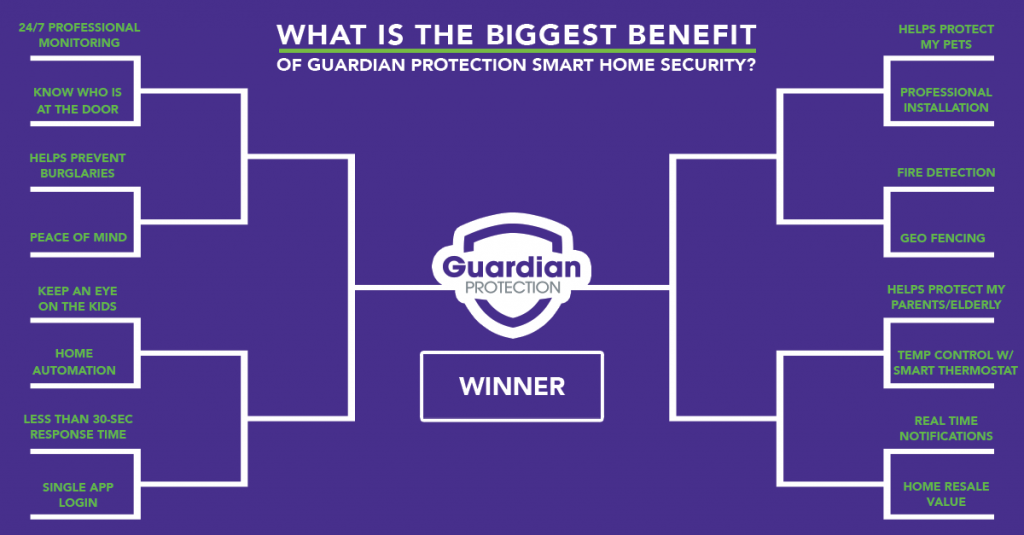 1. 24/7 Professional Monitoring – Amazing security equipment and technology is, well, amazing. But the true value comes from our monitoring center who is always your eye in the sky — even when you can't be around.
2. Helps prevent burglaries – Whether you're displaying the sign in your yard or fixing stickers on your windows, research shows 60% of burglars would change their minds if they see a home has a security system.
3. Keeps an eye on the kids – If there are times your kids need to be home alone, we have indoor cameras to help you keep watch. Even our IQ2 panel lets you peek in to see what the kids are up to.
4. Less than 30-second response time – In an emergency situation, seconds matter. Our award-winning monitoring center initiates a response to your alarms in 30 seconds or less.
5. Helps protect my pets – While you're at work, your pets hold down the fort. But what if there was a carbon monoxide leak in your house? Our CO detectors are monitored 24/7. If the poisonous gas is detected while pets are home alone, we can quickly notify first responders.
6. Fire detection – House fires are scary whether you're home or away. We monitor smoke detectors around the clock, and if there is an alarm, our team will jump into action to see if you need help.
7. Help protect my parents and the elderly – Knowing you can't always be there to protect your elderly family and friends, Guardian Protection offers packages and equipment to help you do that.
8. Real-time notifications – Whether there is someone at your door, a window is opened unexpectedly, or an alarm is going off, you can receive real-time notifications on your mobile device. Now that's what we call being in the know.
9. See who is at the door before opening it – Times are different today, and it's unusual to have someone at your door you weren't expecting. With Guardian's video doorbell, you can answer your door from your smartphone or panel.
10. Peace of mind – We want all of our customers to have peace of mind that their homes are safer with with Guardian Protection.
11. Home automation – Who doesn't love when technology works together for your convenience? For example, you can set up a rule that when your garage opens, the lights come on in your house.
12. Single app login – Probably one of the most tedious things when protecting your home is having an app for lights, an app for your thermostat, an app for your indoor cameras, and more. With Guardian Protection, you can manage all of your home security features in one single app.
13. Professional installation – Why do something yourself when there are specialists ready to do it and do it right?
14. Geo fencing – How many times have you left your house and wondered, "Did I forget to lock up?" With geo-fencing around your property, you can put these worries to rest. Once your phone crosses that virtual fence, you will get a notification to lock the door or close the garage.
15. Regular house temperature with smart thermostat – Did you get cozy in bed before realizing it's going to be a chillier night than you thought? Don't get out of bed! Just grab your phone and turn your smart thermostat to the desired temperature in your house.
16. Increases home resale value – Smart home features can boost a home's resale value. So when it comes time to sell, Guardian Protection's smart home security can help you profit from your investment.
The Sweet Sixteen Face Off
From our perspective, there were no big upsets at the start. 24/7 professional monitoring is something we know our customers value more than being able to see who is at their front door. When looking at helps protect my pets versus professional installation, we knew our customers have a warm gooey center in their hearts for the fur-family members. While home automation is great for convenience and having equipment work together, with it facing off keep an eye on the kids, it didn't stand a chance. If you had to choose between controlling your thermostat or protecting your parents, your natural choice is to protect the people you care about.
This round demonstrated how much our customers care about protecting the ones they love, with keep an eye on the kids, helps protect my pets, and helps protect my parents/elderly making it to the elite eight.
See the rest of the elite eight below: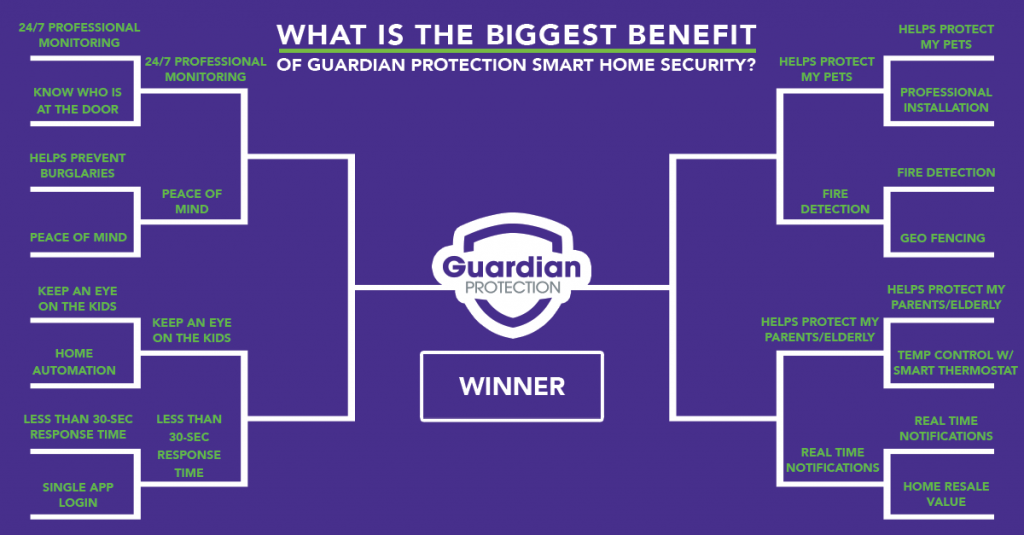 The Elite Eight Shows Us What Really Matters
Now, it's the elite eight's turn to faceoff. This round presented more upsets, and it pressed people to think about these benefits more carefully. When looking at 24/7 professional monitoring compared to peace of mind, what would you pick? Stepping into our customer's shoes, we think our customers went with 24/7 professional monitoring because, in the end, that's what gives them the peace of mind. Would you agree?
Then, when you look at the next match up of less than 30-second response time versus keep an eye on the kids, our customers were faced with another challenging decision. Yet, when looking at the bigger picture, having a less than 30-second response time helps protect your kids and everyone else in your home. So even if you can't "peek" in to see your kids, you know Guardian Protection's award-winning monitoring center is ready to respond quickly.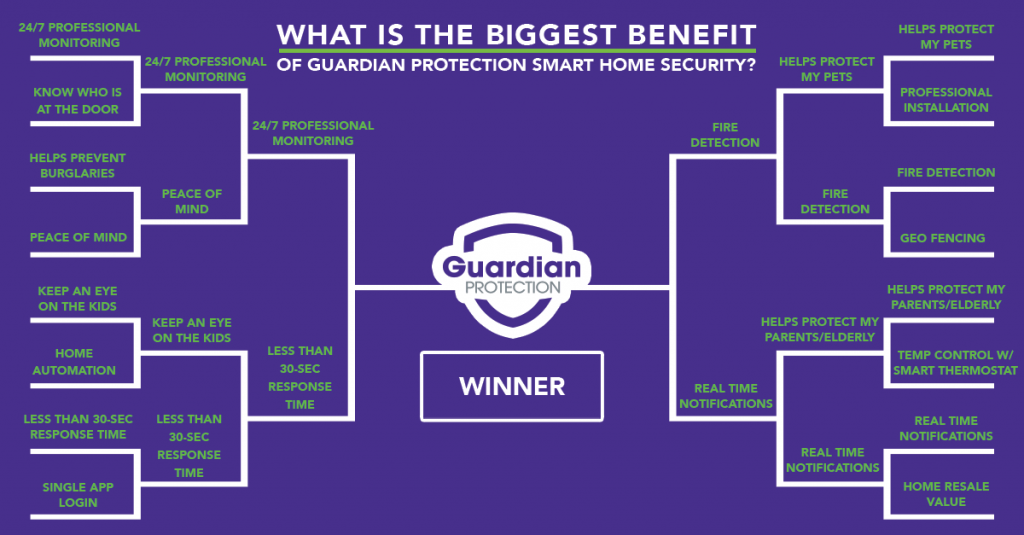 The Final Four Gives "Hottest" Upset
In round three of our March Madness-style bracket, we see the final four faceoff: 24/7 professional monitoring, less than 30-second response time, fire detection, and real time notifications.
First, let's take note of how awesome these things really are! We are proud to give our customers these benefits each and every day. Now, let's recap the happenings.
Without 24/7 professional monitoring, there really can't be a less than 30-second response time. While 30-seconds is a huge benefit we are proud of, 24/7 professional monitoring is what makes Guardian Protection smart home security stand out from the rest, and we are grateful our customers feel the same way!
Here's where the upset of the competition occurred: fire detection versus real time notifications. We know our customers find great value in being notified in real time of the happenings around their home, but still, fire detection came out on top. We get it, and we hear you. Fires are scary, and in today's time, a person may have less than three minutes to escape a home fire. Fire detection came out on top in this matchup.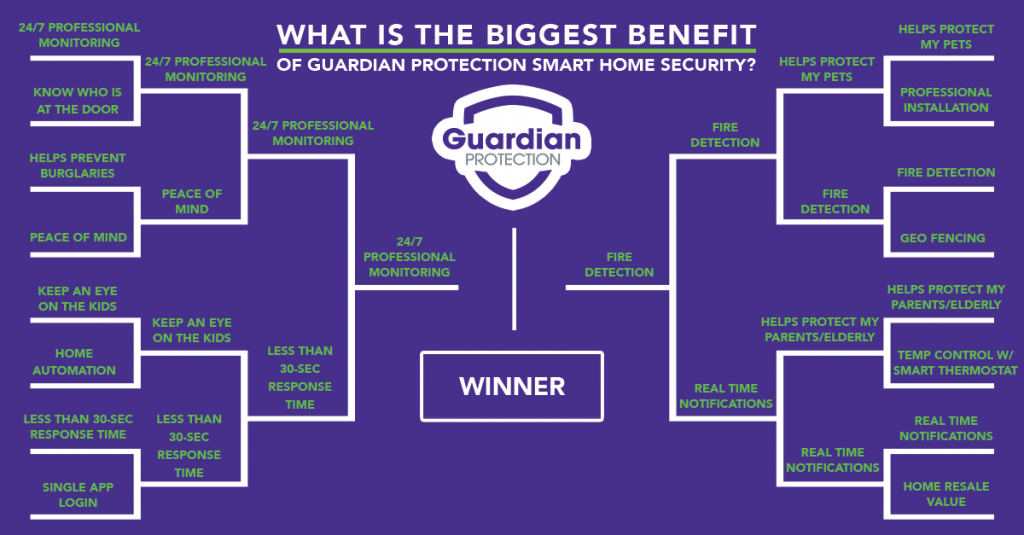 The Championship
And then there were two. 24/7 professional monitoring versus fire detection. Both such valuable benefits of Guardian Protection smart home security, but which will emerge as the most valuable benefit to our customers? Which will be the champion of our March Madness?
In a sweeping victory, 24/7 professional monitoring was voted the biggest benefit of Guardian's home security.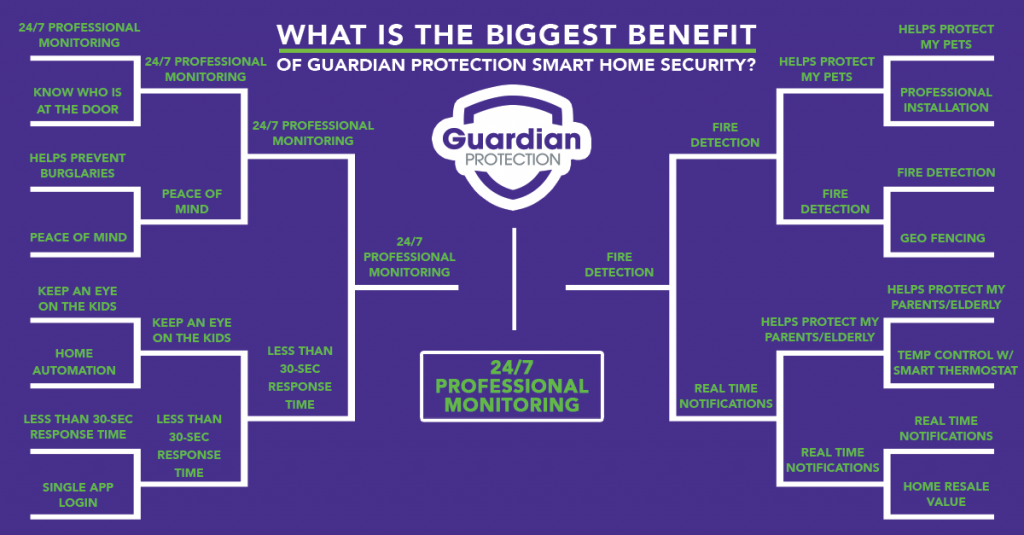 The Takeaway
We aren't shocked by this outcome, and it's awesome to confirm that a service we work so hard on is something our customers truly value. Without 24/7 professional monitoring, there really can't be a less than 30-second response time. While a rapid response time is something we are extremely proud of, 24/7 professional monitoring is that totally awesome, overarching umbrella that makes Guardian Protection smart home security stand out from the rest, and we are grateful our customers feel the same way!