Guardian Protection provides a professional monitoring document — we call it a Certificate of Monitoring— for all customers who receive professional monitored service from us.  It can be easily downloaded from your online account. 
Do insurance companies give a discount for monitored security?
Insurance companies recognize the value of home security, particularly professionally monitored home security. Many insurance companies will offer discounts to homeowners who have monitored security services. 
Talk to your insurance agent today about a potential discount. If your insurance company offers a discount, they may require verification that your security system is monitored.
What is a certificate of monitoring?
A certificate of monitoring is proof that your home has professionally monitored security services. It is often required by insurance companies as proof of active, monitored service, in order to give a discount on home insurance.
What does it look like?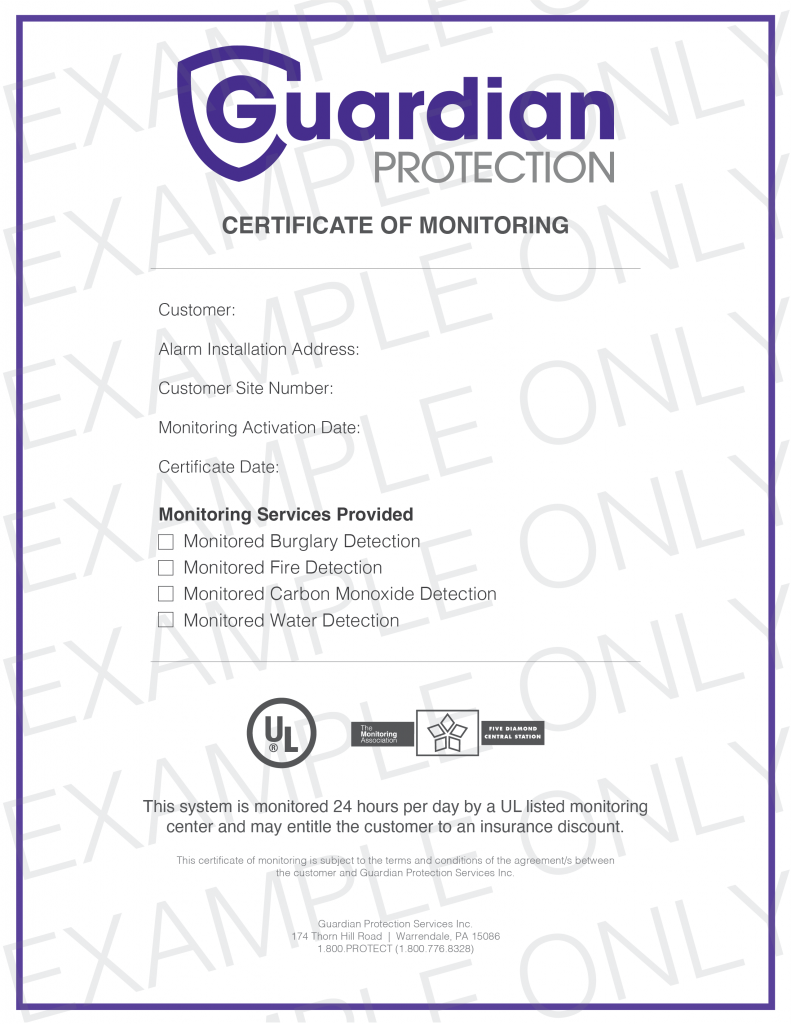 How do I get my certificate of monitoring?
Here's how to download your Certificate of Monitoring: 
1. Log into your Guardian account. 
2. Choose Account Info & Billing. On your desktop, Account Info & Billing is in the left-hand navigation bar on your account dashboard. On mobile, it's in the menu at the top right corner of your screen.   
2. From Account Billing & Info, click Documents.  
From there, you can either save your certificate as a PDF to email or print it.   
How much can I save on my homeowner's insurance if I have professional monitoring?
This depends on a lot of factors, such as your insurance premium, your coverage level, where you live, your insurance carrier's policies, and more. Talk to your insurance provider today and ask if they provide any discounts off homeowner's insurance for professionally monitored security.
Your premium is the payment you make annually, bi-annually, or monthly to keep your policy active.
According to S&P Global, the average annual premium in the United States in 2019 was $1,015, so we'll use that as an example. If this was your premium and your insurance provider offered a 5% percent discount, you would save around $50 a year! Not bad for just protecting your investment, right?