The appearance of COVID-19 has caused radical changes that reach into every aspect of day-to-day life. The coronavirus has impacted the way we work and conduct business, the way we get medical care, the way we shop, and the way we make decisions.
With so many unknowns hanging in the air and so much left outside of our control, it's natural to focus on the things we can make an impact on, like the security systems we use to help protect our homes and businesses.
Life and property safety is not something that can be put on hold; it's essential, now more than ever. So of course, security companies are looking at how they help people with fresh eyes and making shifts that allow uninterrupted service.
But how many of these shifts are temporary, and how many will remain? What does security look like in a post-COVID world? We asked some of our security experts here at Guardian to weigh in on the changes they are seeing that may be here to stay.
1) Touchless technology.
Concern about the spread of germs is higher than ever. Any opportunity to minimize how much we touch buttons, doors, and devices inside and outside of our homes is being examined.
Voice control is already a widely-adopted technology, commonly used with popular smart home assistants created by Google, Amazon, and Apple. From shopping, to working, to managing your household and security system, there's not much you can't do with your voice.
In fact, there are even voice-controlled elevator systems! ("Elevator, take me to the lobby, please.")
This technology is certainly not limited to the home. As the country eyes a careful shift into a new normal, our experts see a growing demand for safer, touch-free technology in the commercial sector. Think about Apple Pay, for example, which allows you to pay without ever handling cash or giving your credit card to a cashier. How exponentially valuable is that during a global pandemic?
But these innovations begin way before we reach the check-out counter with touchless access control. Remember one of those James Bond-esque scenes in movies where someone opened a secret lair by touching their hand to a glowing reader? Felt pretty wild at the time. But now, with touchless biometric readers, we're way beyond that. Users don't have to touch anything at all.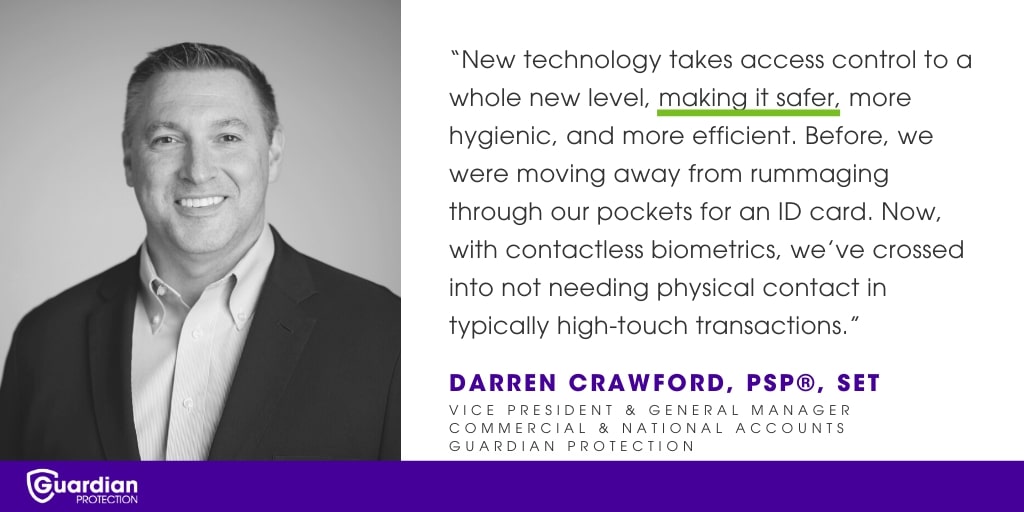 And what makes security devices ten times better? When they talk to each other, of course! Another rising security trend with staying power is intrusion and access control integrated with automatic door openers. Customers can move in and out of businesses without touching the door. But owners still have full control plus oversight into their business security.
2) Thermal / Heat Sensing Cameras.
An emergency like the coronavirus can bring up concerns that never existed before. It can also develop amazing solutions you never knew you needed. For example, thermal or heat-sensing cameras use infrared thermal imaging to detect a person's body temperature.
Imagine if your security camera could tell whether the visitor on your porch is running a temperature before you let them inside? Or if your workplace could use them to ensure a sick employee heads to the doctor instead of coming into the office? If an airline could prevent one contagious individual from infecting an international flight?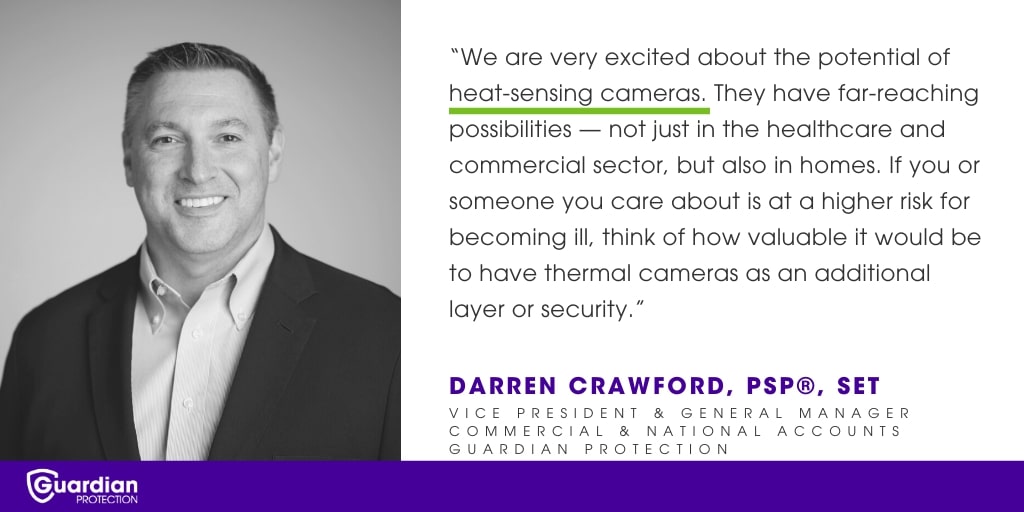 3) Virtual appointments.
The idea of virtual appointments is a newer one in the security industry, but one with enough benefits to outlast COVID-19. Virtual appointments allow qualified security professionals to provide expert consultations and craft a quote without stepping inside a customer's home. The customer can give the security pro a tour of their home or business using their smartphone.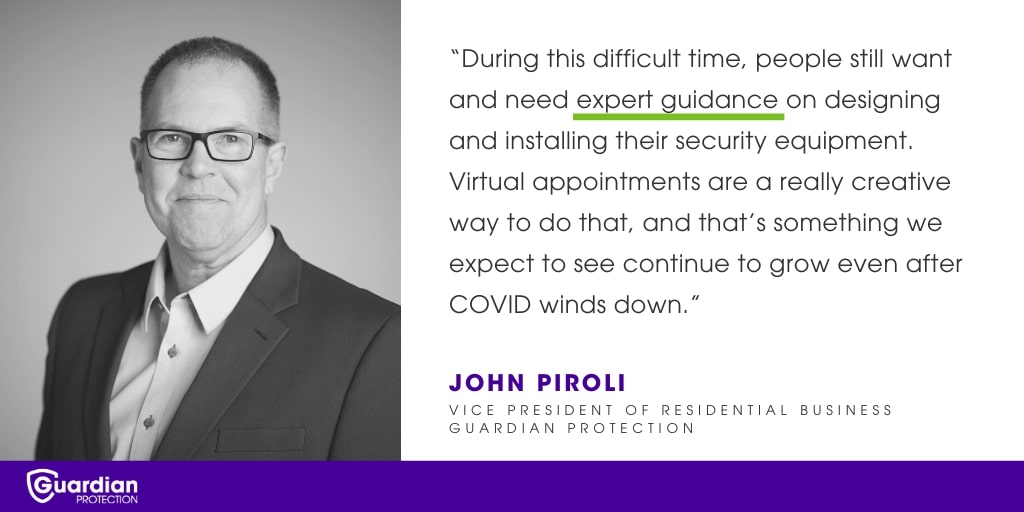 Virtual appointments can boost not only safety, but also convenience and efficiency.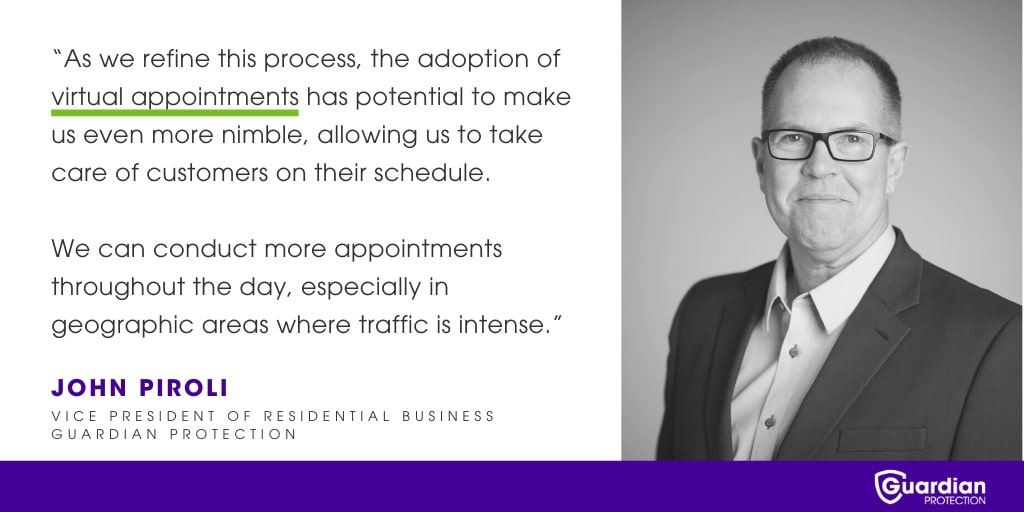 4) AI gets a boost to its already steady climb.
Currently, businesses and government agencies are leveraging facial recognition technology as a valuable tool to help tackle COVID-19. Through a combination of artificial intelligence, cameras, and intrusion control, facial recognition is another biometric technology that can identify a person by measuring and comparing their facial features. This tech also offers up some serious security benefits.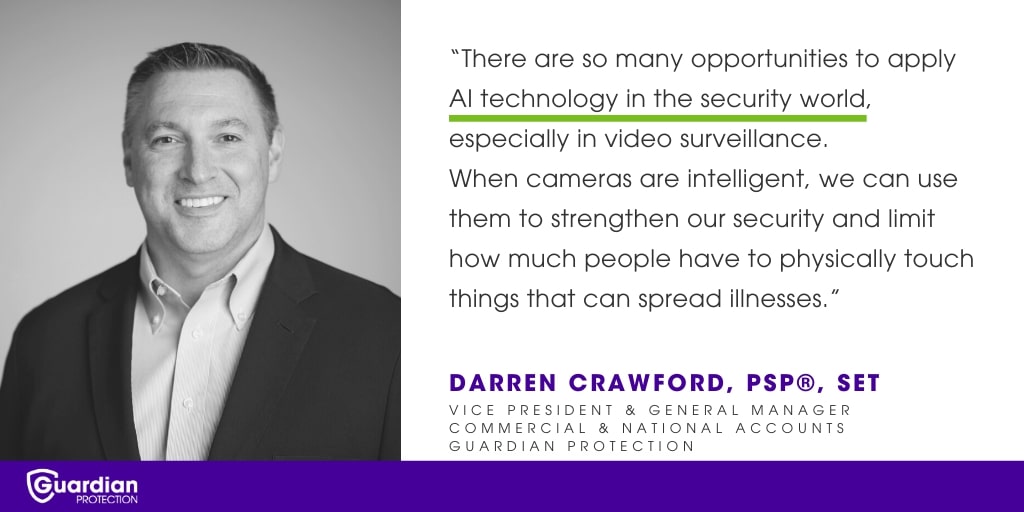 Security system owners can use this tech to control who enters their home, and who arms and disarms their systems. For example, when someone tries to punch in your security access code, a smart camera will send you an unexpected activity alert if their face doesn't match the person assigned to that code.
Of course, the need for face coverings presents a challenge to this technology in the short term. But AI companies are already exploring ways to overcome this hurdle.
5) Increased safety measures may become the new normal.
At Guardian, safety has always been our number one. But like businesses of all sizes across the world, safety measures have increased in the security industry to help protect customers and employees. These measures include a heavy focus on personal protective equipment, or PPE. PPE refers to a wide variety of items workers use or wear that allow them to provide safer care and service, like gloves, face masks, goggles, helmets, etc.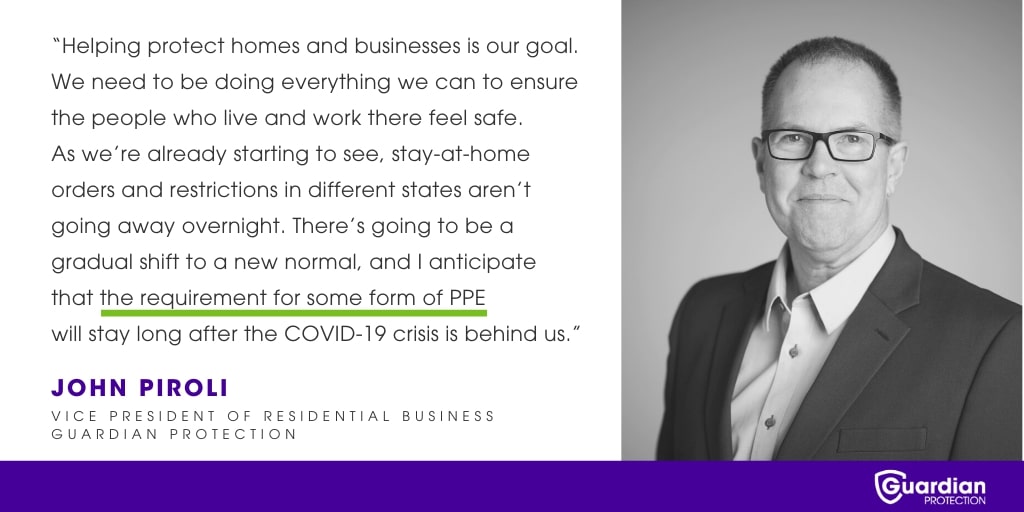 In the security industry, professional service and installation is incredibly important. It's critical to explore new ways to reduce the time security technicians spend in a home or business, like pre-programming more of the system ahead of time.
Also, this is a time when communication could not be more important. We're getting better at that every day, and we don't see that trend dropping off any time soon.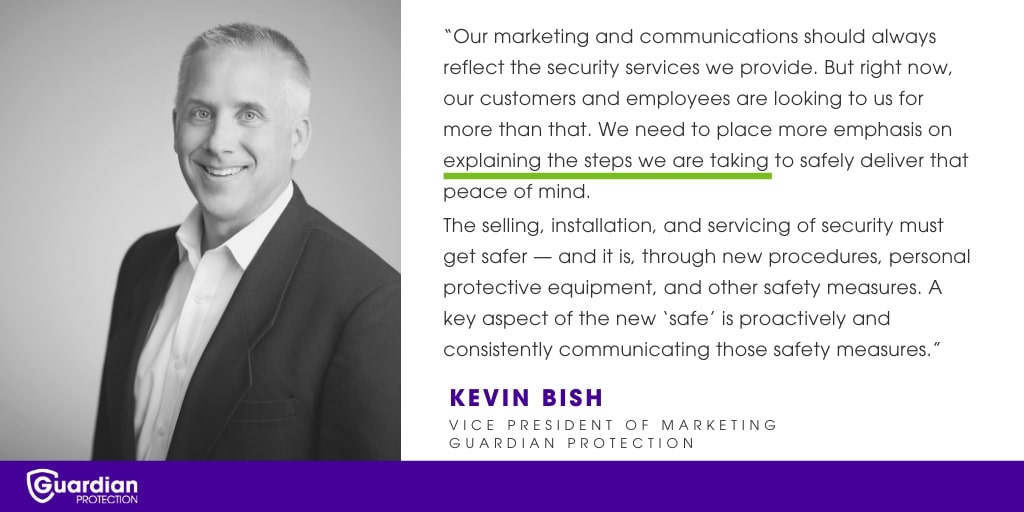 6) Continued shift toward wireless security devices that allow remote troubleshooting and software updates.
Security panels have evolved in a major way over the past 10 years, and the ability to interact and service them remotely has grown in leaps and bounds.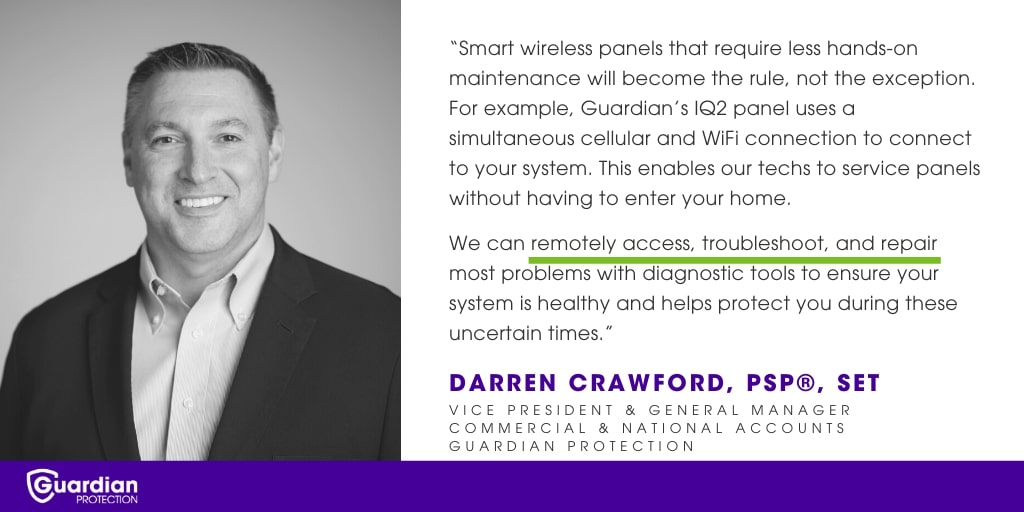 And modern security panels are designed to improve over time, giving customers room to grow. Another major benefit of dual path connectivity is over-the-air software updates to keep your system fresh and new. It's similar to the way you receive regular software updates on your smartphone. When new updates are released, you get access to new features and compatibility with even more devices so you can continue to expand your smart home security ecosystem.
7) People will become more familiar with the different benefits of a security system.
If you have an elderly friend or family member who lives alone, COVID-19 restrictions have likely led you to seek out new ways to check in and stay connected. After all, think about how many people over the age of 65 discovered FaceTime, Zoom, or Skype for the first time in 2020.
People looking for creative solutions to ease their concerns may be pleasantly surprised to learn how beneficial smart security can be — even if that means having it installed in a loved one's house so they have access to emergency medical assistance.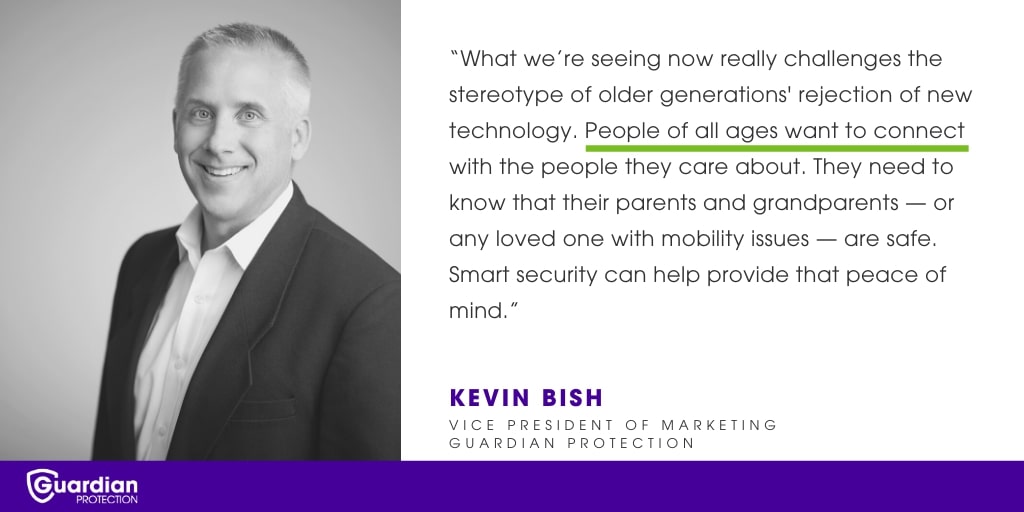 A brave new world that's safer and smarter
Trends across the security industry will continue to adapt to the times. As this challenging and often confusing situation with the coronavirus has demonstrated, people need the companies committed to keeping them safe to be nimble, open to change, communicative, and always at the leading edge of technology.