Guess what: We got you a little something, and we could not be more excited to give it to you.
Our brand new Fire Safety Guide is here!
It's a comprehensive online booklet to help your entire family: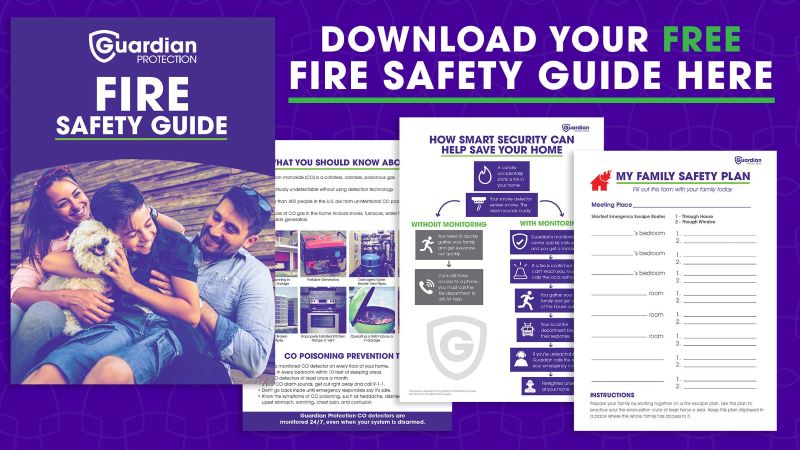 Learn about common household hazards
Understand the importance of monitored smoke alarms
Prepare an emergency family evacuation plan
Eliminate fire risks in and around your home
Protect against other household threats, like CO poisoning
Why now? Because it's October, and it's Fire Prevention Week!
What is Fire Prevention Week?
You probably don't have an advent calendar counting down the days to Fire Prevention Week, and we understand. But here at Guardian, this is a very. Big. Deal.
Every year at this time, the National Fire Protection Association (NFPA) hosts Fire Prevention Week to bring attention to important fire safety issues and educate the public about fire prevention. This day has been observed since 1922 to commemorate the Great Chicago Fire of 1871. The fire claimed the lives of over 250 people, destroying more than 17,400 structures and leaving over 100,000 people homeless.
1871 was a long, long time ago, but the threat of house fire to U.S. families is still very real:

Start getting your home fire safety on point today by reading our guide, which includes our top tips for fire safety, and much more.
Top Tips for Fire Safety
Install smoke alarms on every level of your home, inside bedrooms and outside sleeping areas.
Test smoke alarms every month, and change the batteries at least twice a year at Daylight Saving Time.
Talk with all family members about a fire escape plan and practice the plan twice a year.
If a fire occurs in your home, GET OUT, STAY OUT, and CALL FOR HELP. Never go back inside for anything or anyone.
Monitored smoke detectors save lives
Don't forget, early detection of home fires is incredibly important. Installing monitored fire alarms systems is the smartest step you can take to stay safe. It may even the life of someone you love.

Call us at 1.800.PROTECT (1.800.776.8328) to talk about adding monitored smoke detection to your Guardian security system. If a fire is detected, our monitoring center will be ready to notify the fire department in seconds — whether you are home, sleeping, or away.