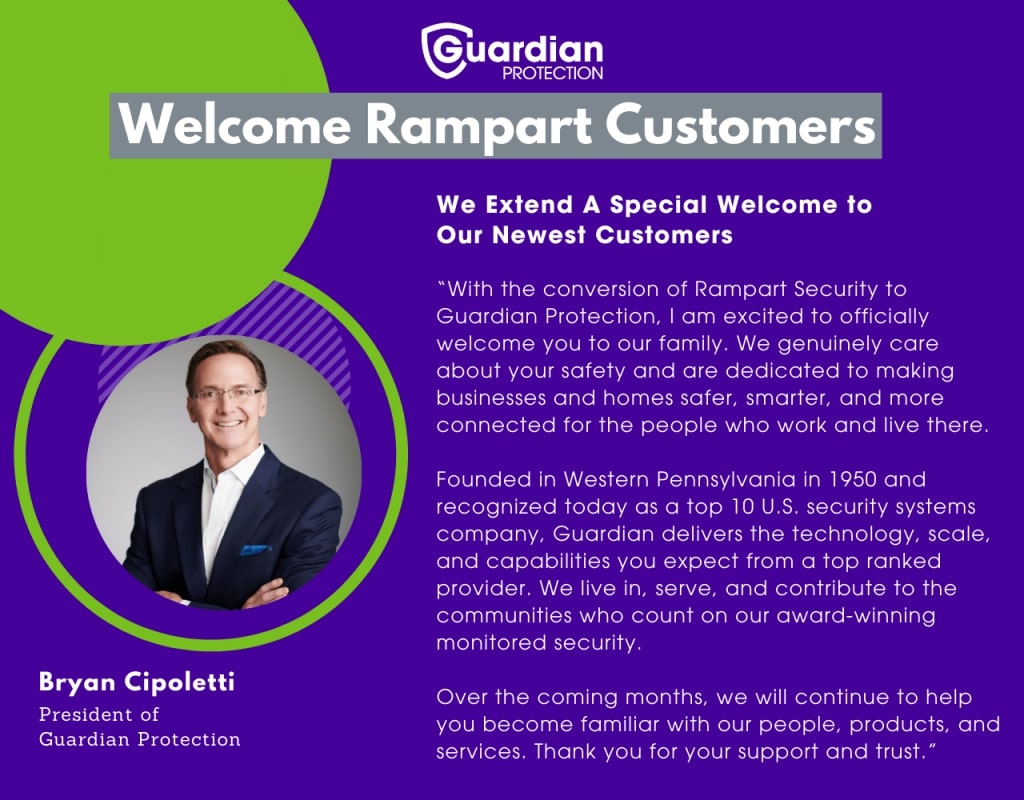 Frequently asked questions
Rest assured that your security services will continue without interruption; any need for system care and on-site services will also continue to be fulfilled as usual. If you need anything, feel free to call us at 1.800.PROTECT (1.800.776.8328).
Yes! But no need to worry — we've made it super easy! Click here to get started. You can also get to your online account by visiting guardianprotection.com and clicking LOGIN at the top. Next, choose "Not Registered?" to look up your account.
Once you register, you'll get access to tons of important account information and services. It's a great way to manage all of your info online, in one place.
Need more info? Learn more about your Guardian account here. If you get stuck, just give us a call at 1.800.PROTECT (1.800.776.8328). We're happy to help!
Moving forward, your statements will be sent by Guardian (just look for the purple shield!). You can view your statements online at any time. To view additional information about your statement, just log into your Guardian account and click Statements on your account dashboard, under Billing.
Read our quick guide to understand your new statement here.
I mailed my last payment to the Rampart office. Will this payment be sent to Guardian?
If you mailed a previous payment to Rampart, rest assured, it will be forwarded to Guardian's office. Please note, there may be a slightly longer processing time for this payment.
You bet! We offer automatic recurring payments (AutoPay) to help you save time and money each month. You can enroll in AutoPay or manage your automatic payments by logging into your Guardian account.
To learn how to set up AutoPay, read step-by-step instructions here or watch this quick video!
You can make an online payment at any time here. Additionally, for your convenience, we offer automatic payments (AutoPay). Payments and payment method information can be managed anytime by logging into your Guardian account. If you would still like to send your payment in the mail, please ensure your customer number is listed on your payment to ensure a proper payment application. Checks can be sent to the remittance address on your billing statement slip.
If your alarm goes off, our monitoring center will often call you and your emergency contacts to make sure you get the help you need. It's very important that you know when we're calling, so be sure to program our monitoring center number into your phone right away: 1.800.364.3616. If you have Caller I.D., this number will come up as "GUARDIAN."
This number will only be used by the monitoring center. For all other customer service questions, please call 1.800.PROTECT (1.800.776.8328).
If you accidentally set off your alarm, we understand that a response from the police, fire, or EMS authorities may be unnecessary. If this occurs and our monitoring team is unable to reach you prior to notifying the authorities, simply call 1.800.364.3616 to report an accidental alarm.
You absolutely can, free of charge! To order your new or additional Guardian yard signs or window stickers, start by logging into your Guardian account.
Click on the Shop tab and then on Shop and follow the simple steps to complete your order. If you're a pet owner, don't forget to grab a pet sticker for your window.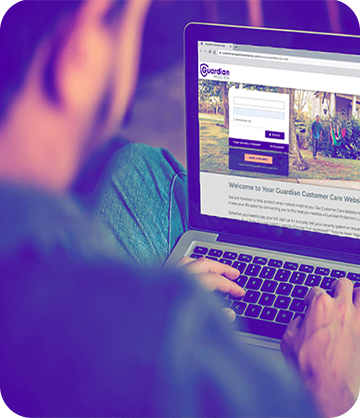 Register your online Guardian account to get started
Set up AutoPay, add emergency contacts, and test your system all in one place!
Explore our Support Center to find FAQs, helpful videos, and so much more!
Learn about your system, find how-to tips and tricks, resolve issues, and find the answers you need — fast!