If there is something you would like to change in your life, the start of a new year is the perfect time to do it.
Lots of New Year's resolutions focus on personal goals, like a healthier diet, or trying something new, like CrossFit, ballroom dancing, or learning a new language. All worthwhile pursuits, for sure, but all require bringing something outside into your life, rather than getting more from what you already have.
If you've been enjoying the peace of mind a smart home security system can provide for months or even years, ask yourself as this year begins: Am I getting the most out of my Guardian system, or am I leaving value and benefits on the table?
If you can't remember your MyGuardianHome login, or you can't remember the last time you interacted with your system, the answer is probably yes.
Even if you've already chosen your New Year's resolution, we propose you make room for one more: To get more use and value from your Guardian security system.
Here are just 10 suggestions to get the juices flowing. These tactics aren't complicated, but they can make a big impact on your life. Some will be specific to smart home devices you may or may not already have, but we promise, there's something for everybody!
1. Log in to MyGuardianHome.com.
No seriously, you must do this to get the most out of your Guardian system. While most of the day-to-day control of your system will be done from your Guardian app or at the panel itself, MyGuardianHome.com is home base for setting everything up.
What can you do on MyGuardianHome.com? Set up Geo-Services, create automation rules and schedules, adjust your notification settings, and so much more.
2. Download the Guardian app.
We're always surprised to hear that a customer hasn't done this, because it's just so convenient! It's free, and you can control your security system and home automation devices from your smartphone.
Get our all-in-one mobile app to stay connected wherever you go!
If you use an iPhone, go here: Download from the App Store
If you use an Android, go here. users: Download on Google Play
3. Check out the Customer Care site.
MyGuardianHome.com is where you go to control your system. The Customer Care site is where you manage your Guardian account. Whether you need to pay your bill, sign up for autopay, test your security system, or request a new yard sign, you can do it all from this one site. You'll also find videos, FAQs, manuals, and how-to instructions to help you become a super-user.
4. Set up a Scene.
The Guardian "Scenes" feature lets you adjust multiple Guardian security and smart home automation devices with just one button. Movie night, you say? Lights, locks, temperature… and action.
5. Share a video clip with someone.
Ever catch something on one of your Guardian cameras you wish you could show a friend? Well, you can!
6. Set up an arming reminder.
If you often forget to arm your system before leaving the house — or just find yourself stressing about whether or not you did — this one is for you. Based on your schedule or location, Arming Reminders let you know if you forgot and helps you secure your home remotely with one tap on your mobile device. Start setting one up by creating a new notification on MyGuardianHome.com.
7. Use Siri to make your home even smarter.
When you enable "Siri Shortcuts" on your Guardian App, you can use your Apple device's voice feature to control your home! Create shortcuts for simple commands like, "Hey Siri, Disarm." You can even use Siri to set one of your personalized Scenes in motion: "Hey Siri, it's bedtime."
8. Create a lighting schedule.
Do you have smart lights as part of your Guardian security solution? Let those lights live up to their name by creating a smart lighting schedule. This is just one more reason to log in to MyGuardianHome.com!
From Home, navigate to "Lights:"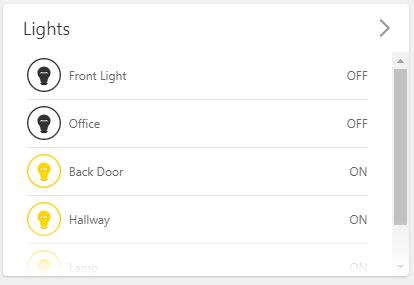 Next, choose "Schedules," followed by " + ADD NEW SCHEDULE."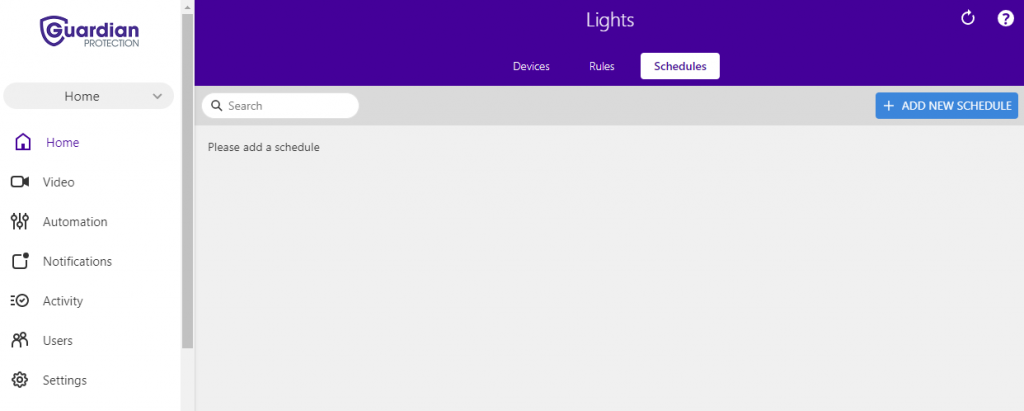 Then simply complete the fields based on what you want the rules to be! For example, create a Schedule called "Night Light," where Monday through Friday, all lights except the porch light shut off after 6:00 p.m.
9. Learn more about Guardian's 24/7 professional monitoring.
Ever wonder what happens if there is an emergency, like a fire? Or who at Guardian is watching your back? Check out this video starring a real Guardian Protection customer. Spoiler-alert: Her amazing story has a happy ending, but it's a bit of a tear-jerker. You've been warned!
10. Refer a friend.
Share the Guardian Protection peace of mind with someone you care about, and you could be eligible to earn $100! Learn more, and read the terms and conditions here.
Guardian Protection smart homes grow with you
We didn't want to sink your whole day with this post, but keep in mind, there are even more ways to customize and grow with a Guardian Protection smart security system — it's one of the many (many!) perks.
If you start small with just a security panel and a few professionally installed sensors, you have a lot of room to build as your needs change. Check out this post for even more ways to get more from your smart home.
If you're interested in adding new technology to your home security system, contact us here, or give us a call at 1.800.PROTECT (1.800.776.8328).
Brand new to Guardian and looking to protect your world? Call us at 1.800.PROTECT or request a free quote.